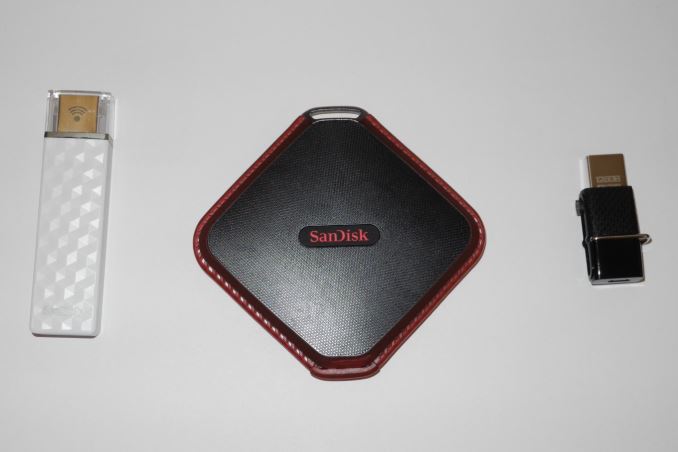 Billy and I met with SanDisk at their CES 2016 suite. While Billy talked to them about their internal SSD efforts, I checked out the updates to their direct-attached storage (DAS) offerings. SanDisk had a relatively straightforward launch set, with just three new products in this space.
The SanDisk Extreme 510 Portable SSD (in the middle of the above picture) is based on the same platform as the Extreme 500 Portable SSD that we reviewed recently. The only differences lie in the fact that the new one comes in only one capacity - 480GB. It also carries a IP55 rating (dust and water resistance), thanks to the rubber bumper around the unit. It is targeted towards content creators who want rugged high capacity storage in the field. As I had mentioned in my review of the Extreme 500 Portable SSD, the speeds are very satisfying - but, only when connected to the right host controller. In our testing, we got better performance numbers with ASMedia USB host controllers compared to Intel's native controllers integrated in the PCH. The unit is priced at $250, and will be available in retail channels in a few weeks.
The SanDisk 200GB Connect Wireless USB Flash Drive (pictured to the left) is a flash drive that can also act as a wireless drive for mobile devices. It uses the SanDisk Connect app for management on the mobile side. It is priced at $120, and is available now. The WLAN component is a 1x1 802.11n implementation.
The SanDisk 128GB Ultra Dual USB Drive 3.0 (pictured to the right ) is meant for OTG smartphones and tablets when used with the microUSB port on one end. It also has a separate USB 3.0 Type-A male interface for connecting to a computer. SanDisk claims speeds of up to 150 MBps when used with a PC. The SanDisk Memory Zone app on the mobile device helps manage and transfer content between the main memory in the mobile device and the OTG drive. The 128GB drive is priced at $40 and available for purchase now.