In April of this year Sony launched the Xperia Z4, their sequel to the 2014 Xperia Z3. Since the Z3 had only launched in September of 2014, it was a bit odd that it was being replaced after only six months as Sony's flagship device. However, The Xperia Z4 seemed like something of a stopgap device when one considered its specs and its design, and outside of Japan Sony even marketed it as the Xperia Z3+ rather than the Z4.
Today Sony launched three new smartphones branded as Xperia Z5. The first is the standard Xperia Z5, the second is the Z5 Compact, and the most interesting of the three is the Xperia Z5 Premium. All of these devices seem more like what one would expect from successors to the Xperia Z3, and below you can find the specifications for each device.
Sony Xperia Z5 Series
Model
Xperia Z5 Compact
Xperia Z5
Xperia Z5 Premium
SoC
Qualcomm Snapdragon 810 MSM8994
RAM/NAND
2GB / 32GB NAND
MicroSD
3GB RAM, 32GB NAND + MicroSD
Display
4.6" 1280x720 IPS LCD
5.2" 1920x1080 IPS LCD
5.5" 3840x2160 IPS LCD
Dimensions
127 x 65 x 8.9 mm
138g
146 x 72 x 7.3 mm
154g
154.4 x 76.0 x 7.8 mm
180g
Camera
23MP Sony Exmor Rear-facing, 1/2.3", F/2.0, 24mm focal length
5MP Front-facing, 25mm focal length
Battery
2700mAh (10.26Wh)
2900mAh (11.02Wh)
3430 mAh (13.03Wh)
Connectivity
1x1 802.11a/b/g/n/ac
2x2 802.11a/b/g/n/ac
Bluetooth 4.1, DLNA, NFC, MHL 3, microUSB 2.0, GNSS, Fingerprint Scanner
OS
Android 5.1 Lollipop
SIM
NanoSIM
Based on the specifications of each device, I have to hand it to Sony for offering a variety of device sizes that don't really compromise on specs as the size gets smaller. All three phones use Qualcomm's Snapdragon 810 SoC, and while the Z5 Compact comes with 2GB of RAM, the normal Z5 and Z5 Premium comes with 3GB. All three phones include 32GB of NAND and have MicroSD slots.
The displays are where you do end up losing out if you don't go for the largest device. The Z5 Compact has a 4.6" 1280x720 display, which I do find myself wishing was a higher resolution than it is. The normal Xperia Z5 has a 5.2" 1920x1080 display, and I'm very comfortable with this resolution as a good balance between size and sharpness. With the Xperia Z5 Premium Sony has gone all out and outfitted it with a 5.5" 3840x2160 display. This makes the Xperia Z5 Premium the first smartphone ever to ship with a UHD display.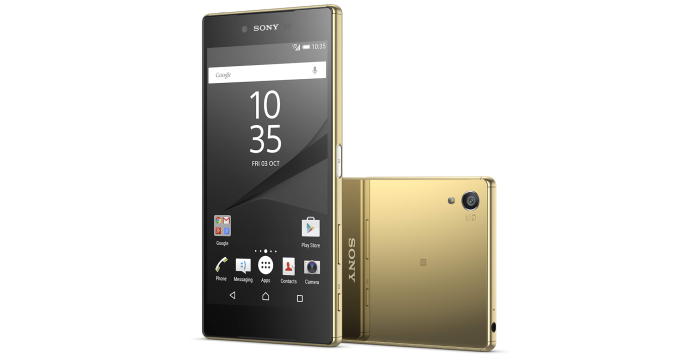 With a pixel density of 801 pixels per inch, there's really no way that you would be able to see any pixels or aliasing on the Xperia Z5 Premium's display, with the exception of edge cases like vernier acuity. I have a feeling that the Z5 Premium is going to create a lot of debate about whether or not such a high resolution even provides any visual advantage over QHD or even 1080p. It'll also be interesting to see whether people feel it makes a difference when reading logographic languages which can have very fine details on characters.
Looking at the camera, we see that all three of the smartphones ship with the exact same camera system. The specific camera sensor used is Sony's IMX230, which is a 23MP 1/2.3" sensor with 1.12 micron pixels. The lens used has a 35mm equivalent focal length of 24mm, and an aperture of F/2.0. Sony's hybrid autofocus with PDAF enables an autofocus time of just 30ms. All versions of the Xperia Z5 can record UHD video at 30fps, and the high resolution sensor can also be used to perform digital zooming or image downscaling to 8MP in order to reduce Bayer artifacts.
Naturally, the dimensions, mass, and battery capacity of each device scales with its size. All of them seem appropriate given the dimensions of the phone, but I'm very interested to see what sort of battery life the Z5 Premium gets in a display bound battery test like web browsing. All three phones support Qualcomm's Quick Charge 2.0 technology for fast charging speeds.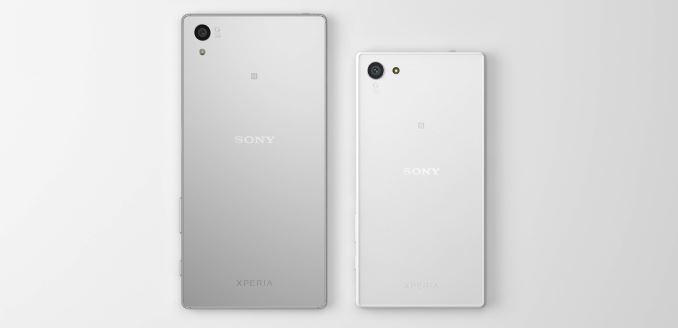 As for the design of Sony's new phones, it doesn't depart much from the design principles that Sony's flagship mobile devices have always adhered to. All of them have metals frames and frosted glass backs. They do come in different colors, with all the phones coming in a silver/white and black finish, but with red and yellow being exclusive to the Z5 Compact, green being exclusive to the Z5, and gold being exclusive to the Z5 and Z5 Premium. It's also worth noting that the fingerprint sensor on the phone is integrated into the power button, which as far as I can tell is the button in the middle of the right edge of the phone. It doesn't look like a massive area for scanning, so I'm interested to see how well it ends up working.
Sony will be launching the Xperia Z5 Compact and Xperia Z5 globally in October, with the Xperia Z5 Premium to follow in November. The Z5 Compact will only be available with a single NanoSIM slot, while the Z5 and Z5 Premium will come in single and dual SIM versions. Pricing is yet to be announced for these three new smartphones. For more information you can check out Sony's launch post in the source below.
Source: Sony