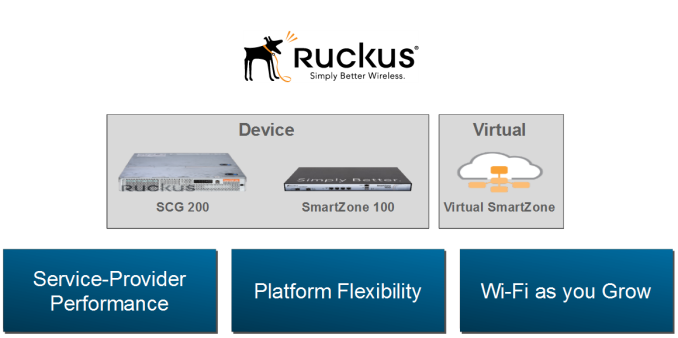 The enterprise Wi-Fi market has been growing at a tremendous rate, thanks to the proliferation of smart wireless devices (even in business settings). There are many vendors targeting the enterprise WLAN space Ruckus Wireless, Aruba Networks and Ubiquiti Networks are examples. We talked briefly about Ruckus Wireless when we covered the launch of their cloud-based WLAN management service last year.
Till now, Ruckus has had different product lines for different market segments - small business, medium-sized enterprises, large scale enterprises and carrier-grade infrastructure. However, as the number of WLAN clients for a given system increases, the traditional market delineation makes it difficult for customers to choose the correct product. In order to solve this problem, Ruckus is introducing an umbrella 'SmartZone' software platform for management and control which allows their customers to easily upgrade the infrastructure to meet future requirements ('Wi-Fi as you grow').
The new Ruckus SmartZone has a single-pane software interface for different deployments (on-premises single controller, clustered controllers as well as virtualized WLAN controllers). These can scale from one up to 300K devices. In terms of hardware offerings, we have the SmartZone 100 WLAN Controller, each of which can support up to 25K clients and 2048 WLANs, with up to 10 Gbps data throughput. Each can manage up to 1000 Ruckus ZoneFlex Access Points and a cluster can have up to three units.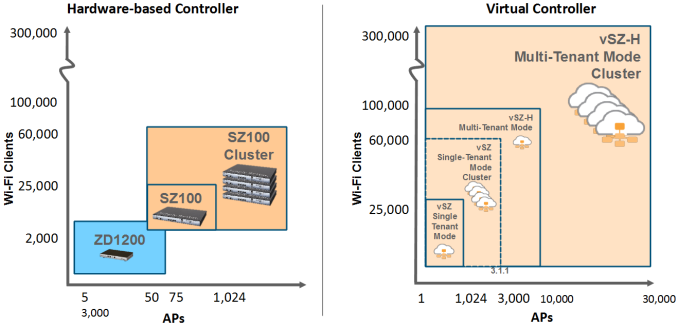 Ruckus is also supporting virtual SmartZones (vSZ) for easy scaling and flexibility with software-defined networking (SDN) and support for network functions virtualization (NFV). The vSZ can support up to 30K APs and 300K clients. Rounding up the SmartZone platforms is the Ruckus SmartCell Gateway SCG-200. By integrating 3GPP gateway functions along with WLAN controller duties, the SCG-200 can help carriers to integrate Ruckus WLANs into their existing mobile networks. Wi-Fi is being talked about as a credible solution for congested mobile network cells, and the SCG-200 targets that market trend.
The SmartZone 100 has a MSRP of $4995 (for the 1 Gbps throughput model), while the vSZ licenses will go for $995 for each deployed instance. Each ZoneFlex AP attached to either carries an additional $100 license fee.
Source: Ruckus Wireless