Normally when one thinks of a gaming system, a Small Form Factor (SFF) computer is not what you would expect. Gaming, especially when done with some of the top end components, can generate a tremendous amount of heat which can be difficult to cope with in a small chassis. However this is quite a popular segment, and the advantages of a SFF device can be quite compelling. Gaming can move from the office to the living room, and small form factor cases can be tucked away with the other A/V components. Digital Storm is certainly not the only company in this space, but they are launching a new model today which builds on their successes with their previous models. Today they are launching the BOLT 3, which is their third generation SFF gaming system.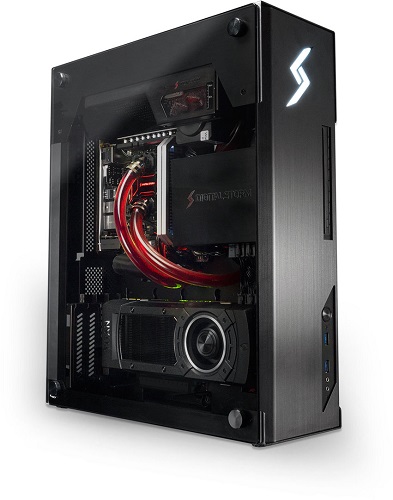 Aesthetics are very personal, but quality of materials can more easily be commented on. The BOLT 3 case is constructed entirely from brushed aluminum, with an anodized black finish. The side panel is made of glass to allow a glimpse inside the case. Looking inside, you can see some unique features. The BOLT 3 features a custom liquid cooling system to cool the processor, and below the motherboard is a GPU which sits parallel to the board, rather than perpendicular, to allow the case to be much smaller in height while keeping a full GPU. The case dimensions are 18.3 x 15.1 x 5.8 inches.
And speaking of the GPU, Digital Storm offers quite a range from the GTX 960, all the way up to the Titan X. Processor options include Intel Core i5-4590, i5-4690K and i7-4790K choices, and the systems can be configured with 8 to 16 GB of memory. This should allow for almost any gaming scenario to be covered, assuming your pockets are deep enough.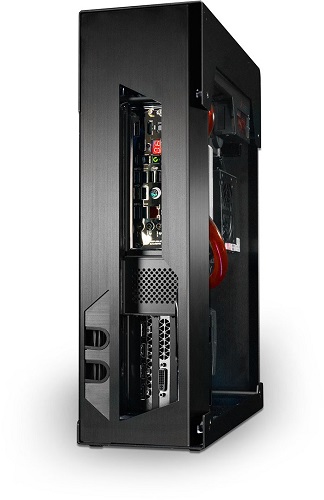 Attention to detail was paid to upgradability as well, with the GPU being placed away from other major components to allow basically any GPU to fit in this case. The power cables and cooling tubes have been placed to allow for an easier time with replacing components in the future.
If you are interested in a pre-built SFF gaming PC, you can check out all of the options and pricing for the different models at http://www.digitalstormonline.com/bolt-3.asp. The entry level system can be customized, but starts at $1547, and the top tier as configured goes all the way up to $3569.
Source: Digital Storm