Storage Benchmarks
Synthetic Benchmarks - ATTO and Crystal DiskMark
Samsung claims read/write speeds of 450 MBps, and these are backed up by the ATTO benchmarks provided below. Unfortunately, these access traces are not very common in real-life scenarios.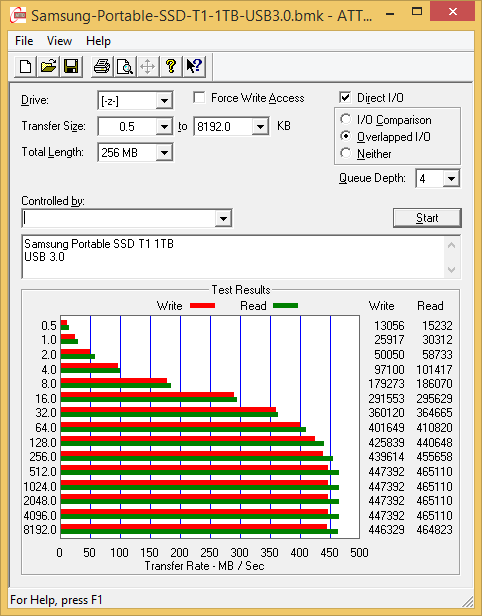 CrystalDiskMark, despite being a canned benchmark, provides a better estimate of the performance range with a selected set of numbers. As evident from the screenshot below, the performance can dip to as low as 26 MBps for 4K accesses at very low queue-depths. It can already be seen from the two benchmarks that enabling encryption doesn't alter the transfer rates at all.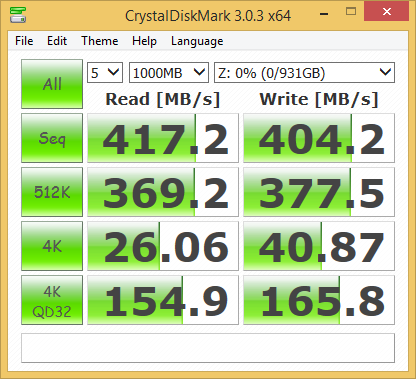 Benchmarks - robocopy and PCMark 8 Storage Bench
Our testing methodology for DAS units also takes into consideration the usual use-case for such devices. The most common usage scenario is transfer of large amounts of photos and videos to and from the unit. The minor usage scenario is importing files directly off the DAS into a multimedia editing program such as Adobe Photoshop.
In order to tackle the first use-case, we created three test folders with the following characteristics:
Photos: 15.6 GB collection of 4320 photos (RAW as well as JPEGs) in 61 sub-folders
Videos: 16.1 GB collection of 244 videos (MP4 as well as MOVs) in 6 sub-folders
BR: 10.7 GB Blu-ray folder structure of the IDT Benchmark Blu-ray (the same that we use in our robocopy tests for NAS systems)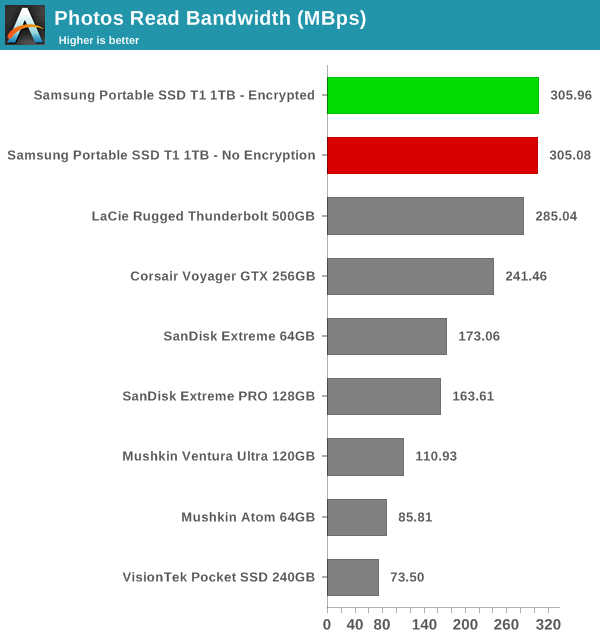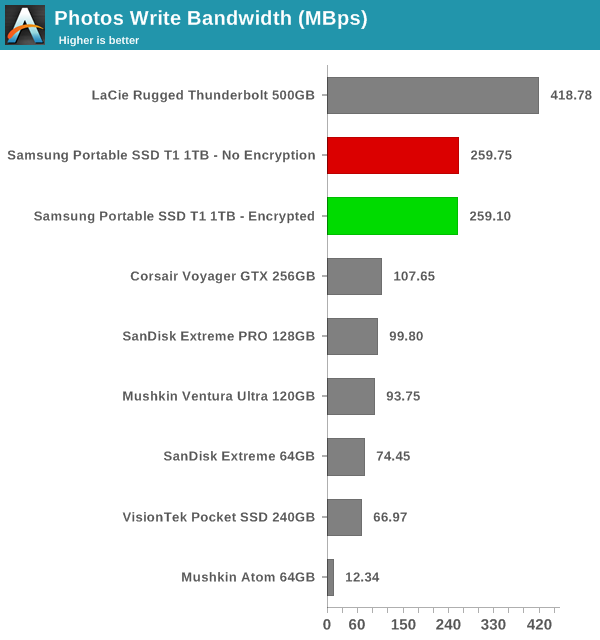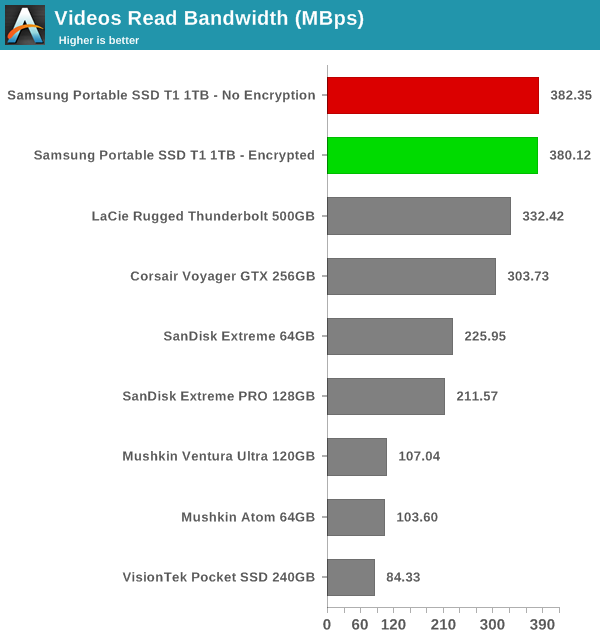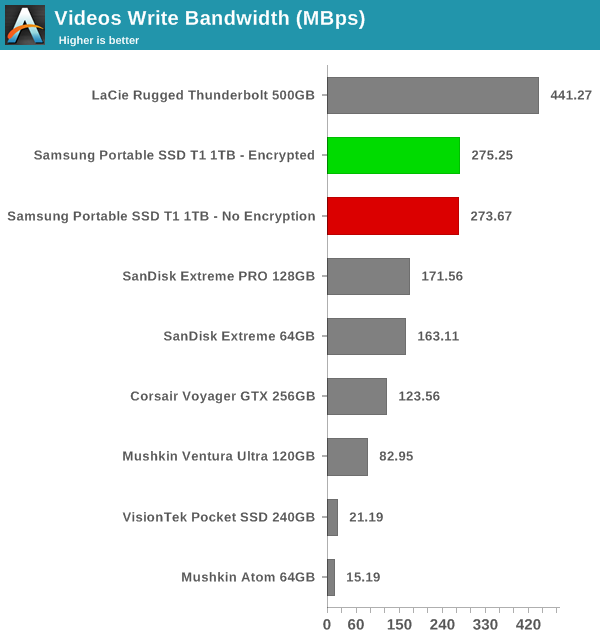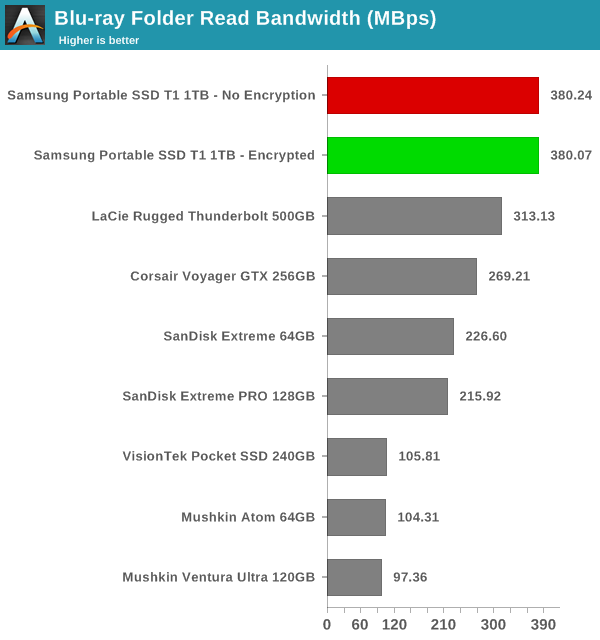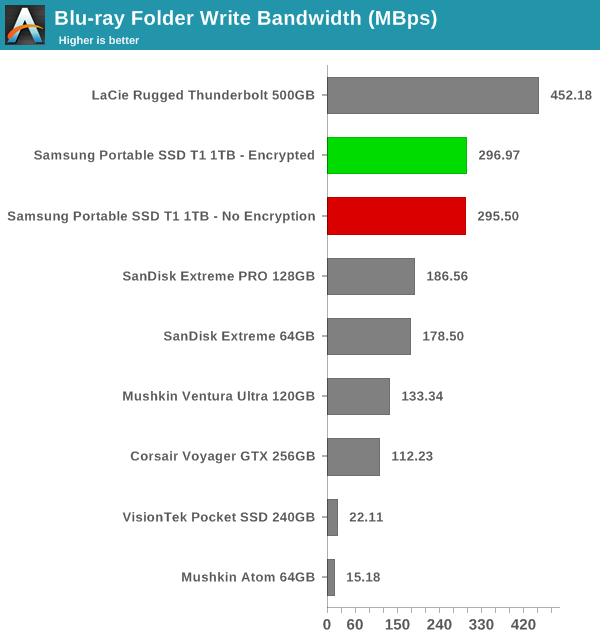 For the second use-case, we take advantage of PC Mark 8's storage bench. The storage workload involves games as well as multimedia editing applications. The command line version allows us to cherry-pick storage traces to run on a target drive. We chose the following traces.
Adobe Photoshop (Light)
Adobe Photoshop (Heavy)
Adobe After Effects
Adobe Illustrator
Usually, PC Mark 8 reports time to complete the trace, but the detailed log report has the read and write bandwidth figures which we present in our performance graphs. Note that the bandwidth number reported in the results don't involve idle time compression. Results might appear low, but that is part of the workload characteristic. Note that the same testbed is being used for all DAS units. Therefore, comparing the numbers for each trace should be possible across different DAS units.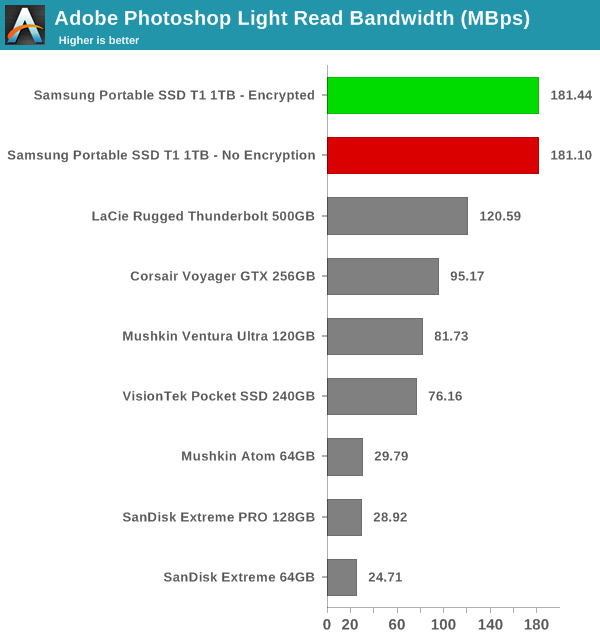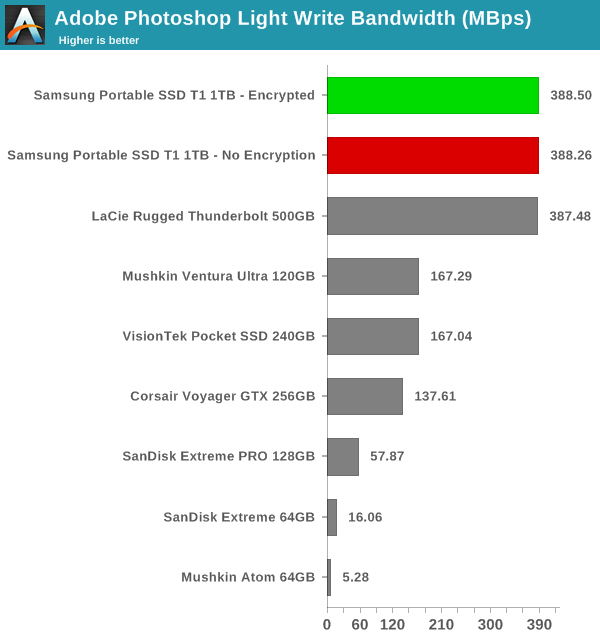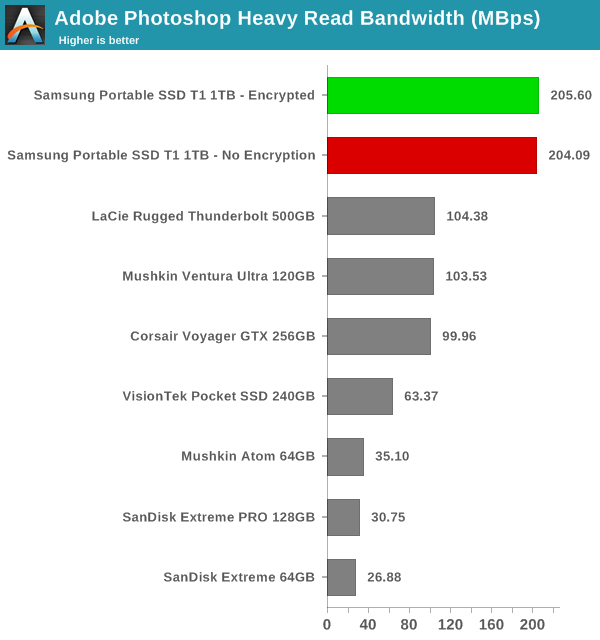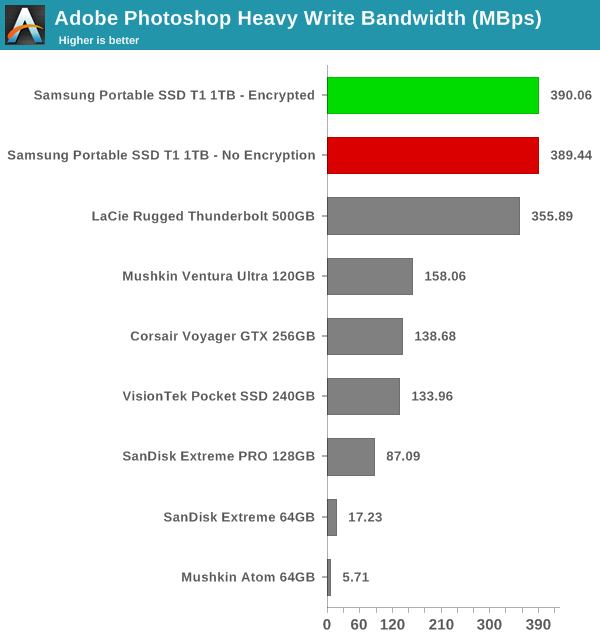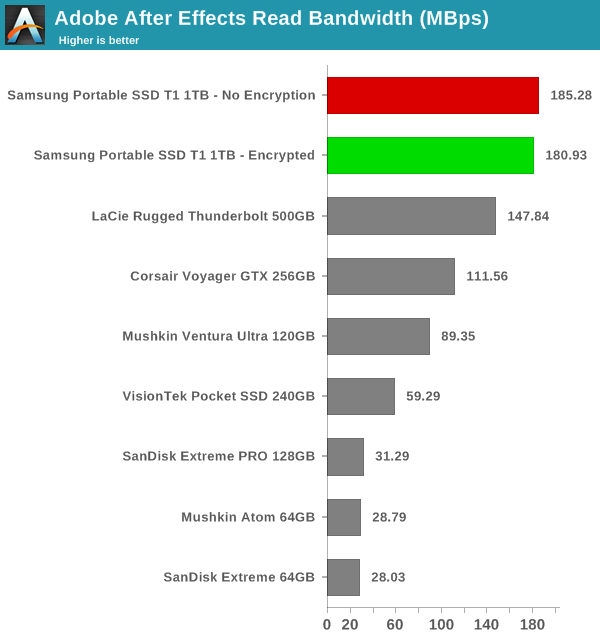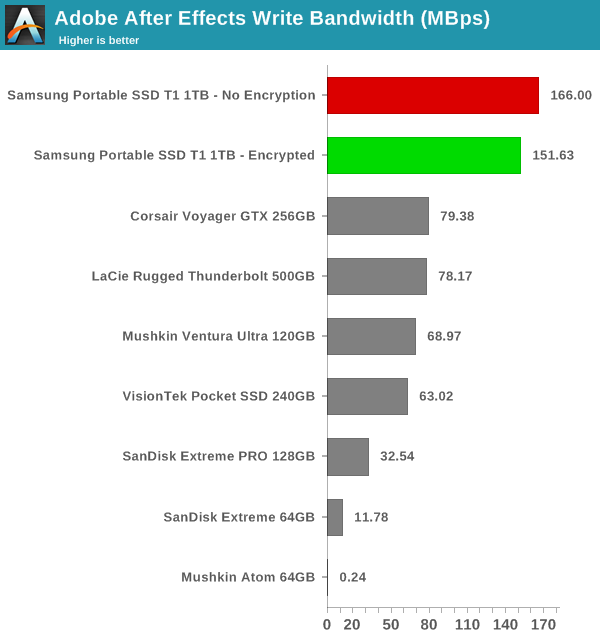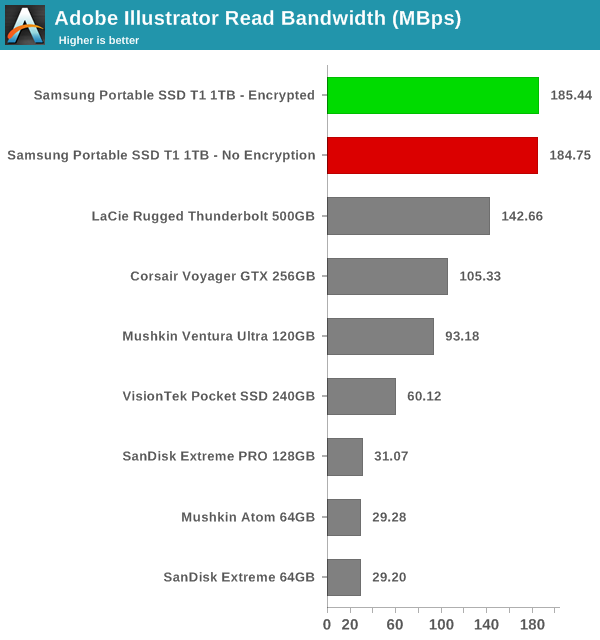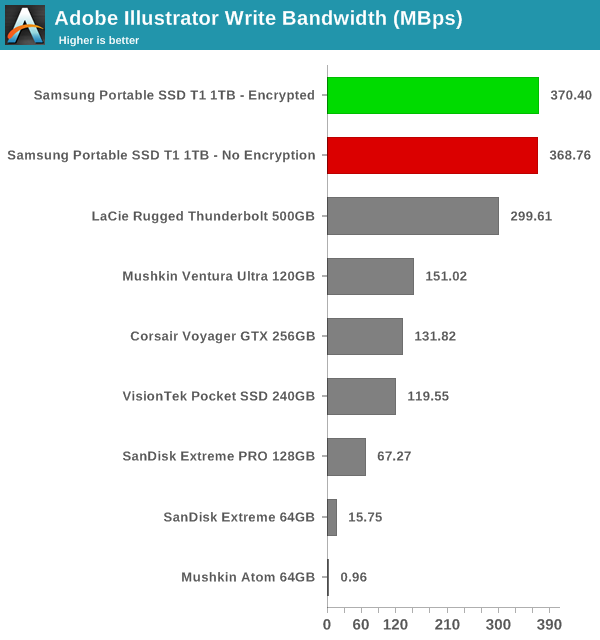 The 1TB Portable SSD T1 manages to win almost all the benchmarks, losing out on a couple of traces to the LaCie Rugged Thunderbolt 500GB version (which, incidentally, carries a Samsung PM851 behind a USB 3.0 - SATA bridge).