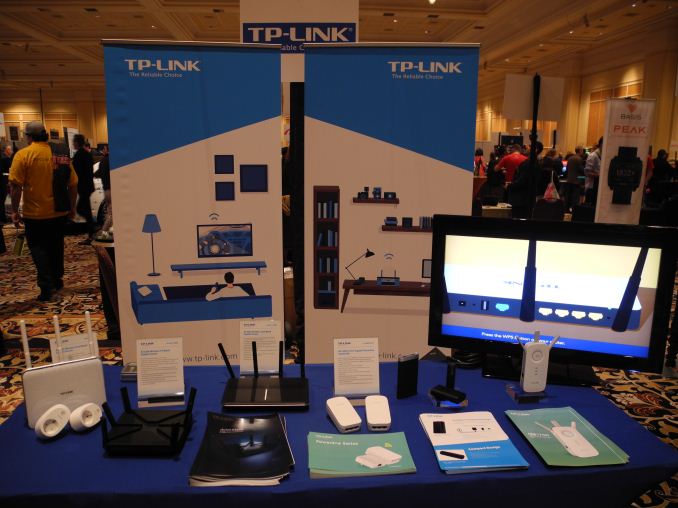 TP-LINK is one of the leading networking solutions vendor in the Asian market. They have been slowly trying to build up a presence in the US, but there has always been a bit of a delay between the launch in the North American market compared to the Asian one. TP-LINK has traditionally worked closely with Qualcomm Atheros, often being one of the first vendors to prepare solutions based on the QCA platforms.
At CES 2015, TP-LINK became one of the first vendors to launch a 4x4 MU-MIMO-capable 802.11ac router with the QCA9980 platform. As of the end of last year, Quantenna was the only vendor with a shipping 4x4 MU-MIMO solution. However, this CES has seen the launch / customer shipment of 4x4 MU-MIMO 802.11ac solutions from Qualcomm Atheros, Broadcom and Marvell. We will have a separate piece comparing the various solutions. With reference to TP-LINK, the QCA9980 finds a place in the Archer AC2600. The unit also sports USB 3.0 ports, and other features are what is standard for a flagship model.
The Broadcom Xstream platform does find a place in the Archer AC3200. With two 5 GHz radios and a single 2.4 GHz radio, this is the same platform that other vendors are already using (Netgear seems to have had an exclusive for a few months with the Nighthawk X6 R8000).
On the powerline side, TP-LINK is staying with Qualcomm Atheros for the AV1200 HomePlug AV2 with MIMO solution. The TL-PA8030 can deliver 1.2 Gbps of throughput theoretically and sports three gigabit ports. It can use all three prongs (power, ground and neutral) for data transmission.
The announced products are slated to appear in the market in Q3 2015.