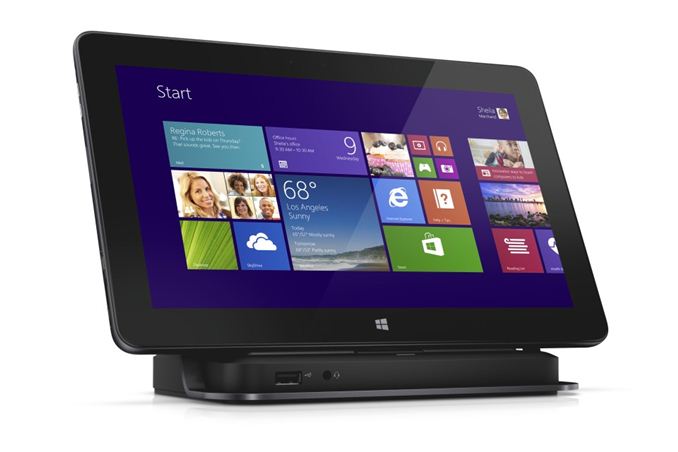 Yesterday Dell announced their latest mobile products, with major updates to their tablet and laptop offerings. Starting with the Venue tablets, Dell has three new models available on October 18: the Venue 7, Venue 8, Venue 8 Pro; the Venue 11 Pro will be available in November. The two Pro models run Windows 8.1 with Intel's Bay Trail processors (and Y-series Haswell is also an option on the 11 Pro), while the Venue 7 and 8 will run Android 4.2.2 and will also use Intel Clover Trail SoCs.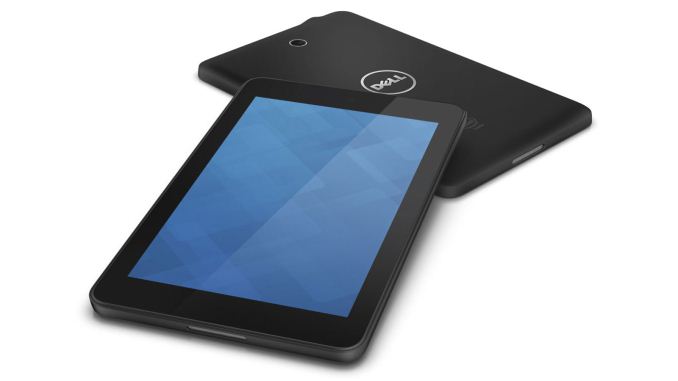 Starting with the Venue 7, Dell is targeting a very low price point of $150. Despite the low price, you won't be sacrificing on features or performance, as you still get a Z2560 SoC (1.6GHz, dual-core, PowerVR SGX 544MP2 GPU), 16GB eMMC storage, and 2GB LPDDR2 RAM. There's no mention of battery life, but the 15.5Wh battery should prove competitive with other 7-inch tablets. Other features include an IPS 1280x800 display, dual-band 802.11n WiFi (presumably 150Mbs, but it could be 300Mbps), Bluetooth 4.0, GPS support, and optional 3G/HSPA+ mobile broadband. The Venue 7 includes a VGA front-facing camera and a 3MP rear-facing camera, so that's one area that's not quite at the same level as you might find on other tablets, but for Facebook and social media photos it should still be sufficient. I/O ports consist of a MicroSD card reader (SD/SDHC/SDXC up to 32GB supported), micro-AM USB 2.0, a headphone/microphone combo jack, and an optional 3FF micro-SIM slot (on 3D models). The dimensions are 118mm x 193mm x 9.6mm and it weighs 234g (0.52 lbs.), so it's slightly shorter than the Nexus 7 but a bit thicker and over 50g lighter.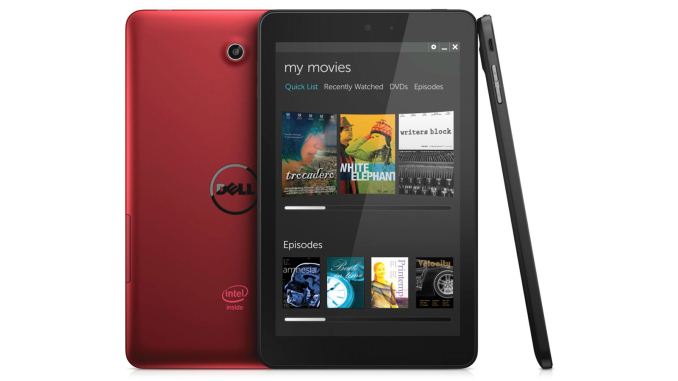 Moving up to the Venue 8, most of the core functionality remains the same as the Venue 7, but obviously the display is slightly larger and the chassis is thus bigger as well. The SoC gets an upgrade to the Atom Z2580 (2.0GHz, dual-core, PowerVR SGX 544MP2), storage options consist of 16GB or 32GB eMMC, and RAM remains at 2GB LPDDR2. All of the connectivity options are the same as the Venue 7, and the battery is the same 15.5Wh capacity, so battery life will likely be a bit less on the Venue 8. Dimensions are 130mm x 212mm x 9.8mm with a weight of 292g (0.64 lbs.). Both the Venue 7 and 8 tablets are also available with a Targus Stylus from Dell, but that's a stylus that works with any capacitive touchscreen device so it's nothing special. The Venue 8 has a price of $180 (presumably for the 16GB version), and it will be available in red or black.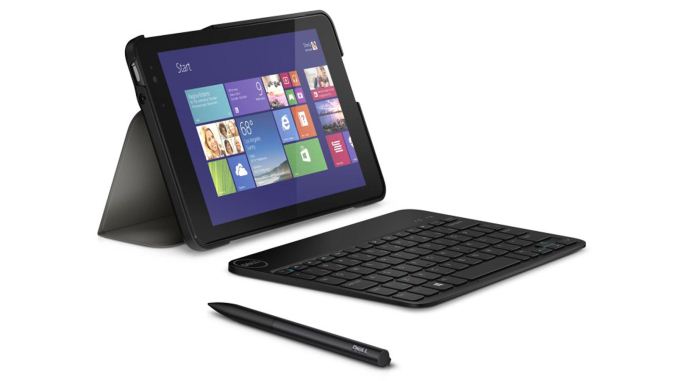 Shifting over to the Windows 8.1 side of things, the Venue 8 Pro is perhaps the first in what will likely be a long line of affordable Windows 8.1 tablets. Dell lists a starting price of $300, which is pretty impressive considering you still get an Intel Atom Z3740D SoC (quad-core, 1.8GHz, Intel HD Graphics); you can read more about the Bay Trail SoCs in our Bay Trail Preview. The Venue 8 Pro will be available in 32GB and 64GB models, with 2GB single-channel DDR3L-RS 1600MHz RAM. The display is a 1280x800 IPS panel, WiFi is 2x2:2 dual-band 802.11n (hooray!) with Bluetooth 4.0 and optional HSPA+ or 4G LTE/HSPA/EVDO mobile broadband, depending on the market. The battery is an 18Wh capacity (no word on battery life), with a 10W AC adapter. Front- and rear-facing cameras are included, this time a 1.2MP front and 5MP rear camera. Connectivity and IO ports consist of micro-AB USB 2.0, a headset combo port, 3FF micro-SIM (optional), and a microSD card slot (SD/SDHC/SDXC up to 64GB). The Venue 8 Pro also includes an active stylus. Dimensions for the Venue 8 Pro are slightly different than the Venue 8, so they're definitely not using the same chassis: 130mm x 216mm x 9mm, with a weight of 395g (0.87 lbs.) There's also an optional keyboard and protective cover available, and the Venue 8 Pro will come in red or black.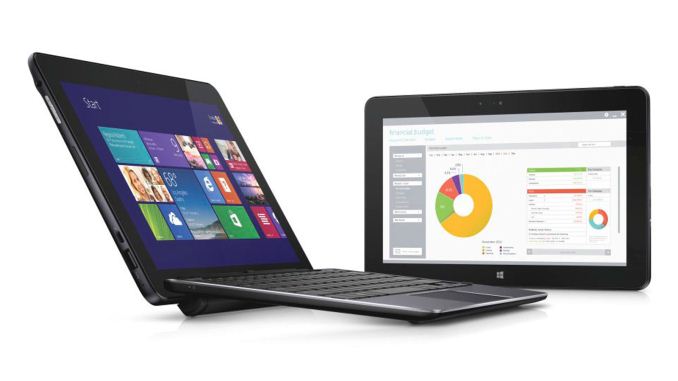 The final new Venue product announced is the big brother to the Venue 8 Pro, the Venue 11 Pro. This is more of a full-blown Ultrabook/tablet hybrid, with a 10.8-inch 1920x1080 display. Processor options are much more varied as well, consisting of the Atom Z3770 on the low end (2.4GHz quad-core Bay Trail, 2W SDP) and moving up to four Haswell processor choices: Pentium 3560Y (1.2GHz dual-core, HD Graphics, 11.5W TDP, 6W SDP), Core i3-4020Y (1.5GHz dual-core, HD Graphics 4200, 11.5W TDP, 6W SDP), Core i5-4210Y (1.5-1.9GHz dual-core, HD Graphics 4200, 11.5W TDP, 6W SDP), and Core i5-4300Y (1.6-2.3GHz dual-core, HD Graphics 4200, 11.5W TDP, 6W SDP). Obviously the Haswell parts are rated to draw quite a bit more power, so I'm really curious about the amount of overlap between the Bay Trail and Haswell models, as there are numerous cases where it looks like Dell has two completely different designs and the only thing they share is the display and a few other features.
Storage options are full SSD this time as well, with 32GB, 64GB, 128GB, and 256GB drives available; likewise memory can be either 2GB DDR3-1333 or 4GB/8GB DDR3-1600 (presumably the higher memory capacities are dual-channel and are for the Haswell variants). Connectivity options get a slight boost as well, with either 802.11n dual-band 300Mbps WiFi or Intel 7260AC 867Mbps, Bluetooth 4.0, NFC (Near Field Communication), and 3G/HSPA+ or 4G/HSPA/EVDO mobile broadband (the latter being for the US market). Hardware TPM is included, the battery is a 30Wh or 37Wh depending on the configuration, with the 37Wh apparently being swappable (again, I'd assume the larger battery is for the Haswell models), and it comes with a 24W AC adapter. The cameras are a 2MP front and 8MP rear, ports include a full-size USB 3.0, a headset combo jack, micro HDMI, and microSD (SD/SDHC/SDXC up to 64GB). A stylus is again included (or optional?), and while Dell doesn't specifically state this it appears to be an active stylus.
Dimensions are 177mm x 280mm x 10.2mm / 15.4mm; the thicker chassis belongs with the 37Wh battery and the Haswell CPUs I'd guess. Starting weight is listed as 726g (1.6 lbs.), but that's obviously not going to be for the thicker models with the larger battery capacity. Dell has an optional mobile keyboard attachment that also serves as a screen cover (but with no additional battery capacity), or there's a Tablet Desktop Dock that adds an additional USB 3.0 port along with dual display outputs. Pricing starts at $500, but I'd expect the higher-end Haswell models to push well into the $1000+ range. Dell didn't provide pricing information for the keyboard or desktop dock.
Source: Dell Press Release