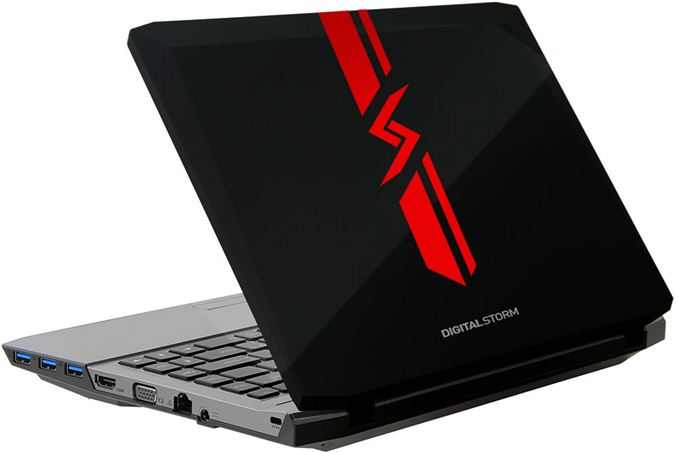 It seems with the launch of Intel's Haswell processors and platform, notebook manufacturers are starting to focus on smaller devices without sacrificing a lot in the way of performance. We recently reviewed the Razer Blade, a 14-inch ultrathin laptop that's still able to pack a quad-core Haswell processor (37W TDP i7-4702MQ) and GTX 765M into an extremely stylish chassis. Unfortunately, the Razer Blade let us down with the inclusion of a 1600x900 lower quality LCD. In a similar vein, I'm working on a review of MSI's GE40, another 14-inch laptop with specs similar to the Razer Blade, again let down by a 1600x900 low quality LCD. Digital Storm will hopefully break that trend with their 13.3-inch VELOCE laptop.
Like the Razer Blade (the MSI GE40 uses the slightly slower GTX 760M), the VELOCE uses NVIDIA's GTX 765M 2GB for graphics duty. Where it differs from the Razer Blade and GE40 is that it supports full voltage Haswell processors, not to mention it has a slightly smaller display size but ups the resolution to 1920x1080 – anti-glare no less! The full specifications are pretty impressive, and while it's not as thin as the Razer Blade or GE40, it looks like we might finally have a no-compromise 13.3-inch gaming laptop. Digital Storm offers for customization options on their laptops, but here is one set of specifications for the VELOCE:
Digital Storm VELOCE Specifications
Processor
Intel Core i7-4800MQ
(Quad-core 2.7-3.7GHz, 6MB L3, 22nm, 47W)
Chipset
HM87
Memory
2x4GB DDR3-1600
Graphics
GeForce GTX 765M 2GB
(768 cores, 850MHz + Boost 2.0, 4GHz GDDR5)

Intel HD Graphics 4600
(20 EUs at 400-1300MHz)
Display
13.3" Anti-Glare 16:9 1080p (1920x1080)
Storage
750GB 7200RPM HDD
8GB SSD cache
Optical Drive
DVD-RW (?)
Networking
802.11n WiFi (Killer Wireless-N 1202)
(Dual-band 2x2:2 300Mbps capable)
Bluetooth 4.0 (Killer 1202)
Gigabit Ethernet
Battery/Power
6-cell, 11.1V, 5900mAh, 65Wh
90W Max AC Adapter
Left Side
Headphone and Microphone
1 x USB 2.0
Exhaust Vent
Right Side
3 x USB 3.0
1 x Mini-HDMI
1 x VGA
Gigabit Ethernet
AC Power Connection
Kensington Lock
Operating System
Windows 8 64-bit
Dimensions
1.26" (32mm) thick
Weight
4.6 lbs (2.09kg)
Pricing and Availability
$1535 as configured
Available July 17, 2013
The press release notes that the VELOCE include support for two storage devices (mSATA and 2.5"), with optional RAID support. There's also a spec sheet that mentions a DVD-RW drive, but the images don't indicate where that drive would be located unless it's an external option. We're definitely excited to see more competition in the (reasonably) thin and light gaming laptop market, and while the VELOCE isn't quite as thin as some of the other options, the performance and in particular the LCD may more than make up for that.
Digital Storm is currently in the process of revamping their entire notebook lineup, so the mobile section of their website consists of a countdown to July 17. We would assume there will also be additional notebooks announced at that time, or at least sometime in the near future. We have requested a review sample and we hope to be able to provide a full review in the future. The current price is about $300 more than the MSI GE40 (which includes a 128GB SSD), but VELOCE has a higher-end processor; it's also about $300 less than the baseline Razer Blade. Hopefully the VELOCE can live up to our expectations and deliver a quality gaming experience in a reasonably portable package.
Source: Digital Storm PR