A full 1 month and 27 days since iOS 5.1 B3 was posted for Apple Developers to try out, iOS 5.1 final has posted online for download and installation. The final build is 9B179, up from 9B5141a on iOS 5.1B3. Download links are available and live through iTunes and for OTA on devices already running iOS 5.0, or check e-lite for direct links to the Apple-hosted IPSW files based on itunes.com/version. Users running the beta don't have an OTA update path and instead have to update tethered to iTunes.
Among the changes are a boost to the maximum cellular download size for App store applications to 50 MB from 20 MB, new Japanese language support for Siri, a new camera shortcut from the lock screen, improved face detection, improved battery life, fixed audio call drop issue, and perhaps most ominously an "updated AT&T network indicator" among others. Hopefully the 3G disconnect bug which plagued iOS 5.1 B2 and B3 has been fixed as well. We're downloading the update right now for install and will post back with impressions.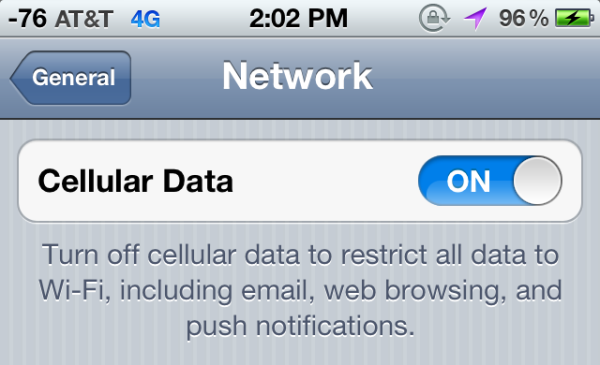 Update: The 5.1 update indeed changes the "3G" network status indicator to "4G" on AT&T HSPA+, which means that AT&T is now consistent across iOS and Android with its HSDPA 14.4 as "4G" lie marketing. The "4G" badge reportedly also carries over to the iPhone 4, (no "4G" indicator on our iPhone 4 or 3GS) a device based on an Infineon X-Gold 618 baseband with HSDPA 7.2 and HSUPA 5.76 and not implementing any HSPA+ features. We're also updating our 3GS to see if that is also affected, the 3GS as a reminder includes an X-Gold 608 with HSDPA 7.2 and no HSUPA, instead WCDMA 384 kbps upstream.
The update also bumps the baseband firmware version up to 2.0.10 on the iPhone 4S, which hopefully is enough of a boost to have bucked the 3G (or is it 4G now?) disconnect bug.
To top everything off, the 3G toggle has also been re-removed on iOS 5.1, which was previously present on iOS 5.1B3. No doubt the 3G toggle has been removed in no small part becuase of AT&T's ongoing efforts to refarm GSM/EDGE on PCS 1900 MHz - the carrier has been slowly removing the 2G toggle on subsidized Android devices as well. There's another big contributing factor for why the 3G toggle has been re-removed as well on the iPhone 4S - lack of Rx diversity on GSM/EDGE.
More in the gallery with the updated lock screen photo shortcut.