Introducing the Sony VAIO Z2
Users who want everything out of their notebook, no matter how ridiculous the demands, are probably more than at least a little curious about Sony's new VAIO Z2. There's good reason to be: this 13.1" ultrabook features a stunning 1080p screen, a secondary battery slice that nearly doubles running time off the mains, and an external dock box that features an optical drive, additional connectivity, and a dedicated GPU that can actually be used to power the notebook's internal screen. The VAIO Z2 has a lot going for it, but is it worth the heavy price tag?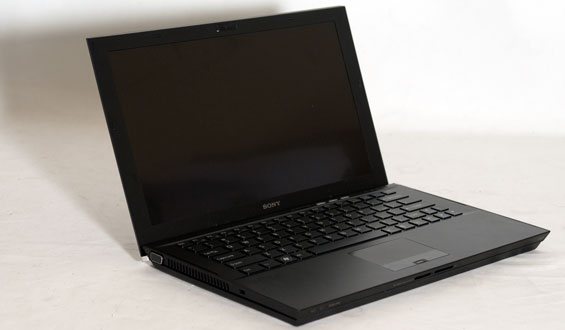 Sony's website lists this unit under the same old Z-series heading, but you'll remember last generation's Z-series notebooks used Arrandale CPUs and packed an optical drive and GPU into the main chassis. The Z2 also technically wouldn't qualify as an ultrabook with a starting price north of $1,600, but the design and build quality is basically in line with Intel's specification (other than the full power CPU). Sony just also happens to include a wealth of extras in the box with it to shore up any deficiencies the primary system might have.
Sony VAIO Z2 Specifications
Processor
Intel Core i7-2620M
(2x2.7GHz + HTT, Turbo to 3.4GHz, 32nm, 4MB L3, 35W)
Chipset
Intel HM67
Memory
4GB integrated DDR3-1333 in dual channel
Graphics
Intel HD 3000 Graphics
(12 EUs, up to 1.3GHz)

AMD Radeon HD 6650M 1GB DDR3 (in external dock)
(480 shaders, 128-bit memory bus, 725MHz/1.8GHz core/memory clocks, running at PCIe 2.1 x4)
Display
13.1" LED Matte 16:9 1080p
Sony MS_0025
Hard Drive(s)
2x128GB Samsung SATA 3Gbps SSD in RAID 0 (integrated)
Optical Drive
Optiarc DVD+/-RW (in external dock)
Networking
Realtek PCIe Gigabit Ethernet (second in dock)
Intel Centrino Advanced-N 6230 802.11a/b/g/n
Bluetooth 2.1+EDR
Audio
Realtek ALC275 HD Audio
Stereo speakers
Single combination mic/headphone jack
Battery
6-Cell, 11.1V, 45Wh (integrated)

6-Cell, 11.1V, 49Wh (battery slice)
Front Side
MS/MSPro card reader
SD/MMC card reader
Right Side
Mic/headphone combo jack
Ethernet port
HDMI
USB 2.0
USB 3.0/dock combo port
AC adaptor
Left Side
VGA
Exhaust vent
Kensington lock
Back Side
-
Operating System
Windows 7 Professional 64-bit SP1
Dimensions
13.0" x 0.66" x 8.27" (WxHxD)
330mm x 16.8mm x 210mm
Weight
2.57 lbs (with standard battery)
1.17kg
Extras
Webcam
SD and MS card readers
2xSSD in RAID 0
USB 3.0
Bluetooth
Removable external battery slice

External docking unit which features:
DVD+/-RW drive
2x USB 2.0
1x USB 3.0
Gigabit ethernet
HDMI
VGA
AMD Radeon HD 6650M 1GB DDR3
Warranty
1-year international warranty
Pricing
Starts at $1,649
As configured: $2,499
It's fairly obvious Sony is gunning for the premium ultraportable market with the VAIO Z2, much as they did with its predecessors. The Z2 is slim and light, but unlike other ultrabooks, Sony elected to use a full-wattage Intel Sandy Bridge processor in the form of the Core i7 2620M, a dual-core processor that runs at a 2.7GHz nominal clock but turbos up to 3.2GHz on both cores or 3.5GHz on a single core. They pair it with 4GB of dual channel DDR3-1333, and you can order the Z2 with up to 8GB, but buyer beware: the memory is soldered on to the motherboard. If you want more than the standard 4GB of DDR3, you'd better order it from the get go because you won't be able to upgrade it later.
Also not upgradable but still appreciated is the SSD. Information about the controller used is not forthcoming, but the individual drives are running on SATA 3Gbps instead of SATA 6Gbps, and then data is striped between two channels in RAID 0. It's a decision of questionable value to the end user; the HM67 mobile chipset is capable of supporting a SATA 6Gbps SSD, so the only real benefit here is the pair of SSD controllers theoretically improving overall throughput.
The rest of the notebook on its own is business as usual excepting the stellar 1080p 13.1" screen. It's definitely a TN panel, but as you'll see later it's among the best notebook screens we've ever tested. The 1080p screen is an upgrade, but even the bottom rung model of Z2 still comes with a 900p screen bog standard, a far cry from the poor quality 768p screens other manufacturers are using.
While sheet batteries are nothing new and the one available for the Z2 does exactly what it was intended for, the docking unit is another matter entirely. Sony dubs it the Power Media Dock, and it offers something most notebook users have been clamoring for: a discrete graphics upgrade. Since the Z2 itself is too small to house a discrete GPU, the Power Media Dock features an AMD Radeon HD 6650M with 1GB of DDR3. Unlike prototypes that have been announced year after year (and almost never materialize in the marketplace), the Z2's Power Media Dock is capable of actually using the Radeon with the internal screen instead of forcing you to use an external monitor if you want dedicated graphics performance. The dock also includes additional connectivity along with a DVD+/-RW drive, and more expensive versions can upgrade to a Blu-ray reader or a Blu-ray writer.