The Alienware M18x Revisited
In our first run with the Alienware M18x, we sat down and took a look at the notebook itself along with NVIDIA's current top shelf mobile graphics part, the GeForce GTX 580M. We came away from the experience with mixed impressions of the M18x itself, a notebook that is by all means incredibly powerful but also seems to lose a lot of the balance that made the M17x R3 so desirable. On the other hand, the GeForce GTX 580M wound up being the fastest mobile GPU we'd yet tested, made only more formidable through the SLI configuration the M18x enables.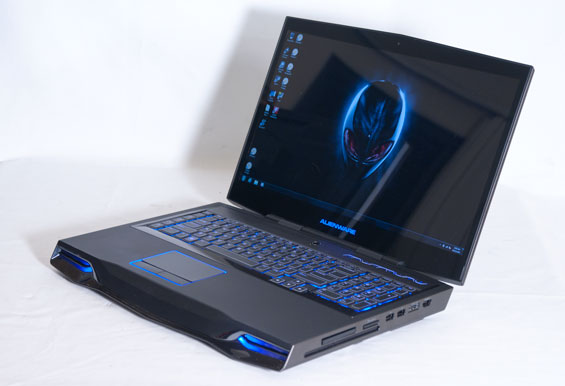 Today, Alienware has graciously provided us with the second half of the current top shelf performance equation in the form of a near-identically configured M18x, this time with two AMD Radeon HD 6990Ms in CrossFire. We'll also take a look at the Intel Core i7-2920XM's stock performance and compare it against the overclocked settings Alienware allows you to configure it with.
In a beautiful bit of synchronicity, our Radeon-equipped M18x also uses Alienware's black shell instead of the "nebula red" they equipped our GeForce model with. Other than that, this review unit is going to seem very familiar to those of you who caught the first part of our review. If you missed it, give it a read first.
Alienware M18x Notebook Specifications
Processor
Intel Core i7-2920XM
(4x2.5GHz + HTT, 3.5GHz Turbo, 32nm, 8MB L3, 55W)
(Overclocked to 3.5GHz, 4.2GHz Turbo)
Chipset
Intel HM67
Memory
4x4GB Hynix DDR3-1600 (Max 4x8GB)
Graphics
AMD Radeon HD 6990M 2GB GDDR5 in CrossFire
(2x1120 stream processors, 715MHz/3.6GHz core/memory clocks, 256-bit memory bus)
Display
18.4" LED Glossy 16:9 1080p
SEC5448
Hard Drive(s)
2x Seagate Momentus 750GB 7200-RPM HDD in RAID 0
Optical Drive
Slot-loading Blu-ray/DVDRW Combo (HL-DT-ST CA30N)
Networking
Atheros AR8151 PCIe Gigabit Ethernet
Intel Centrino Ultimate-N 6300 802.11a/b/g/n
Bluetooth 3.0
Audio
IDT 92HD73C1 HD Audio
Stereo speakers with subwoofer
S/PDIF, mic, and two headphone jacks
Battery
12-Cell, 11.1V, 97Wh
Front Side
N/A (Speaker grilles)
Right Side
ExpressCard/54
Slot-loading optical drive
MMC/SD/MS Flash reader
2x USB 2.0
eSATA/USB 2.0 combo port
HDMI input
Left Side
Kensington lock
Ethernet port
VGA
HDMI
Mini-DisplayPort
2x USB 3.0
S/PDIF, mic, and two headphone jacks
Back Side
AC jack
4x exhaust vents
Operating System
Windows 7 Home Premium 64-bit
Dimensions
17.17" x 12.68" x 2.13" (WxDxH)
Weight
~11.93 lbs
Extras
3MP Webcam
Backlit keyboard with 10-key and configurable shortcut keys
Flash reader (MMC, SD/Mini SD, MS/Duo/Pro/Pro Duo)
Configurable lighting
Warranty
1-year standard warranty
2-year, 3-year, and 4-year extended warranties available
Pricing
Starting at $1,999
Price as configured: $4,224
There are a couple of major differences between this unit and our last one that are worth pointing out. First, while our GeForce-based system simply had a pair of 750GB 7200-RPM hard drives, this one has them configured in the RAID 0 that Alienware inexplicably seems to love shipping notebooks with. Don't ask me why, I just work here, but hopefully if I keep harping about this eventually they'll offer an SSD+HDD configuration in models that support it--the way they should have been doing for a while now. This is liable to affect PCMark scores somewhat.
The other major difference? The Radeons of course! While the AMD Radeon HD 6970M sported a slightly cut down Blackcomb GPU, essentially a downclocked version of the desktop Radeon HD 6850, the 6990M features a Blackcomb with all 1120 shaders enabled and a minor clock speed bump beyond the 6970M. Compared to the jump from the GeForce GTX 485M to the 580M, this is a bit more substantial of an improvement in raw hardware power. The 6990M features those 1120 shaders and a core clock of 715MHz (up from 680MHz on the 6970M, but down from the 900MHz of the desktop 6870), with 2GB of GDDR5 strapped to a 256-bit memory bus and running at an effective 3.6GHz (down from the desktop model's 4.2GHz clock.)
Since this M18x is otherwise identical to our previous system, we've eschewed retesting the screen and battery life, and our assessments of the unit's design and build quality from the previous chapter still apply. While the two differ in graphics configuration, Alienware uses muxes to switch the graphics hardware on and off, making any differences in running time academic at best. We've also opted to run our CPU-based benchmarks (and the 3DMarks) again using the i7-2920XM at stock speeds to compare performance against the maximum preset overclock Alienware makes available. The net result is a tremendous amount of new data for us to sift through.