Following yesterday's announcement of the Lenovo U300s ultrabook, Acer and Toshiba have thrown their hats into the ring: Acer with its Aspire S3, and Toshiba with its Portege Z830.
Let's start with the similarities: Both feature a 13.3" screen with a 1366x768 resolution, Sandy Bridge ULV processors, DDR3 memory, an HDMI port, an SD card reader, wi-fi, a webcam, and bluetooth. Both also feature SSDs of varying capacities, though the Aspire S3 will offer a higher-capacity but slower mechanical HDD option (sources indicate that HDD models will feature an embedded SSD to retain the fast boot times required by Intel's Ultrabook spec, but specifics are hard to come by). Both will also launch later this year: Toshiba is commiting to November, while Acer declined to be more specific.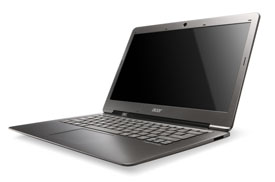 And the differences: the Toshiba model also features built-in Ethernet, a VGA port, a backlit keyboard, and a third USB port, while the Acer model is slightly thinner at 0.51 inches but heavier at about 3 pounds (the Toshiba is 0.63 inches high and weighs about 2.5 pounds, though it should be noted that the weight of each model may vary based on component selection). The Toshiba will also be cheaper, starting at around $1,000 (compared to the Acer's $1,179).
Looking at these early Ultrabooks, it's becoming clear that these laptops, like netbooks before them, are going to have to fight to differentiate themselves. In these particular models, this is mostly being done with ports: the Acer is the only one to lack a wired Ethernet port, while the Toshiba is the only to offer a VGA out and a third USB port.
This sort of heavy competition can be good, to a point, but I'm hoping we don't see the same thing we already see in the netbook and low-end laptop market: dozens of unexciting computers that are, for most intents and purposes, indistinguishable from one another.
Source: BusinessWire, PCMag