Acer 5551G: AMD's Budget Gaming Laptop
A couple months ago, we looked at AMD's quad-core P920 processor and HD 5650 GPU combination (with HD 4250 switchable graphics) courtesy of the Toshiba A660D/A665D. The combination wasn't without promise, but we walked away with a few concerns. First, we didn't think the Toshiba notebook was the best-built system on the block, with its glossy textured plastic. Then there's the issue with the CPU: the Phenom II P920 may be a quad-core processor, but the slow 1.6GHz maximum clock speed can be a serious bottleneck. And while we like the idea of switchable graphics, Toshiba garners two more marks against their offering: first, they don't participate in AMD's mobile driver program (you can get around this by downloading the drivers on a different laptop from a vendor that does participate, interestingly enough); second, they take the Radeon HD 5650 and clock it at 450MHz instead of 550MHz. Combine all of the above with a minimum price of $800 and we walked away without a clear winner. Here's our wish list from the conclusion of the A660D review:
Frankly, it just doesn't seem like anyone has yet come up with an ideal AMD-based laptop—not that they can't, but more like they won't. So to help, here's what we want. First, give us more than a 48Wh battery—look at ASUS' U-series laptops with 84Wh batteries for inspiration here. Second, keep the CPU clock speed above 2.0GHz, because when Intel's i3-330M beats a quad-core 1.6GHz part in virtually every benchmark you know there's a problem. Third, give us a decent GPU (5650 or faster), but don't force us into 16" and larger notebooks; P520, 5650, and a 63Wh battery (at least) should all fit in a 14" chassis. Bonus points for the first laptop to provide all of the above and not use a cheap LCD (and we'd even pay an extra $50-$100 for such a display). Considering the competition on the Intel side of the fence, realistically all of this needs to fit into a budget of under $800, since an extra $100 brings Core i5 parts into direct competition.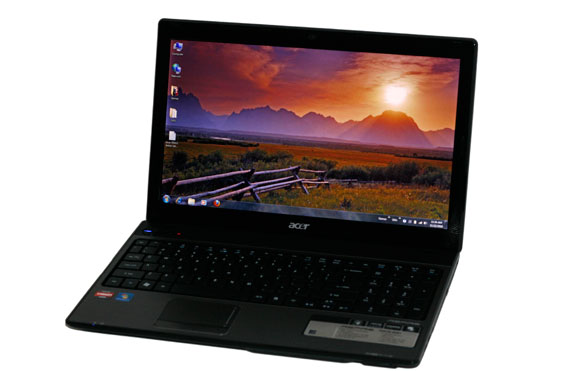 Besides the above, we also had to question whether P920 made sense with the 5650—a higher clocked dual-core processor seemed like a better overall gaming solution, given the dearth of games that truly benefit from having more than two cores. Not long after that review, AMD contacted us and asked if we'd like to look at the Acer 5551G-4591, a laptop that at least meets several of the above wish list bullet points. Now, we haven't been particularly kind in our comments on some of the Acer/Gateway laptops of late, but that doesn't mean they can't fill a niche. We still think the keyboard is one of the least desirable options for a notebook (which is putting it kindly), and they're not likely to ever win an industrial design competition, but one thing Acer tends to do better than anyone else is to pack some decent performance options into very affordable offerings. So just what does the 5551G-4591 bring to bear? Here's the spec rundown.
Acer Aspire 5551G-4591 Specifications
Processor
AMD Turion II P520 (2x2.3GHz, 45nm, 2x1MB L2, 25W)
Chipset
AMD RS880M + SB850
Memory
2x2GB DDR3-1066 (Max 2x4GB)
Graphics
AMD Radeon Mobility HD 5650 1GB DDR3
(400 Shaders, 550MHz core clock, 1540MHz effective memory clock)
Display
15.6" LED Glossy 16:9 768p (1366x768)
AU Optronics B156XW02-V2 Panel
Hard Drive(s)
500GB 5400RPM (Seagate Momentus 5400.6 ST9500325AS)
Optical Drive
DVD+/-RW Drive (Matshita DVD-RAM UK890AS)
Networking
Gigabit Ethernet (Broadcom BCM57780)
Wireless 802.11n (Atheros AR928X, 300Mb capable)
Audio
Realtek ALC272 HD Audio
Stereo speakers, headphone and microphone jacks
Battery
6-Cell, 10.8V, 4400mAh, 48Wh battery
Front Side
Flash reader
Left Side
Headphone and microphone jacks
1 x USB 2.0
HDMI
Ethernet jack
VGA
Exhaust vent
AC plug
Right Side
2 x USB 2.0
Optical drive
Kensington lock
Back Side
None
Operating System
Windows 7 Home Premium 64-bit
Dimensions
15.0" x 10.0" x 1.0"-1.3" (WxDxH)
Weight
5.7 lbs
Extras
1.3MP Webcam
103-Key Keyboard with dedicated 10-key
Flash reader (MMC, SD/Mini SD, MS/Duo/Pro/Pro Duo, xD)
Warranty
1-year standard warranty
Pricing
Estimated price of $649
[Possibly discontinued]
Let's get the have-nots out of the way first: no switchable graphics; a small 48Wh battery; no USB3.0, FireWire, or ExpressCard; no high quality LCD. There aren't any surprises in that list, but the haves are a bit more compelling: a 2.3GHz Turion II P520 processor, a 550MHz HD 5650, a modified design that isn't quite as bad as the last-gen Aspire "bulbous cover", and a price starting at just $630 online. We can throw sticks and stones at the keyboard and chassis all day, but the fact is many users aren't nearly as demanding as we are. If you want a great keyboard experience, we would look elsewhere, but if you're willing to live with the "floating island" keyboard—or perhaps you even like it?—then a price that's only slightly more than the better netbooks and the cheapest ultraportables will help you get your game on.
Before we move on to the actual user experience with the 5551G, let's make sure we set expectations appropriately low. The Toshiba A660D managed battery life of nearly four hours, but it included switchable graphics. With the same size battery but discrete-only graphics, the 5551G will be hard pressed to break the three-hour mark in our best-case scenario. It's a shame Acer doesn't toss in something like the 84Wh ASUS U-series battery, because the difference between three hours and five hours could easily mean leaving the power adapter behind while you head out to a day of classes. Also, the LCD is another 768p model, and like so many others it utterly fails to impress. It will show you content as well as the speakers will play music (which is to say, not that well). But again, the price lets us excuse quite a few complaints…if only we could still buy it!
In typical Acer fashion, a notebook that is less than two months old is no longer available online at the time of writing. Perhaps the price was too good, or maybe Acer is counting on unsuspecting users buying the 5551G-4280 thinking it's the same as the 5551G-4591. Well, it's not, because the 4591 comes with a 5650 while the 4280 drops to a 5470, and the standard 5551 (no G) only uses integrated HD 4250 graphics. Arrrgh! But all is not lost, as the 5551G-4591 might still be found on store shelves at Costco, Walmart, Best Buy, Sears, Office Depot, or Office Max—try giving your local store a call. Or you can look at alternatives from other companies; the only Athlon II dual-core + 5650 we know of right now is the HP Pavilion dv6z (which will start at $700 with the 5650).