Back in April we dissected Drive Extender v2 – Microsoft's storage pool and data duplication technology for Windows Home Server – based upon the first preview release of Windows Home Server "Vail". In "Vail", Microsoft was going to significantly overhaul this cornerstone piece of technology for WHS, replacing the file-centric Drive Extender v1 with the block-centric Drive Extender v2. In a nutshell DE v2 was intended to fully modernize the underpinnings of Drive Extender by bringing it closer to contemporary peers like ZFS, and in turn bringing with it a number of performance, compatibility, and data reliability benefits.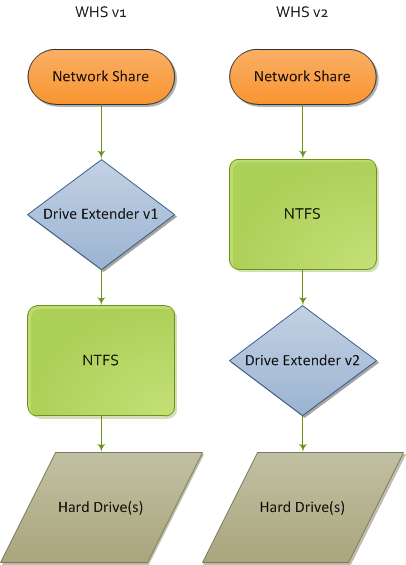 With such a change would also come some drawbacks compared to the existing implementation of Drive Extender, but it's nothing we expected Microsoft wouldn't be able to surmount. Certainly everything seems to have been firing on all cylinders over at Microsoft, as WHS "Vail" was joined by 2 additional business-focused WHS offshoots, Windows Storage Server 2008 R2 Essentials and Windows Small Business Server 2011 Essentials.
So imagine our utter shock when we found out that Microsoft is going to be removing Drive Extender entirely from "Vail" and the rest of its offshoots. Effective immediately, Microsoft is dropping Drive Extender from all of these second-generation WHS operating systems, and instead will be releasing these OSes without a native storage pool/duplication feature.
Ultimately Microsoft is citing the feedback based on the potential drawbacks of DE v2 such as the inability for other OSes to read DE v2 disks, and what Microsoft believes is a diminished need for DE with the availability of 2TB+ hard drives. The needs of "Vail's" two business-class offshoots may have also played a part, as Microsoft notes that "our development for these products is very closely tied, a decision like this affects all three." What we can easily imagine however is that DE v2 development was not going as well for Microsoft as they hoped, as OS programmers and drive makers alike can tell you just how difficult it is to design a new product/filesystem while avoiding corruption – even Microsoft got it wrong the first time. DE v2 by extension was going to be pushing the envelope as far as what any consumer filesystem was capable of.
In any case at this point we're still trying to scoop our jaws off of the floor. Drive Extender is by no means the only major feature of Windows Home Server – least we forget remote access and client backups – but it's certainly a cornerstone of the OS and goes hand-in-hand with the OS's file server capabilities. The loss of DE further blurs the line between WHS and Linux, not to mention reduces the separation between it and dedicated NAS boxes.
Ultimately however this is only the beginning of the story for WHS "Vail"; Microsoft has made it clear there's still a great deal to discuss about "Vail" at CES next year, so hopefully by then we won't be left scratching our heads at where exactly Microsoft is going with the next iteration of their Home Server line of OSes.