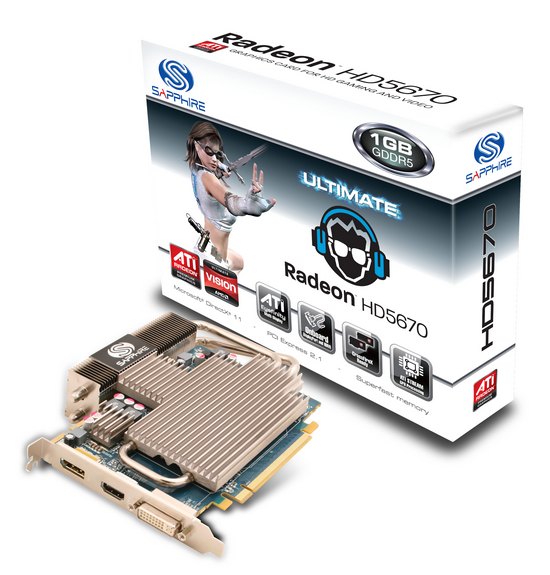 With a TDP of around 61W, Sapphire is reaching an upper limit on what passive cooling can do in a still-air environment. Any more, such as a passive cooler on the 5750 (86W TDP as standard), would require significant engineering of the cooler and heatpipes to keep it passive - such as the dual slot Gigabyte HD5750 Silent Cell, which is a passive 5750, but has a massive cooling and heatpipe arrangement, as well as a 6-pin power requirement.
Featuring stock HD5670 clocks of 775MHz core, 1GHz memory (4GHz effective), 400 stream processors and 1GB of DDR5 memory, the HD5670 is marketed as the fastest silently cooled graphics card 'available today' - though we can't find it on sale yet, and the Gigabyte 5750 Silent Cell is on sale, under it's code GV-R575SL-1GI.
The HD5670 Ultimate isn't necessarily aimed at the HTPC market, as it isn't low profile, but we could see a use in larger 'HTPC/Home Server' combinations, as well as mainstream desktop computers, and gaming machines, where silence is a large part of the build. We expect the HD5670 Ultimate to retail around $125/£95, which is at a slight premium over the majority of the current HD5670 cards available.