Thursday marked the official launch of Windows 7, so perhaps we can finally put those Mac versus PC commercials behind us. Whatever your feelings towards Vista, the fact remains that it garnered a less than stellar reputation. As we discussed in our Windows 7 RC1 article, many people have the impression that Windows Vista is awful but they can't tell you why. Microsoft hopes to change things with the launch of Windows 7, a.k.a. Windows Vista 2.0.
One of the sore spots for Windows, and Vista in particular, has always been battery life. We have discussed this previously, but the simple fact of the matter is that Mac OS X on a MacBook is easily putting any Windows laptop to shame when it comes to mobility. There are many potential contributing factors, including better optimization of the hardware/software combination, tweaks to perhaps enable lower voltages by default on Intel CPUs, and the ability to keep the CPUs running in deeper sleep states more of the time. We will have an updated comparison with OS X in the near future, but to date everything appears to be in favor of Apple MacBook; Windows 7 improves the situation.
Microsoft has a white paper detailing some of the changes in Windows 7 that should result in improved battery life. We have already explored this topic previously, but those are only preliminary results. Moving forward, the laptops we review are going to shift to Windows 7 instead of Windows Vista, and today marks the onslaught of the Windows 7 laptop releases. One of the first Windows 7-based laptops to arrive in our labs for testing comes from ASUS.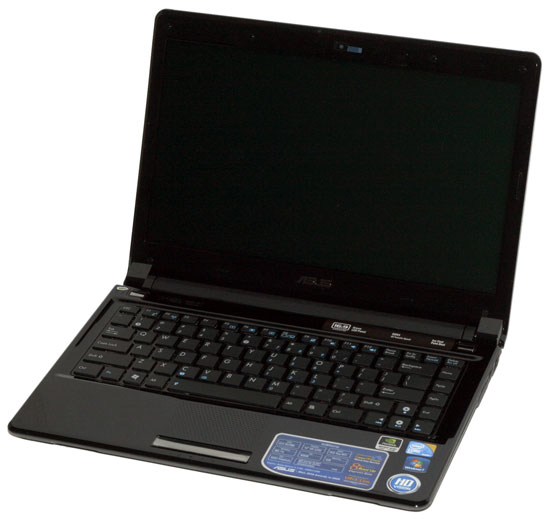 We looked at the ASUS UL50Vt running on Windows 7 Home Basic and found that ASUS could deliver nearly 7 hours of battery life while surfing the Internet -- and that's using our heavy Flash-based tests. One of the more interesting aspects of the ASUS UL series is that they allow overclocking of the ULV processors -- typically 1.73GHz instead of the default 1.30GHz, though in low-power states it's also overclocked from 800MHz to 1066MHz. The overclocking is achieved by simply raising the FSB from 800MHz to 1066MHz; since the chipset and other components can all run a 1066FSB already, the only component that's truly overclocked is the CPU, and it has no difficulty running at 1.73GHz.
We have the final release version of the ASUS UL80Vt in our hands, and we have begun testing. Today we provide a quick look at what the laptop offers and our initial impressions.