Introduction
2007 has been pretty exciting in the world of computers so far; we've seen new graphics cards, processors, and various platform launches -- and there's plenty more to come in those areas. Perhaps more significantly is that we've got a shiny new operating system from Microsoft, Windows Vista. Unfortunately, new doesn't necessarily mean better, and in the case of computer benchmarks this new operating system is proving to be particularly irksome. It's not that Windows Vista is slow, but rather that there are certain benchmark suites we've used in the past that simply refuse to run on Windows Vista. As such, we're going to have to rework some of our mobility performance tests and we are embarking on that journey today with our review of the Hewlett Packard dv6500t notebook.
As one of the largest computer manufacturers in the world, HP is able to offer an extensive line of desktop and notebook computers, as well as various peripherals. Their products generally don't cater to computer enthusiasts, but for your average home user and more importantly for many businesses, HP's offerings are going to be used by a huge number of people. Depending on your needs, their latest Santa Rosa-based notebook might be just what you're looking for.
Putting together product reviews often presents some difficulties. While we would love to be able to go out and review every product on the planet, the reality is that we often require help from manufacturers in order to get equipment to evaluate. The more expensive the product, the more difficult it can become to acquire review samples. In the end, we review what we can and even when we don't necessarily have directly competing products to compare for comparison we hope to at least provide an in-depth analysis of the hardware we are sent. Very few items are able to satisfy every user out there, so two of our primary considerations are: what is the intended market for a product, and how well does it do in meeting the needs of the target market?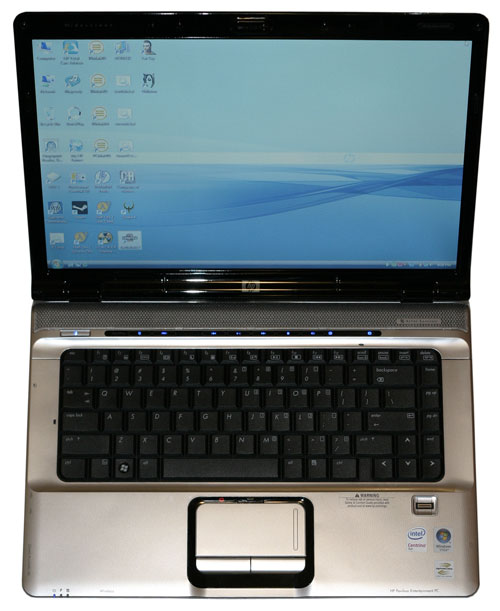 The HP dv6500t is only being offered with Windows Vista, so even if we were able to get Windows XP to run on the laptop such benchmarks would be largely meaningless. However, this is the first laptop we've tested using Windows Vista, so in some areas we will be unable to directly compare results to previous laptops. Also keep in mind that Windows Vista does impact performance differently than Windows XP, so even when we do have results from other laptops, at this point we're dealing in apples-to-oranges comparisons. That's okay, though, since in the world of mobile computers pure performance is rarely the most important factor people look at when shopping for a new notebook.
Many of the notebooks we have been sent in the past are definitely slanted a bit more towards the gaming market, and while that's fine for gamers there are drawbacks to such notebooks for other users. A gaming notebook typically requires a powerful graphics chip, and inevitably that increases power requirements and reduces battery life. Some people are okay with making that compromise, but for most mobile users one of the major reasons to get a notebook in the first place is so that you can use it away from your desk. More to the point, even the fastest notebook out there is still easily surpassed by a decent desktop system, and high-performance notebooks don't come cheap. Rather than picking up an ultra powerful $4000+ notebook, it's often better to purchase a decent laptop as well as a desktop system; spending about $2000 on each of those will usually result in a better overall computing experience. (If you still prefer an ultra high-end laptop, though, don't worry -- we'll be taking a look at just such an offering in the near future.)
That leads us to the star of today's review, the HP dv6500t. This is a generally no-frills notebook that is more than able to handle whatever computing task you might want to throw at it, short of gaming and perhaps a few high-performance applications. In that respect, it's a lot like driving a minivan. It will help you cart your kids around, but it's not quite as exciting to drive as the latest sports car. The dv6500t is part of HP's Entertainment notebook line for home and home-office users, though it would have no difficulty functioning in a business environment as well. Let's take a closer look.