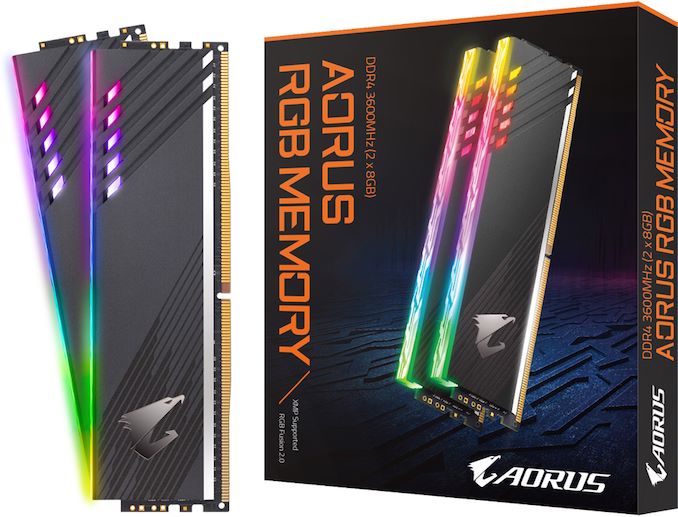 One of the advantages of having a highly-integrated product stack is ability to fine tune performance of your devices when they work together. On the one hand, this allows to get higher performance while ensuring maximum compatibility and thus differentiate from rivals. On the other hand, this enables to sell more products per end user, sometimes at a premium. This is exactly what GIGABYTE is doing with its Aorus motherboards and Aorus Memory Boost feature of its Aorus RGB Memory modules.
GIGABYTE, which introduced its first DIMMs in mid-2018, is a relative newbie on the market of memory, so its DDR4 product lineup is currently limited to seven SKUs conservatively rated for DDR4-2666, DDR4-3200, and DDR4-3600 operation (whereas faster kits announced at CES 2019 are yet to be launched commercially). Meanwhile, the company appears to have some kind of secret weapon in the form of a special SPD setting called Aorus Memory Boost (AMB) that slightly increases speed of its top-of-the-range DRAM modules.
When used with select AMD X570 and Intel Z390-based GIGABYTE Aorus motherboards, the Aorus RGB Memory DDR4-3600 with CL18 19-19-39 16 GB dual-channel kits (GP-AR36C18S8K2HU416R and GP-AR36C18S8K2HU416RD) can automatically set themselves to DDR4-3700 or DDR4-3733 (Intel/AMD) mode when their AMB profile is activated.

It is unclear whether such an overclock affects timings in a bid to slightly increase data transfer rates, or GIGABYTE can guarantee stable operation at higher clocks on its motherboards due to superior design of the latter, but it is evident that the company's modules work better with its platforms. The latter would not be particularly surprising as Aorus-branded mainboards are engineered to feature an overclocking headroom for CPU and DRAM, so GIGABYTE does not really take many risks here. Meanwhile, we can only wonder whether GIGABYTE's Aorus Memory Boost will be available on its higher-end DDR4-4000+ modules that are harder to overclock and guarantee a long-term stability.
GIGABYTE's Aorus RGB Memory DDR4-3600 16 GB dual-channel kits are already listed on the company's website, so expect them to hit retail shortly. Prices are unknown, but it remains to be seen whether the manufacturer decides to capitalize on the Aorus Memory Boost and sell the modules at a slight premium.
Related Reading:
Sources: GIGABYTE (1, 2), TechPowerUp