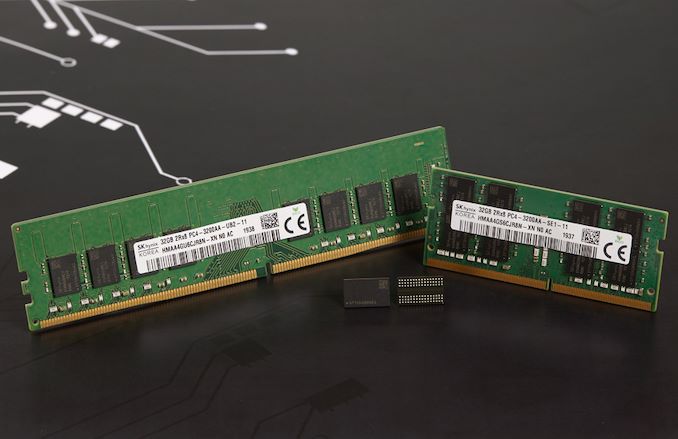 SK Hynix announced on Monday that it has completed development of its first monolithic 16 Gb chip. This chip is to be made using its 3rd Generation 10 nm-class process technology. The new memory devices will enable the company and its partners to make more energy-efficient and higher capacity DIMMs, such as 32 GB unbuffered modules for consumers or higher capacity buffered modules for enterprise consumption.
SK Hynix's 16 Gb chip made using the company's 3rd Generation 10 nm-class manufacturing technology (also known as '1Z' nm) and is rated for DDR4-3200 data transfer rates. The company states that these chips have a reduced power consumption by 40% when compared to modules of the same capacity based on 8 Gb DRAMs produced using the company's 2nd Generation 10 nm-class (aka 1Ynm) process.
SK Hynix's '1Z' nm process technology uses a new substance that enables it to maximize capacitance and improve stability of DRAM devices compared to previous generation process technology. It remains to be seen whether or not usage of the new chemicals translate into additional benefits, such as clock range, or latency. Also, the new technology enables a 27% higher bits-per-wafer productivity, which will make new memory chips cheaper to produce. The manufacturer stresses that its '1Z' nm process does not use extreme ultraviolet lithography (EUVL) and is still a fully DUV process.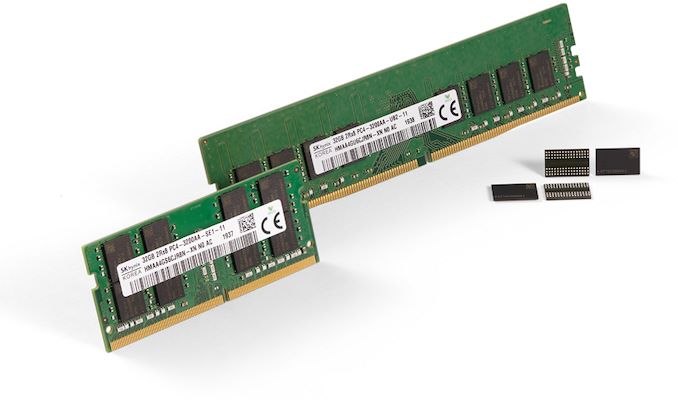 In addition to its 16 Gb DDR4 chips, SK Hynix also introduced its 32 GB unbuffered DIMM and SO-DIMM modules that can be used by desktop computers. It is unclear when these modules are to be available, but it is logical to expect them to emerge after the 16 Gb DRAM devices hit mass production in 2020.
The company plans to use its 1Znm process technology to make a variety DRAM types, including commodity DDR4 memory, LPDDR5, and HBM3.
Related Reading:
Source: SK Hynix