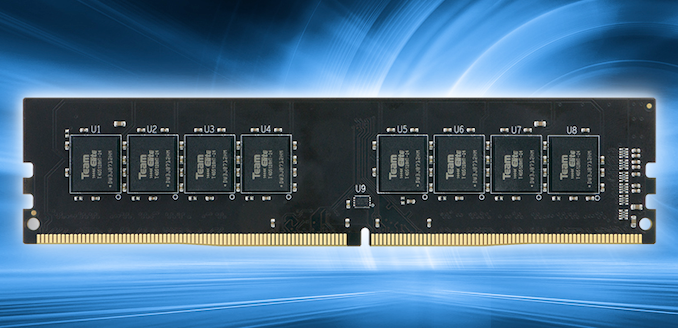 Team Group has quietly added 32 GB unbuffered DDR4 memory modules to its product catalogue and plans to start sales in the near future. The modules will feature JEDEC-standard data transfer rates and will be aimed primarily at OEMs as well as high-end desktops and workstations that benefit from loads of RAM yet do not necessarily need extreme bandwidth.
Team Group's Team Elite UD-D4 32 GB DDR4 unbuffered DIMMs rely on 16 memory chips featuring a 16 Gb capacity from Micron. The memory modules are rated for DDR-2666 mode with CL19 19-19-43 timings at 1.2 V, which is fully compliant with JEDEC's standards. The UDIMMs are not equipped with a heat spreader since they are not meant to be overclocked by the manufacturer.
UPDATE 10/30: Team Group uses Micron's 16 Gb memory chips for its Elite 32 GB modules.
Team Group's Team Elite UD-D4
Speed
CL Timing
Voltage
Kit
Config.
Kit
Capacity
PN
DDR4-2666
CL19 19-19-43
1.2 V
1×32 GB
32 GB
TED432G2666C1901
2×32 GB
64 GB
TED464G2666C19DC01
Team Group will offer its Team Elite UD-D4 32 GB DDR4-2666 UDIMMs as single modules and as dual-channel kits. The former will be aimed primarily at computer makers that need to cut down their BOM cost, while the latter will sell to all kinds of clients that need a dual-channel 64 GB memory subsystem.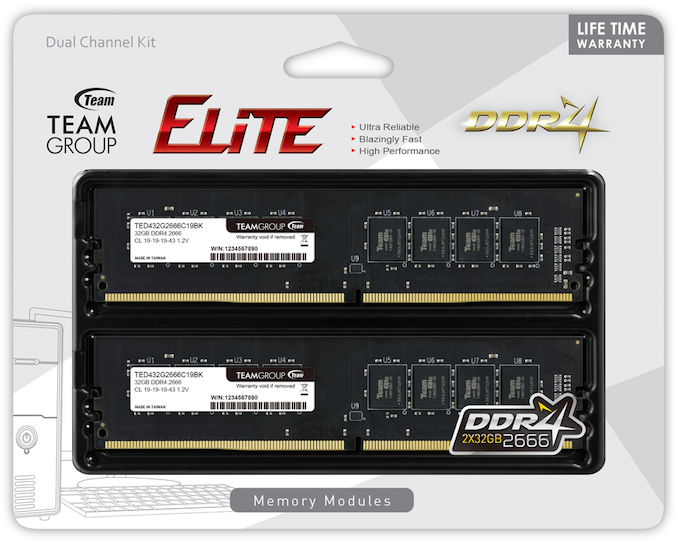 By offering 32 GB modules with standard JEDEC speed and timings, Team Group maximizes their compatibility with systems. Meanwhile, an important thing to remember about 32 GB UDIMMs is that they may require a BIOS update as not all motherboards support them out-of-box.
Team Group's 32 GB UDIMMs as well as dual-channel 64 GB (2×32 GB) kits will be available in Japan starting from October 25. Pricing is unknown, but expect it to be comparable to other DDR4-2666 32 GB modules/kits.
Related Reading
Sources: Aiuto-jp.co.jp (via momomo_us/Twitter), Team Group