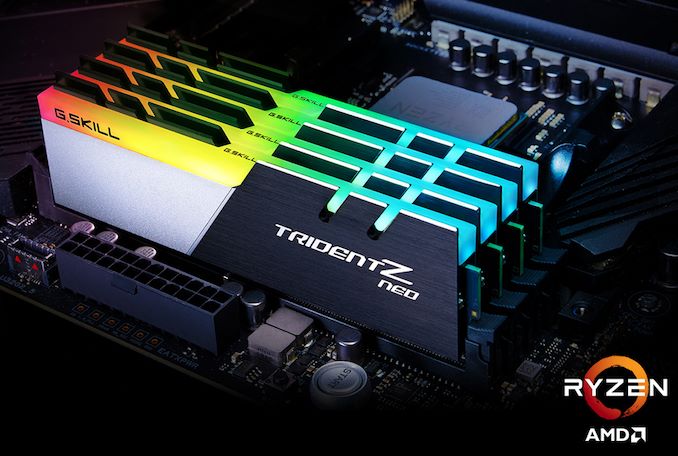 G.Skill has introduced its new high-end Trident Z Neo memory kits for systems based on AMD's latest Ryzen 3000 processors. According to G.Skill, its Trident Z Neo DDR4-3800 CL14 kits reach up to 58 GB/s in measured memory bandwidth.
AMD says — and many third-party observers confirm — that its Ryzen 3000 CPUs based on the Zen 2 microarchitecture show the highest memory subsystem performance when frequencies of Infinity Fabric (fClk), memory controller (uClk), and DRAM (mClk) are equal (i.e., the fClk to mClk ratio is set at 1:1). However, far not all Ryzen processors can support high fClk clocks, so using extremely fast DDR4 memory modules (e.g., DDR4-4000+) may be detrimental in many cases. G.Skill says that its Trident Z Neo DDR4-3800 kit, which runs at CL14-16-16-36 timings at a toasty 1.5 V, offers an optimal combination of high clocks, low latency, and fClk to mClk ratio of 1:1 for AMD's latest CPUs.
G.Skill's Trident Z Neo DDR4-3800 CL14 8 GB modules (F4-3800C14-8GTZN) are based on Samsung's 8 Gb B-die memory chips and use a custom PCB. The unbuffered DIMMs come with aluminum heat spreaders as well as RGB LEDs. To set up rather extreme clocks and low latencies, users will need to enable an XMP 2.0 profile.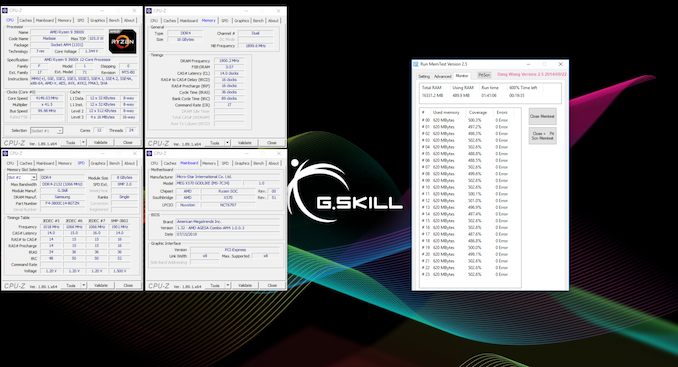 Apart from the combination of frequency and timings, a key feature of the Trident Z Neo DDR4-3800 CL14 modules is their unprecedented voltage of 1.5 Volts, a 25% increase over DDR4 specification (1.2 Volts), that is only supported properly on high-end platforms equipped with a high-quality VRM. The module maker itself has validated its new DIMMs with ASUS ROG Crosshair VIII Formula as well as MSI MEG X570 Godlike motherboards that run AMD's Ryzen 5 3600X or Ryzen 9 3900X CPUs.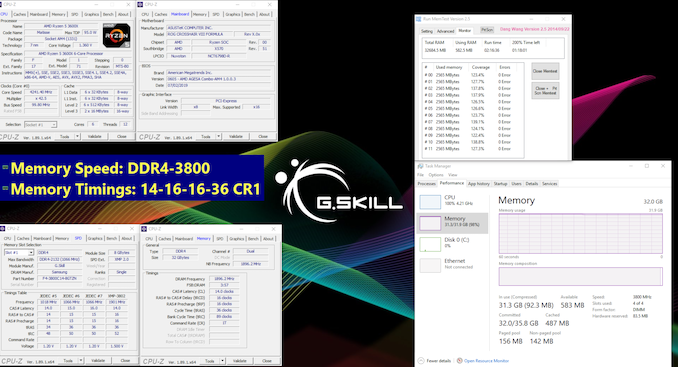 According to G.Skill, internal tests revealed that a memory subsystem comprising of an AMD Ryzen 3000 processor as well as its Trident Z Neo DDR4-3800 CL14 modules can hit 58 GB/s, 56 GB/s, and 58 GB/s of memory bandwidth for read, write, and copy benchmarks respectively.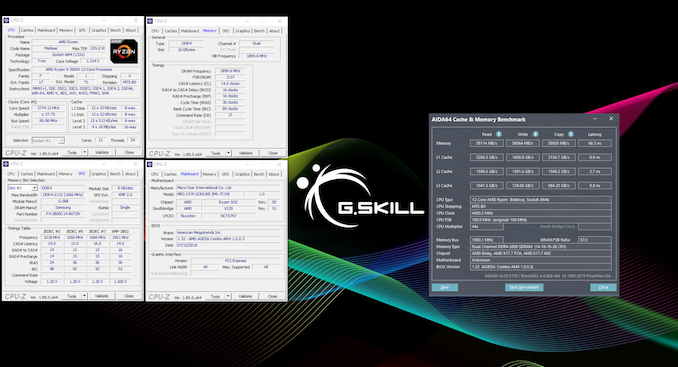 G.Skill will supply its Trident Z Neo DDR4-3800 CL14 8 GB DIMMs in 16 GB or 32 GB dual-channel memory kits. The kits will hit the market shortly, their MSRPs will depend on demand and supply.
Related Reading:
Source: G.Skill