In a world where we were only just starting to see the emergence of $999 flagship phones, Huawei and Porsche Design go and break the barrier by marketing their new device at €2095, which without tax and after conversion comes to the pricely sum of US$2220. At this price there has to be something more than just a simple P20 Pro under the hood, and it can't all be brand name, right?
The first thing to notice is that unlike previous Porsche Design models of Huawei phones, this new 'Mate RS' edition seems to be built completely differently to the P20 Pro. The biggest giveaway is the camera placement – rather than being on the top left corner as in the P20 Pro, it is placed in the center at the back, which is much more akin to the Mate series of smartphones. However, this unit has Huawei's new tri-camera implementation, featuring the 40MP RGB sensor, a 20MP monochrome sensor, and an 8MP telephoto lens. What the astute might recognize is that the Porsche Design Huawei Mate RS is basically an updated Mate-style designed device, but with the new P20 Pro internals, plus a bit more. This is why the PD device is called a Mate, rather than a P-series. The 'RS' bit is for Rally Sport, a common nomenclature on cars that are a bit sporty.
For the fistful of dolla-dolla bills, prospective owners are set to get the best that Huawei has to offer. The $2220 model comes equipped with 512 GB of storage, the most we have ever seen in a smartphone, while the $1800 model has 256 GB. Both storage variants are matched everywhere else in the design: a 6.0-inch FullView OLED display with a 2880x1440 resolution (538 ppi, 18:9), 6 GB of DRAM, a Kirin 970 processor with its NPU, the tri-camera setup with support for AIS, 5x Hybrid Zoom, and 960 FPS video recording, and Dual SIM capabilities with dual LTE and dual VoLTE. This model has the same battery size as the P20 Pro, coming in at 4000 mAh.
Huawei P20 Pro and Porsche Design Huawei Mate RS
P20 Pro
PD Huawei
Mate RS
SoC
HiSilicon Kirin 970
4x Cortex A73
4x Cortex A53
Mali-G72MP12

HiSilicon Kirin 970




4x Cortex A73




4x Cortex A53




Mali-G72MP12

Display
S
6.1-inch
OLED
6.0-inch
OLED
R
2240x1080
2880x1440
Dim
H
155.0 mm
152.9 mm
W
73.9 mm
72.5 mm
D
7.8 mm
8.5 mm
RAM
6 GB
6 GB
NAND
128 GB
+ microSD
256 GB / 512 GB
+ microSD
Battery
4000 mAh
4000 mAh
10W Qi Wireless Charging
IP Rating
IP67
IP67
Front Camera
24MP f/2.0
24MP f/2.0
Rear
Camera #1
20 MP BW
f/1.6
20 MP BW
f/1.6
Rear Camera #2
40 MP RGB
f/1.8
1 um
10 MP Mode
102400 ISO
40MP
f/1.8
1 um
10 MP Mode
102400 ISO
Rear Camera #3
8 MP f/2.4
Telephoto
5x Hybrid Zoom
8 MP f/2.4
Telephoto
5x Hybrid Zoom
Modem
Cat 18 / 13 LTE
5CA / 2CA
Cat 18 / 13 LTE
5CA / 2CA
SIM Size
Dual Nano SIM
Dual Nano SIM
Wireless
802.11ac 2x2 MIMO
802.11ac 2x2 MIMO
Connectivity
USB Type-C
USB Type-C
Features
Fingerprint Sensor
AI Assisted Video Capture
Pixel Fusion
4D Predicative Focus
960 FPS video (720p)
Master AI
AI Image Stabilization
P20 Pro +

Wireless Charging
In-screen Fingerprint
Aerospace Cooling

No Notch
OS
EMUI 8.1
EMUI 8.1
Price
128 GB: 899€ / $952
256 GB: 1649€ / $1800
512 GB: 2049€ / $2220
There's also an ingress protection rating of IP67, and Huawei states that they are using their aerospace cooling technology with microcapsule phase change materials inside, similar to what was advertised with the Matebook X released in 2017. Also on the cards are dual fingerprint sensors – one on the back as standard, and one embedded into the display. This is a new in-screen fingerprint sensor from Goodix, rather than the Synaptics one seen earlier this year. The Mate RS will also support 10W wireless charging, making it the first Huawei high-end device to support wireless charging.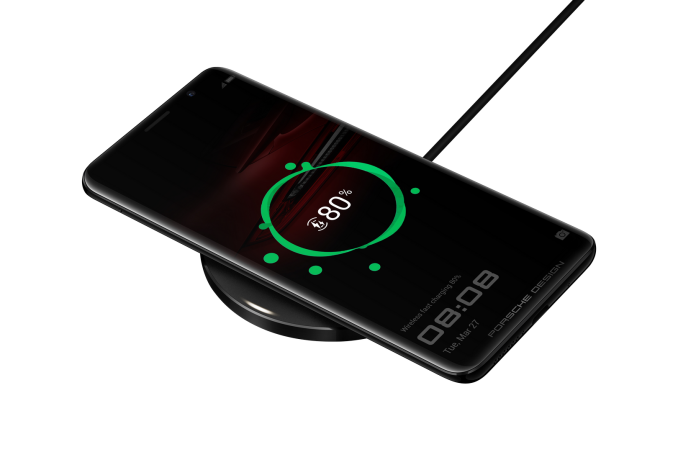 So this is a Mate 10 Pro with the P20 Pro internals, the P20 Pro cameras, a higher resolution display (up from FHD+), more storage, IP67, wireless charging, and an integrated fingerprint sensor. For those wondering, there is no notch.
Porsche Design calls this new smartphone 'the 911 GT3 RS of smartphones', and plan to offer a range of high-end accessories for the discerning buyer who wants them. The new devices will be available from April 12th, and will be available in red and black.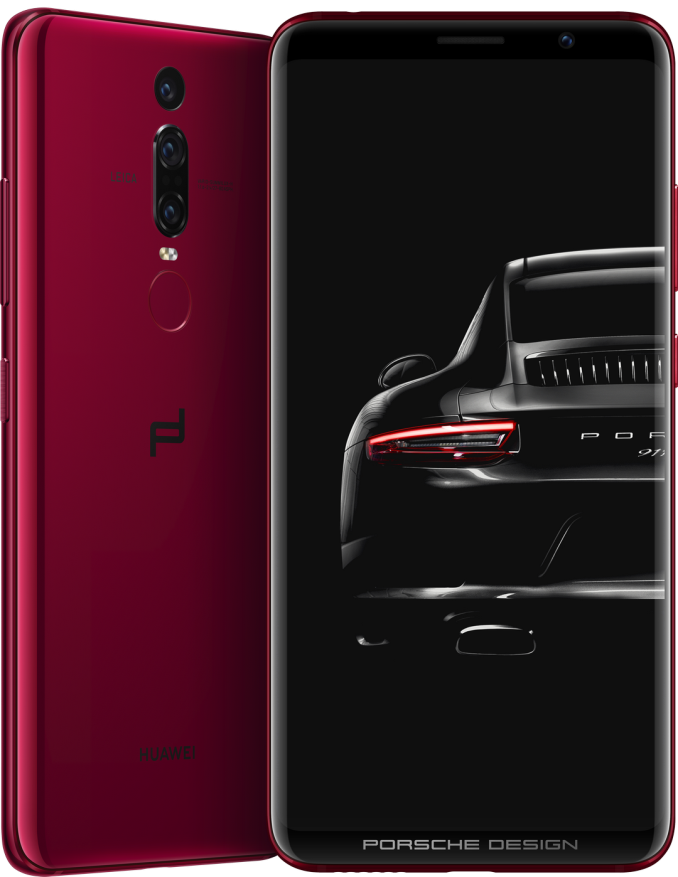 All being said, and price aside, that red version looked very nice up on stage, better than these pictures. Time to request a sample.
Related Reading