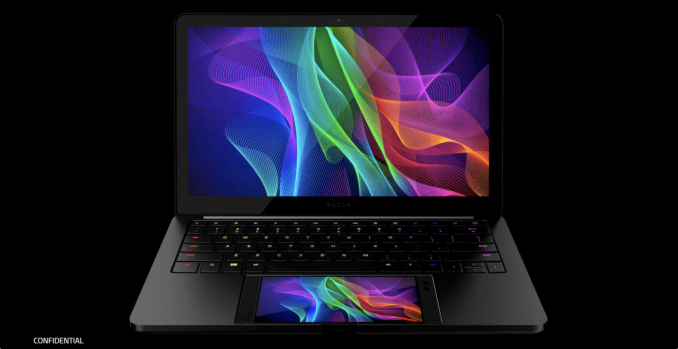 LAS VEGAS, NV — As part of their announcements today, Razer is lifting the lid on one of its internal projects. Like other previous Razer prototype developments that get a female name, Linda follows in the footsteps of Christine, Cheryl, Valerie, and Ariana, some of which made it to retail. Linda at its heart is an accessory for the Razer Phone, turning the smartphone into an Android laptop with a bigger screen, more storage, and a bigger battery, all while using the super-loud front facing Razer Phone speakers and the phone display as a configurable touchpad.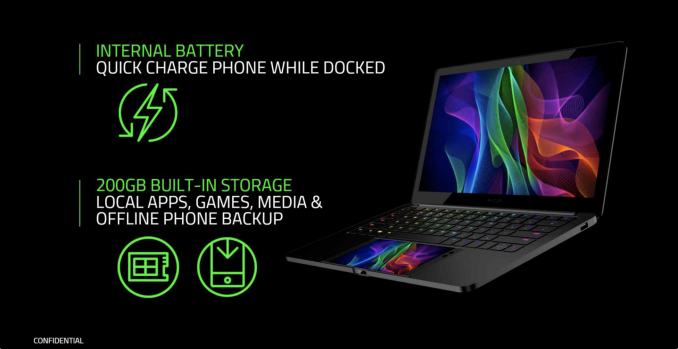 Razer's aim here is to provide Razer Phone owners with the ability to be more productive as well as have a mouse and keyboard gaming experience in a clamshell-like environment from the phone. Linda is still in the prototype phase, with Razer getting extensive feedback. But ultimately what the user gets is a 13.3-inch display in a 0.59-inch (14.99-mm) clamshell with a Razer Chroma enabled keyboard, USB 2.0 ports, enough battery for 3 full recharges of the Razer Phone, 200GB of additional storage, a webcam/array microphone, and perhaps some other features still to be decided.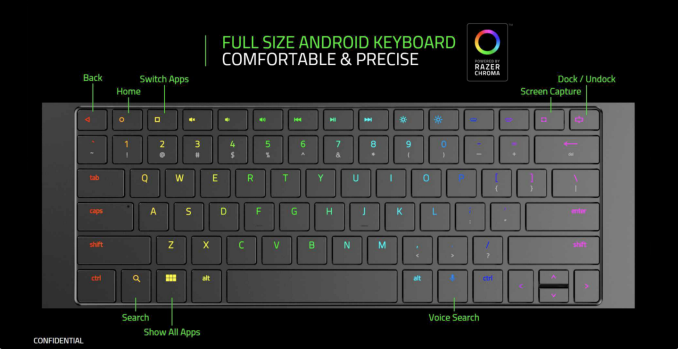 The Razer Phone sits in the dock in the clamshell, and is fixed into place by the adjustable USB Type-C connector inside the dock that the user controls via a button. Everything is then attached via this USB interface – the display, keyboard, and storage. The idea is that the phone can be installed and removed seamlessly, and apps can take advantage of the dual screen by having the phone display custom buttons during gaming. The USB ports can be used for a mouse, enabling (in Razer's own words) 'PC style gaming', although we should reiterate that this is still an Android system.
For wireless connectivity, the clamshell will use the Wi-Fi or LTE connection of the smartphone, although no additional antenna arrangement would be provided by Linda. The combined device is unlocked using the smartphone fingerprint sensor as well. To save cost, no speakers are in the clamshell, with Razer making full use of the smartphone speakers. It will be interesting to see how the users arms muffle the audio while over the keyboard – while none of the renders we were provided have a 3.5mm headphone jack as part of Linda, we were able to confirm from Razer that one will be there. Adding such a jack would likely require USB Type-C audio passthrough (which is probably electrically noisy), or an additional DAC in Linda which would add to the cost.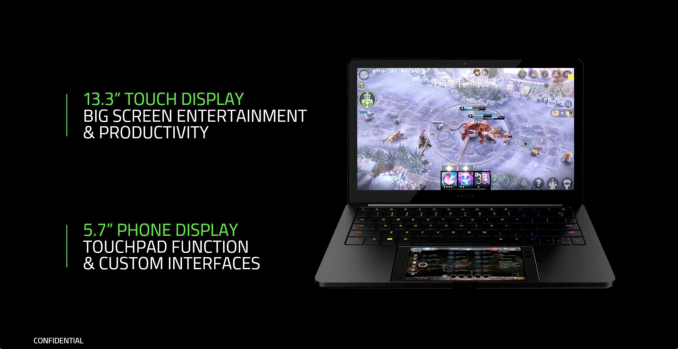 Most of the features are still to be ironed out. Razer is aiming to make the display match the resolution and refresh rate of the phone (which will be a big chunk of the cost of Linda), although they are not there yet.
During our briefing, we were probed for thoughts and feedback – my main concern is that most of the time I am on my PC or laptop, I also have my phone out as I use them very differently. For example, when watching a film, I might have social media on my phone, or when working doing a live blog, I'll be writing on my laptop while taking photos on my phone. If Linda allowed for a wired cable (or wirelessly, though that would take battery) to do the same thing, it might work. However, as an Android device, it might not be terribly useful for my multi-tasking workflow as it stands. One other thing I requested is the ability to do some level of base functionality without the phone, such as Netflix.
Razer is going after gamers though – the subset of gamers that also bought the Razer Phone. If Linda was to become a retail product, ideally it would work with multiple generations of Razer Phones, which would mean allowing for an adjustable hole in Linda, or keeping the same phone dimensions.
If this sounds a bit like Windows Continuum, where users would dock a Windows Phone and get a Windows-like experience on a large display, it is kind of like that but with Android, similar to the desktop style experiences seen with Samsung's DeX (Desktop Experience) and Huawei's smartphone as a desktop feature.
Price of Linda is also a consideration. Even though it's basically a USB device under the hood and not a full laptop, a 13.3-inch, 120 Hz touch display with 200GB of storage isn't going to come cheap, especially if the panel is IPS and not TN. I'm guessing that Razer should aim for a bundle with the Phone at $999, although speaking to other editors, anything over $200 would be too much.
We're getting some hands-on time with the prototype at CES, more info to come.
Here's a quick refresher on the history of Razer projects:
Razer Internal Projects
AnandTech
Year
Concept
Status
Female Names:
Linda
2018
Smartphone Clamshell Dock
Prototype
Cheryl
2017
Razer Phone
On Sale
Valerie
2017
Tri-Screen Laptop
Stolen
Ariana
2017
Display Projector with Chroma
Prototype
Sheena
2015
Capture Card
Prototype
Winona
2015
Streaming Camera
Razer Kiyo ?
Christine
2014
Modular Gaming PC
Concept
Fiona
2012
Dual Controller Gaming Tablet
See Nintendo Switch
Male Names : None.
Other Names:
Breadwinner
2016
Toaster
April Fool
McFly
2015
Hover Mouse
April Fool
Switchblade
2011
7-inch Gaming Netbook
Prototype
Related Reading