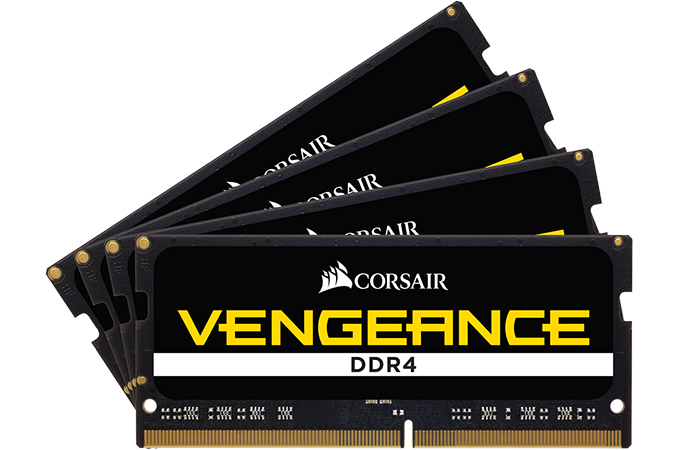 Corsair on Wednesday introduced its new quad-channel 32 GB DDR4-4000 SO-DIMM kit designed specifically for ASRock's X299E-ITX/ac platform and Intel's latest Core i7/Core i9 processors. The kit hits the psychologically important DDR4-4000 interface speed and enables enthusiasts and system builders to put together higher-performance Mini-ITX builds. Meanwhile, as a rather unique SO-DIMM kit, Corsair's new kit won't come cheap.
The Corsair Vengeance 32 GB quad-channel SO-DIMM DDR4-4000 DRAM kit (CMSX32GX4M4X4000C19) consists of four 8 GB DRAM modules based on pre-binned Samsung's B-die ICs made using the company's 20 nm process technology. The modules are designed to operate with CL19 23-23-45 latencies at 1.35 V. The kit is only compatible with the ASRock X299E-ITX/ac motherboard and therefore its XMP 2.0 profiles in SPD are tailored for Intel's Core i7/Core i9 (Skylake-X) processors.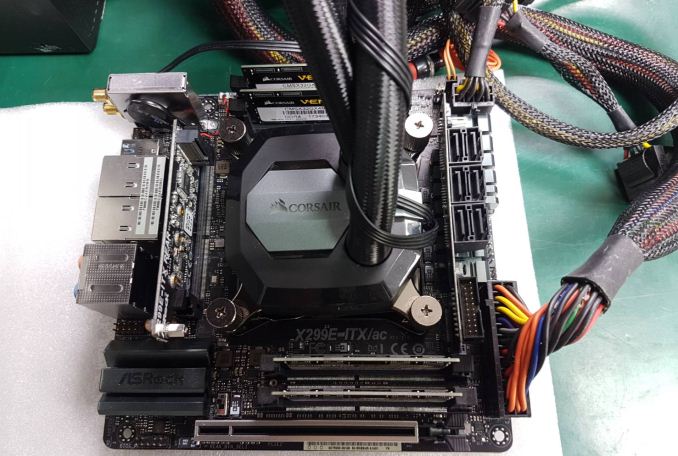 The new Vengeance SO-DIMM memory kit complements Corsair's 32 GB quad-channel DDR4-3800/CL18 kit the company launched after ASRock initiated sales of its unique Mini-ITX motherboard based on Intel's X299 PCH and compatible with the latest enthusiast-class Core i7/Core i9 CPUs in late October. The new DDR4-4000 SO-DIMM kit for the X299 platform can increase memory bandwidth by 5% to 128 GB/s when compared to the DDR4-3800 kit, which is hardly signigicant, but DDR4-4000 is an important milestone in general, if only for bragging rights. Therefore, I wouldn't be surprised to see G.Skill and possibly other suppliers of high-end memory modules to introduce their own DDR4-4000 SO-DIMM kits in the future.
Corsair's DDR4 SO-DIMM Kits for Intel X299 SFF PCs
Speed
Sub-Timings
Voltage
Kit
Config.
Kit
Capacity
PN
DDR4-3800
CL18 19-19-39
1.35 V
4×8 GB
32 GB
CMSX32GX4M4X3800C18
DDR4-4000
CL19 23-23-45
CMSX32GX4M4X4000C19
The Corsair Vengeance 32 GB quad-channel SO-DIMM DDR4-4000 memory kit is now available directly from Corsair and from select resellers. Enthusiast seeking for maximum performance out of their Mini-ITX rigs will have to pay $595 in the U.S. and €615 in the E.U. to install the kit into their systems. It is noteworthy that at press time neither Amazon nor Newegg carried the kit.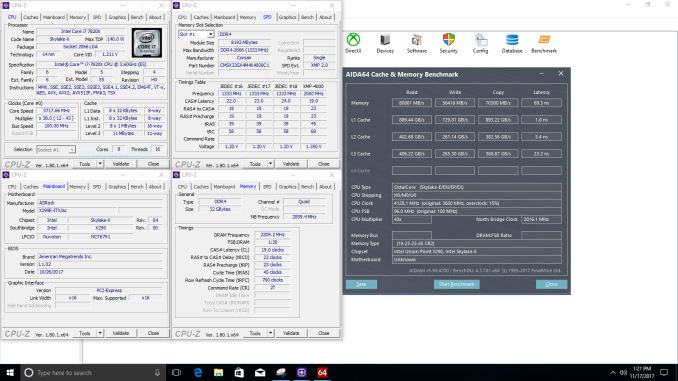 Related Reading:
Source: Corsair