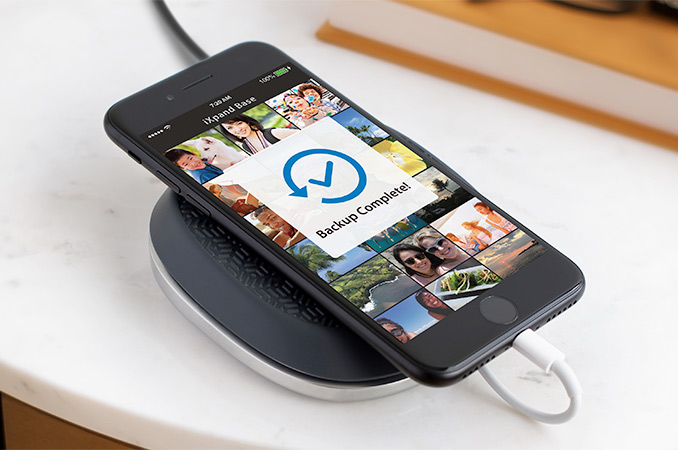 Western Digital has introduced its new SanDisk iXpand Base storage solution for Apple iOS-based devices. Just like the SanDisk iXpand flash drive launched several years ago, the new device can backup photos, videos and contacts from iPhones, iPads and other devices to free some space and/or make a redundant copy. Internally, the iXpand base uses SD cards, essentially making it a card reader for Apple's devices.
As the name implies, the SanDisk iXpand Base is a base for iPhone, iPad or iPod Touch that holds an SD card and has a power adapter to charge iOS devices. To back up photos, videos and contacts, users have to connect the product to their mobile device using a Lightning cable (not bundled) and a special application will activate automatically. The software transfers content (including content from apps and located in the iCloud) to the card, which may then be removed and read on other devices. Moreover, the SanDisk iXpand Base itself can be connected to a computer using a Micro-USB to USB Type-A cable and used like an SD card reader.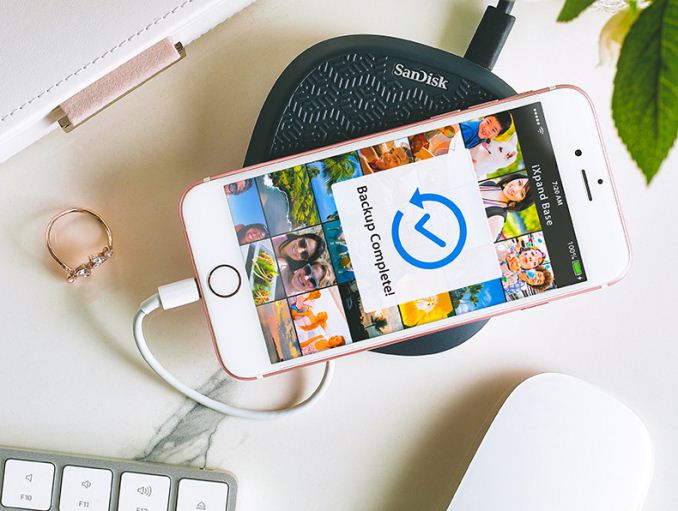 SanDisk will offer multiple versions of the iXpand Base with pre-installed SD cards ranging from 32GB to 256GB. The company does not disclose which SD cards it uses and whether the Xpand Base supports aftermarket memory cards. If it does (most likely), then the device is upgradeable too and once an owner runs out of space, they can simply swap the card with a new one
Apple's iPhones are often criticized for not having a memory card slot, which requires owners to clean up their photos from time to time and/or delete rarely used apps to free some space. To a large degree, the SanDisk iXpand Base solves this problem as it acts like an external card reader for Apple's smartphones, which automatically backs up their photos and videos when used for charging (as opposed to the iXpand drive, which has to be connected separately). Afterwards, the content may be deleted from the phone to free up some space.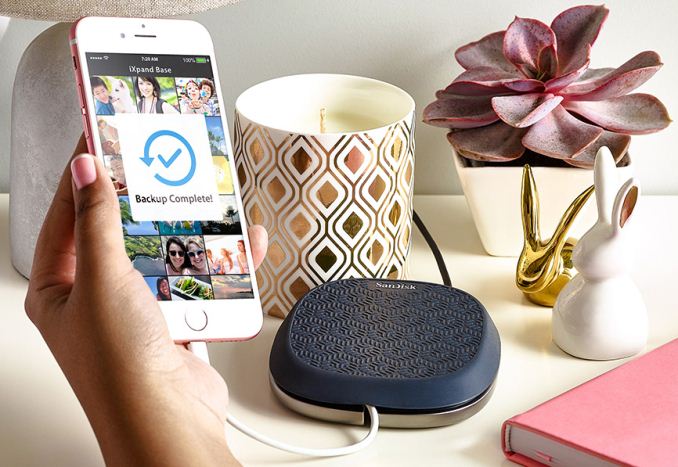 The SanDisk iXpand Base will be available shortly in the U.S. from such stores as Amazon, BestBuy.com, B&H Photo Video.com and other major retailers. The most affordable model with a 32 GB SD card will cost $49.99, whereas the one with a 256 GB card will carry a $199.99 price tag.
SanDisk iXpand Base at Glance
32 GB
64 GB
128 GB
256 GB
P/N
SDIB20N-032G-AN9AN
SDIB20N-064G-AN9AN
SDIB20N-128G-AN9AE
SDIB20N-256G-AN9AE
Fast Charge
Yes, 5 V, 3 A (15 W)
Materials
Rubber and plastic
Dimensions
25.36 × 101.00 × 107.00 mm or 0.99 × 3.98 × 4.21 in (HxWxL)
Warranty
2 years
Price
$49.99
$99.99
$129.99
$199.99
Related Reading: