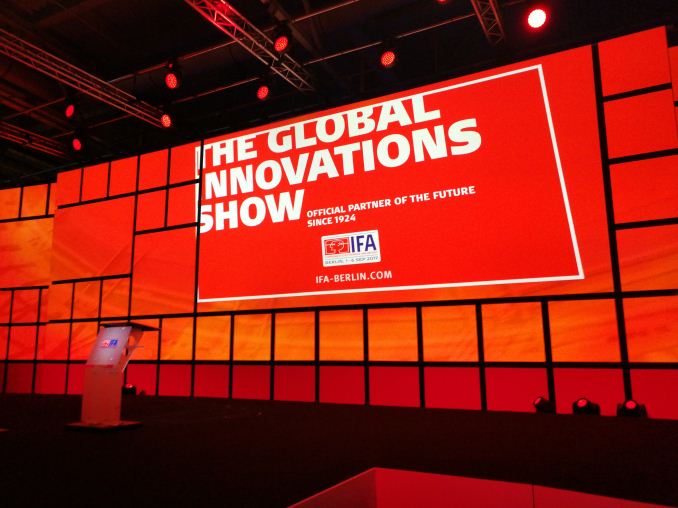 06:59AM EDT - We're here for IFA's launch press event. We were expecting this to be Dell's press event, but there seems to be a mix up on emails.
06:59AM EDT - Just me on text and images today - it's a 2 hour press event, which I think is being merged with the IFA launch press event
07:01AM EDT - Despite stating a 1pm local time start, they only opened the doors a few minutes before the hour, so people are still coming in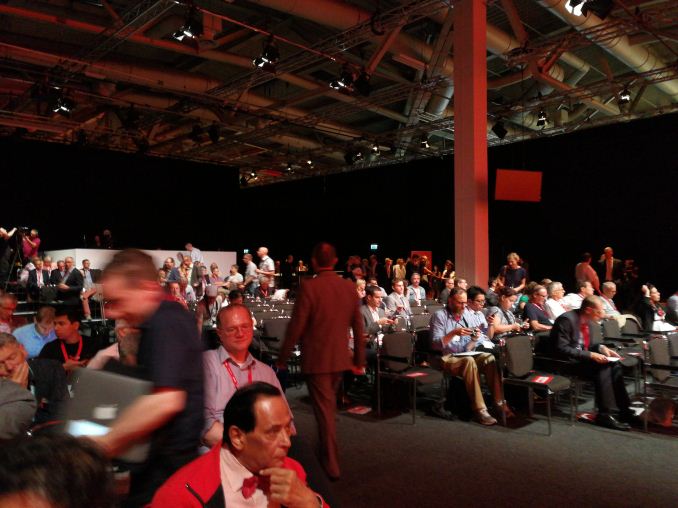 07:03AM EDT - OK, just got a 9 minute signal
07:04AM EDT - Dell have already announced a bunch of hardware this week in preparation for the press conference, rather than saving it for here
07:04AM EDT - e.g. XPS 13 with Intel 8th Gen Core: http://www.anandtech.com/show/11781/dell-updates-the-xps-13-with-8th-generation-quadcore-cpus
07:05AM EDT - and the Inspiron 15 7000 Notebook with GTX 1060 and TB3: http://www.anandtech.com/show/11780
07:06AM EDT - We've got a few more things to write up from our press deck, which they're likely to mention here
07:12AM EDT - Seems to be starting
07:13AM EDT - Intro video: Some IFA stats. 140k attendees, 86k from outside Germany.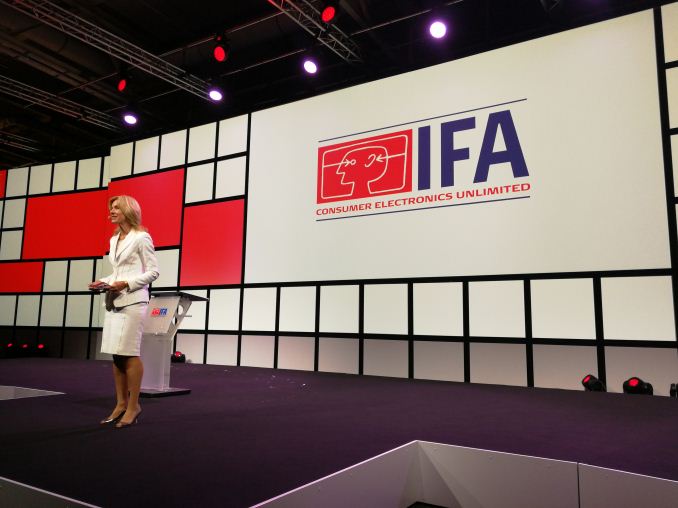 07:14AM EDT - OK yes, the first part of this talk is about IFA itself
07:15AM EDT - IFA has two parts: IFA (parts today), and a new IFA Next (keynotes, future technology) in hall 26
07:15AM EDT - Journalists from 70 countries
07:16AM EDT - Three main speakers. First up, the head of a local consumer electronics body
07:17AM EDT - 10th year of Home Appliances (cookers, blenders) at IFA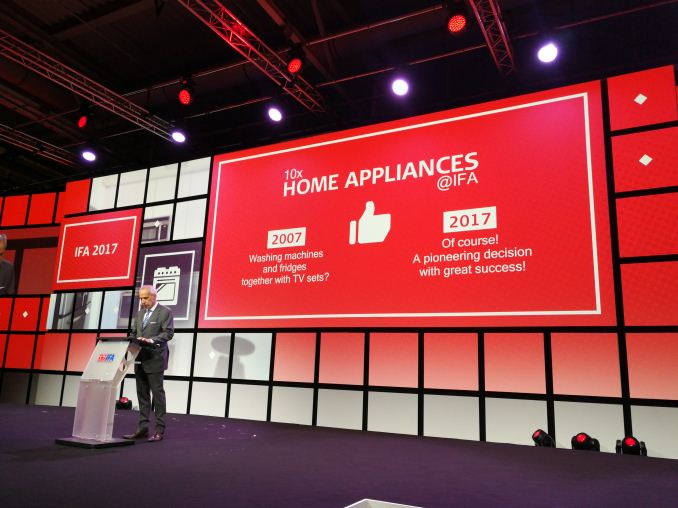 07:19AM EDT - IFA is a platform for companies to launch their products, e.g. 50 years of color TV in Berlin, launched at IFA
07:20AM EDT - Main trends this year are TVs (picture quality, ultra flat), connectivity, AI and personal robots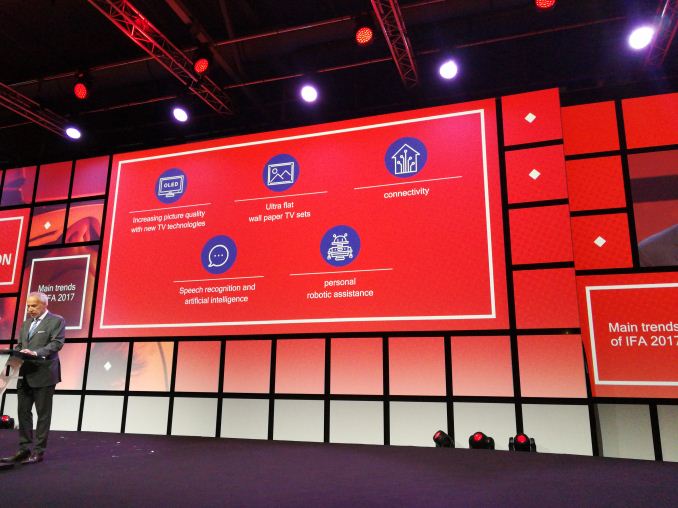 07:20AM EDT - (Samsung is running an HDR10 / UHD summit tomorrow which we might attend part of, and a press event later today)
07:21AM EDT - Consumer Electronics market is 887billion Euro for 2017, up 4% over 2016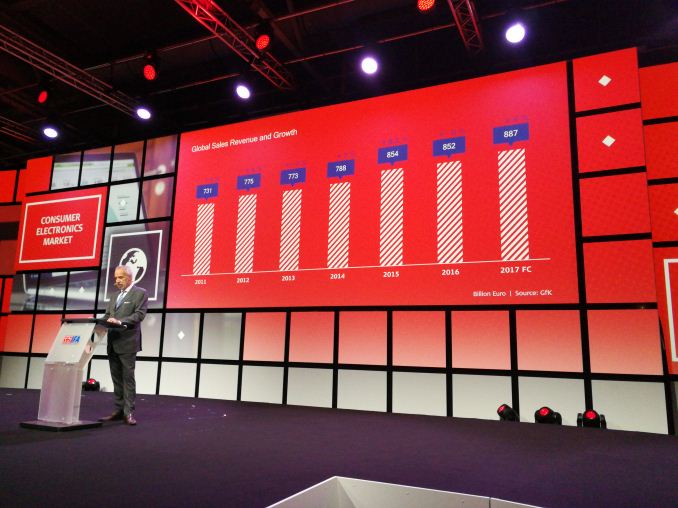 07:21AM EDT - 207b in NA, 146b in West Europe, 275b in Emerging APAC, 93b in Developed APAC, 72b in Africa
07:22AM EDT - Main growth in Latin America (+10%), Central and Eastern Europe (+11%) and Emerging APAC (+8%)
07:22AM EDT - 2017, expecting sales of 75 million UHD TV sets, +40% YoY
07:23AM EDT - 2017, expecting sales of 1.2 million of OLED TVs, up 122% over 2016
07:23AM EDT - UHD accounted for 27% of all TVs sold in 2017 so far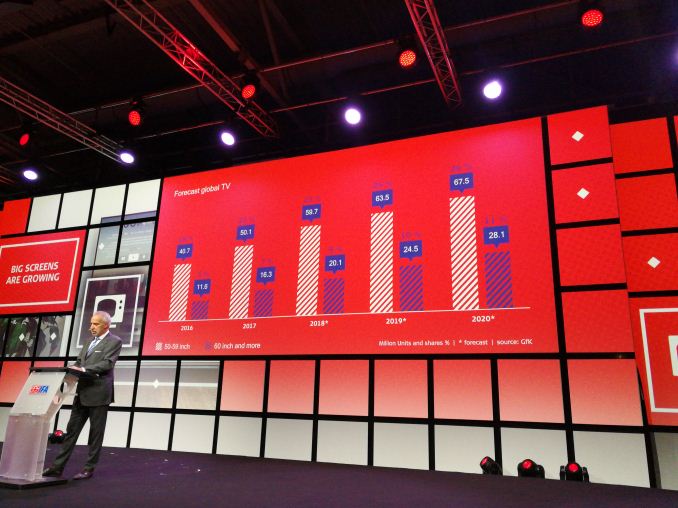 07:24AM EDT - 50.1m TVs are 50-59 inch, 16.3m were 60+ inch for 2017. Average size is 46 inch
07:25AM EDT - 55 million bluetooth speakers in 2017 predicted to be sold, 368 million headphones (excluding 1.5 billion pairs bundled with smartphones)
07:25AM EDT - Expected 1.5 billion smartphones in 2017, +5% YoY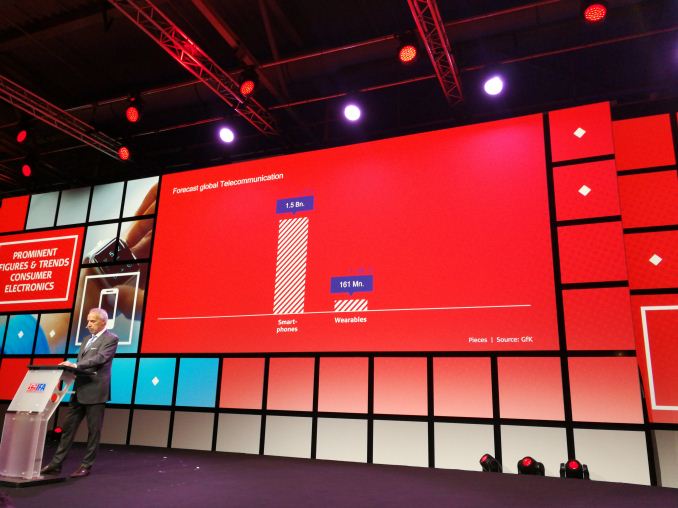 07:26AM EDT - Wearables expected to rise +38% YoY to 161 million in 2017
07:26AM EDT - Includes smart watches, wearables cameras, smart glasses, fitness trackers
07:27AM EDT - Digital still cameras down 28% in 2017 to 28 million, but action cameras up 9% to 14m
07:28AM EDT - All numbers seem to be sourced from GfK
07:28AM EDT - First speaker finishing
07:30AM EDT - Second speaker, chairman of the household devices division of some German industry body
07:31AM EDT - 'One of the benefits of having home appliances at IFA means the halls smell of fresh coffee and bread due to demos'
07:31AM EDT - It's worth noting IFA is mainly a show for the public, so bringing in people to see the appliances available today/in the future
07:32AM EDT - 183 exhibitors in this segment in 2017, up from 66 in 2008
07:35AM EDT - The emphasis over the last few years has been towards the high-end, more efficient appliances
07:36AM EDT - Merging high-end appliances with connectivity has been a key topic at IFA
07:38AM EDT - Connected appliances currenly 13.6% of all sales in APAC, 5.2% of all sales in Europe
07:38AM EDT - (this is where I should mention something about botnets and security)
07:39AM EDT - IFA: 'make life easier'
07:43AM EDT - Second speaker done. CEO of the venue now to the stage
07:43AM EDT - (where is Dell?)
07:44AM EDT - 'IFA has grown to be Europe's largest Tech Show from a middling show a few years ago'
07:44AM EDT - (is it bigger than Mobile World Congress, really?)
07:44AM EDT - 1800 exhibitors this year, 150k sq m2 of floor space used
07:45AM EDT - A trade show first: brands only, no OEMs
07:45AM EDT - (It makes sense given that it is a show mainly for the public)
07:45AM EDT - Three pillars of IFA: IFA for end-of-year products, IFA NEXT (for 2-5 years), IFA+ (for 10 year visions)
07:46AM EDT - 'What you see here at IFA will be on the shelves before Christmas'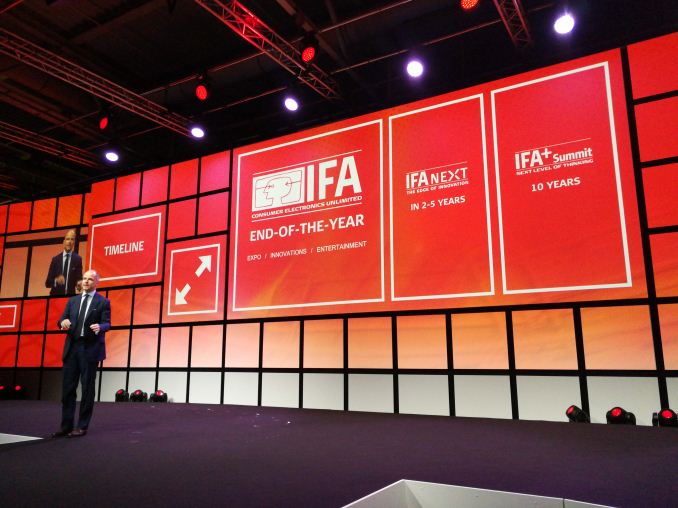 07:48AM EDT - IFA Next has a ton of startups as well as brands with future products (IBM, Amazon etc)
07:48AM EDT - IFA keynotes from Philips, Microsoft, fitbit and Huawei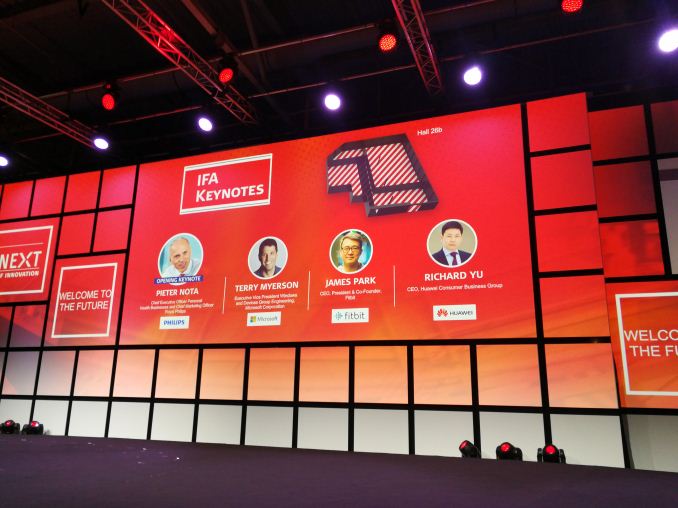 07:50AM EDT - Small videos from other companies not doing keynotes, e.g. Qualcomm
07:50AM EDT - We've got meetings with Qualcomm and Huawei later this week
07:52AM EDT - IFA also has IFA Global Markets, for the supply chain, during the end of IFA. At a different venue
07:53AM EDT - Yello (ohhhh yeahhhh) will play at IFA tomorrow night. Duffman approves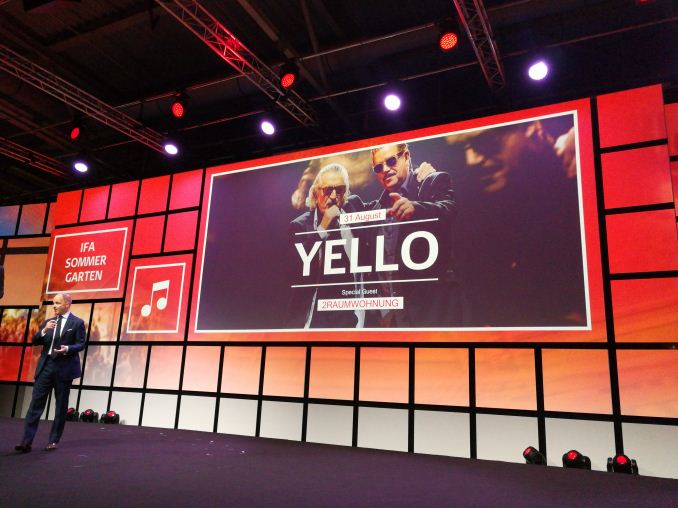 07:54AM EDT - That's three speakers, now for some Q&A. I can only assume Dell is presenting after this IFA bit.
07:55AM EDT - (sorry about this, we were told by our Dell PR rep that the Dell press event started an hour ago in this room)
07:56AM EDT - Q: What are the reasons for the trends in TVs A: Demands for high screen sizes, demand for higher definition content. Users now rate quality as the main reason to buy a new TV
07:57AM EDT - Q: Trends in Home Appliances at IFA A: Energy efficiency and smart home digitialization. These trends are still ongoing, and they'll stay trends for a quite a while
08:00AM EDT - Q: Why did IFA grow +70% in the last three years? A: We have grown double digit every year for 10 years. Main reasons are that we are thriving in new markets, and this business is driven by the people. We depend on our people to seize the moment and discover market openings and see new business models - so keeping the talent and growing the talent is key.
08:07AM EDT - Q: How does Germany compare to the rate of digitalization in the US? A: Sure there other countries above Germany, we are 11th. But it is a combination of industry involved with the sectors and products and this is a multi-year march. In some areas Germany is quite ahead. However sometimes politics are involved, but consumers also want to have a need (you can't legislate to force people to upgrade). So not always old appliances are being changed if new ones are purchased. Major domestic appliances are built to last a long time with a long upgrade cycle - in Germany this is average 12 years, while companies build for 20+ years, so there is no reason to upgrade until it breaks down. It isn't like a smartphone, large appliances are a different story. But in terms of engineering, Germany is ahead.
08:09AM EDT - Q: How can IFA be considered 'world-class' when there is insufficient spaces and facilities to work for journalists? A: For this year, we expanded our Media Center by 3x for desks and facilities. So for things for lockers, we've worked with security measures to manage this for press and also for the public that attend the show. We are fully booked for exhibitors for floor space, so there was demand to shrink the press areas for more exhibitors.
08:11AM EDT - Q: Specific number of exhibitors and expected visitors? A: 1823 exhibitors, 145000 trade visitors of which 67000 international trade visitors, 100000 public visitors
08:13AM EDT - Q: With IFA bursting at the seams, how can you expand? A: The building next door has been out of use for 3 years but has been used for refugees until last week. There will be decisions made on that building over the next few months, but there is currently no impact to IFA. Long term we are looking at solutions to grow.
08:14AM EDT - Hall 27 is being constructed as well, 'City Cube'. Should be available from 2019 for additional exhibition space.
08:18AM EDT - Q: Drones are a big talking point in the US, but was not mentioned in the presentation. A: The market is still developing and there have been several years of drone manufacturers at IFA. We have leading drone manufacturers from Germany and worldwide: 1.25m drones sold in Germany so far.
08:19AM EDT - That's a wrap.