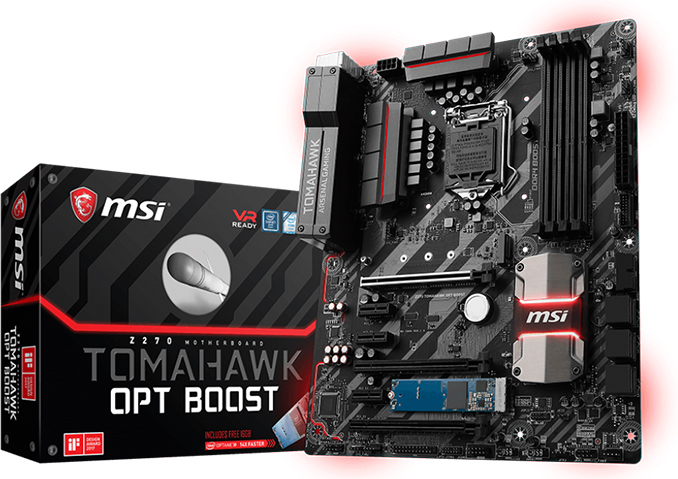 MSI this week announced plans to bundle Intel Optane Memory 16 GB caching drives with select Intel 200-series chipset motherboards. The company claims that the drives will not increase prices of motherboards significantly, but will bring tangible performance benefits when it comes to boot times and application launches versus systems employing HDDs.
MSI will add Intel's Optane Memory 16 GB drives to its Z270 Tomahawk Opt Boost, B250M Bazooka Opt Boost, as well as B250M Pro Opt boost motherboards, which means the company will be hitting gaming, mainstream, and commercial PCs. The consumer Intel Optane Memory caching drives were not designed to replace conventional SSDs, but were developed to enable hybrid storage solutions featuring fast solid-state memory as well as a slower storage device with SATA interface (i.e., an HDD, but SSHDs and even SATA SSDs are formally supported as well). The Intel Optane Memory 16 and 32 GB drives cache frequently used data (i.e., frequently used LBA sectors where Windows boot files and frequently launched applications reside) with the help of Intel's software and PCH and therefore speed up PCs with mechanical hard drives. Performance-wise, Intel's Optane Memory 16 GB drive offers up to 900 MB/s sequential read and up to 145 MB/s sequential write speed, but keeping in mind that the drive is used for caching, random read speeds and overall read latency are what matter most.
Intel Optane Memory Specifications
Capacity
16 GB
32 GB
Form Factor
M.2 2280 B+M key
Interface
PCIe 3.0 x2
Protocol
NVMe 1.1
Controller
Intel
Memory
128 Gb 20nm Intel 3D XPoint
Sequential Read
900 MB/s
1350 MB/s
Sequential Write
145 MB/s
290 MB/s
Random Read
190k IOPS
240k IOPS
Random Write
35k IOPS
65k IOPS
Read Latency
7µs
9 µs
Write Latency
18µs
30 µs
Active Power
3.5 W
3.5 W
Idle Power
1 W
1 W
Endurance
182.5 TB
182.5 TB
Warranty
5 years
MSRP
$44
$77
While MSI bundles the Optane Memory 16 GB drives with select 200-series motherboards, it should be noted that the drives are only supported by Intel's Core i-series Kaby Lake processors (so, no Celeron or Pentium) and Microsoft Windows 10 64-bit OS. In addition, the Optane Memory drive must be supported by the UEFI firmware of the motherboard.

Based on our own test results, Intel's Optane Memory 32 GB caching drive can bring performance an HDD-based system up to the level of mainstream SSDs in SYSmark, but like most hybrid storage sub-systems, this happens only with frequently used files or programs. The good news is that Intel's Optane 16 GB SSD (retail $47) comes for free(ish) with select MSI's motherboards, essentially bringing an inexpensive performance improvement to equally inexpensive systems with HDDs.
Related Reading:
Source: MSI