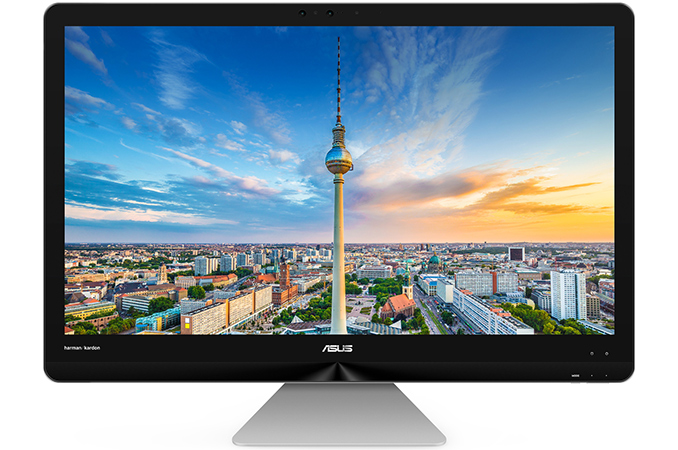 ASUS has expanded its Zen AiO lineup of all-in-one PCs for 2017 with new 27" models. The company's largest AIOs will fit into the current lineup of Intel Kaby Lake-based systems and offer bigger displays and higher performance than models featuring 22" and 24" screens due to desktop-class CPUs being installed.
ASUS introduced its first AIO PCs with 22" and 24" monitors at Computex 2015 nearly two years ago. Since then the company has been gradually expanding its lineup of all-in-one desktop computers: first, it introduced more affordable Vivo AiO systems, and then it launched ASUS PRO AIOs for business users. Earlier this year the company began to add premium models into the Zen AiO family, targeting consumers who need better screens and/or higher performance. Back in January ASUS announced its Zen AiO Pro Z240IE, that is based on Intel's 35W quad-core CPUs and 4K displays. In late March, ASUS added the Zen AiO ZN270IE into the lineup with a bigger 27" FHD display.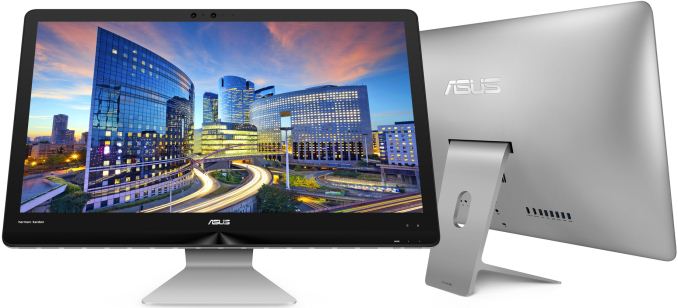 Just like the premium models introduced in January, the ASUS Zen AiO ZN270IE is based on Intel's Core i7-T processors. However, similarities with the Zen AiO Pro Z240IE seem to end here. The Zen AiO ZN270IE comes with NVIDIA's low-end GeForce 940MX GPU with 2 GB of DRAM (cheap versions of the ZN270IE use Intel's iGPU, but this particular dGPU is barely faster than modern iGPUs), from 4 to 16 GB of DDR4 memory, up to a 512 GB SSD as well as 1 or 2 TB HDD storage, 802.11ac, a GbE controller and so on. The PC is equipped with an audio sub-system featuring four 3W speakers co-developed with harman/kardon, a 1 MP webcam (a premium version features Intel's RealSense camera array with RGB and IR sensors), six USB Type-A ports, an SD/MMC card reader as well as HDMI connectors.
ASUS 27" Zen AiO PC Specifications
Zen AiO ZN270IE
Display
27" IPS with 1920 × 1080 resolution
27" IPS with 1920 × 1080 resolution with 10-point multi-touch
CPU
Intel Core i7-7700T
4C/8T, 2.9/3.8 GHz
HD Graphics 630
35 W
Intel Core i5-7400T
4C/4T, 2.4/3.0 GHz
HD Graphics 630
35 W
PCH
Intel H110
Graphics
NVIDIA GeForce GTX 940MX 2GB (384 SPs)
Intel HD Graphics 630
Memory
4 or 16 GB of DDR4
Storage
512 GB SSD (SATA or PCIe?)
1 or 2 TB 2.5" HDD
Wi-Fi
IEEE 802.11ac Wi-Fi + BT 4.0
Ethernet
GbE
Display Outputs
1 × HDMI
1 × HDMI IN
Audio
4 × 3 W speakers (harman/kardon)
1 × audio in
1 × audio out
USB
4 × USB 3.0 Type-A (5 Gbps)
2 × USB 2.0 Type-A
Other I/O
1 MP webcam
Intel RealSense cam (RGB and IR) on AIOs with multi-touch LCDs
SD/MMC card reader
Dimensions
649 mm × 481 mm × 62 mm
PSU
90 W
120 W
OS
Windows 10 Home
It is noteworthy that while ASUS now offers AIO PCs with 27" displays (some models will feature 10-point multi-touch, some will not), for now they still feature FHD resolution (1920×1080). Over time we may see more advanced 27" AIOs with higher-resolution screens and further performance enhancements, like Apple does with its iMac systems.

ASUS has not announced recommended prices for its Zen AiO ZN270IE PCs, but since the company intends to offer multiple versions of the product, they will naturally vary significantly depending on the retailer/local distribution.
Related Reading:
Source: ASUS