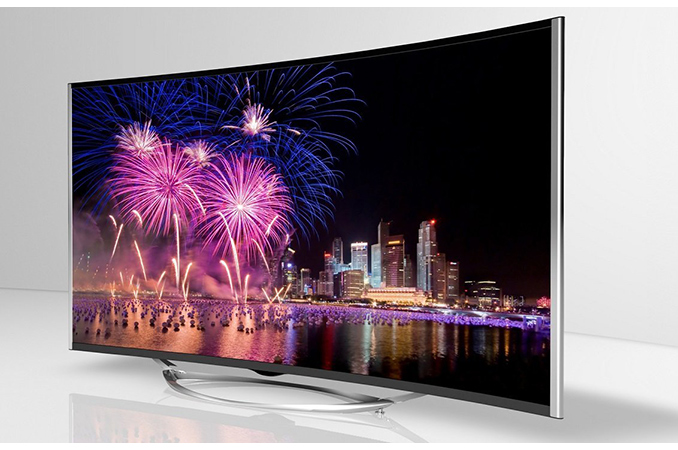 JapanNext has started to sell its new ultra-large 49" and 55" curved displays that feature an Ultra HD resolution, a low response time, AMD's FreeSync dynamic refresh rate technology as well as HDCP 2.2 copyright protection. The monitors are not too expensive: they are currently available for less than $900.
Ultra-large displays are not so common but are not something extremely rare too. For example, companies like NEC offer displays with 40"+ diagonals for professional and industrial applications. Such monitors tend to be too expensive for personal use because they are built according to different standards asking for 24/7 operation and rated for maximum endurance. For many people displays larger than 40" are simply too big, but there are gamers as well as those need to keep a lot of information on their screens, who may want to have a huge monitor. Last year TPV (Philips) introduced two 40" and 43" UHD 4K monitors for prosumers that retail for less than $1000. This month a Japanese company called JapanNext introduced its JN-VC490UHD and JN-VC550UHD monitors that are even larger and support a dynamic refresh rate technology.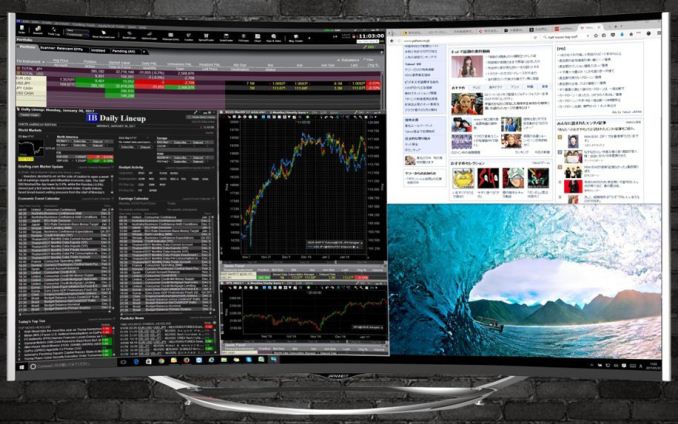 The JapanNext JN-VC490UHD (49") and JN-VC550UHD (55") displays are based on SVA panels (which may indicate that the manufacturer sources it from Samsung Display) with a 3840×2160 resolution, 250 nits brightness, a 6000:1 contrast ratio, a 60 Hz refresh rate and a 3-4 ms response time. The producer states that the display panels can reproduce 1.07 billion colors (listed online as 10-bit) and are rated to support 99% of the sRGB color gamut. The displays use ELED backlighting to ensure "flicker free" operation and JapanNext promote the panels as being 16mm thick.
JapanNext's 49" and 55" Curved UHD Displays
JN-VC490UHD
JN-VC550UHD
Panel
SVA
Native Resolution
3840×2160
Maximum Refresh Rate
60 Hz
Freesync Support, but unknown range
Response Time
3 ms
4 ms
Brightness
250 cd/m²
Contrast
6000:1
Viewing Angles
178°/178° horizontal/vertical
Curvature
unknown
Pixel Pitch
0.2825 mm
0.3171 mm
Pixel Density
90 ppi
80 ppi
Color Gamut
sRGB: 99%
1.07 billion
Inputs
1 × DisplayPort 1.2
1 × HDMI 2.0
2 × HDMI 1.4
1 × D-Sub
Outputs

3.5 mm headphone output


SPDIF
USB Hub
USB hub (?)
1 × USB Type-A upstream port
Audio
6 W × 2
audio in/out ports
Power Consumption (idle/active)
Idle: 0.5 W
Active: 100 W
Idle: 0.5 W
Active: 108 W
Modes
Warm, Cool, Norma, Standard,
Game 1/2/3, Movie, Photo
Price at Amazon.co.jp
¥82,970 ($725)
¥99,970 ($873)
In a bid to make the JN-VC490UHD and JN-VC550UHD monitors more appealing to gamers, JapanNext equipped the display with AMD's FreeSync dynamic refresh technology (and there is AMD's official FreeSync badge on the manufacturer's website). Unfortunately JapanNext does not declare what refresh range it supports for FreeSync, which may be limited (40/45Hz to 60Hz or similar). Moreover, the units both fully support HDCP 2.2 technology, which is not common for monitors, but which is more commonly found on UHDTVs (given the dimensions of the JN-VC490UHD and JN-VC550UHD, it makes sense to compare them to TVs). Therefore, the 49" and 55" curved UHD displays could be used for Ultra HD Blu-ray playback (but HDR support is not formally declared however).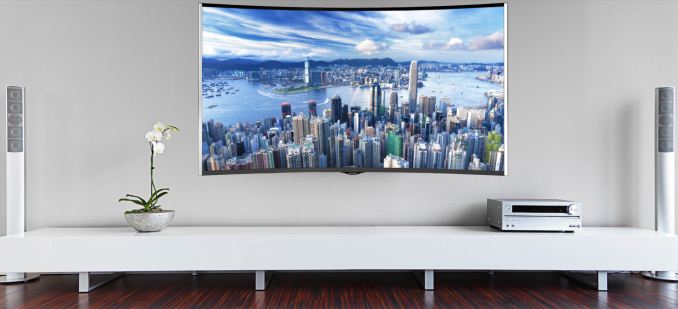 Connectivity is a yet another interesting peculiarity of the JapanNext displays. The monitors have two HDMI 1.4 inputs that support 3840×2160 resolution at 30 Hz, one DisplayPort 1.2 and one HDMI 2.0 that can both handle 4K at 60 Hz as well as one D-Sub connector (up to 2560×1440). The displays support PiP (picture-in-picture) and PBP (picture-by-picture) modes and some may use it to work with up to four different FHD PCs. As for audio, the displays are equipped with two 6 W stereo speakers, a 3.5-mm audio input, a headphone output and an SPDIF optical output for those who will use them with an audio decoder/receiver.
The ultra-large curved UHD displays for prosumers and gamers from JapanNext will attract attention from many people who primarily need large dimensions. While the pixel density of the JN-VC490UHD and JN-VC550UHD monitors is comparable to that of 24" and 28" FHD screens, it does mean that applications that lack high-PPI settings may not be disadvantaged on the new displays (it depends how close you sit). JapanNext makes no secret that many people will use its new products primarily to enjoy media content in their living rooms: because the TVs have so many inputs, users can attach multiple STBs to them. A bad news is that the devices only have one HDMI 2.0 header, so owners will have to choose whether to plug in one high-end HDMI 2.0 device.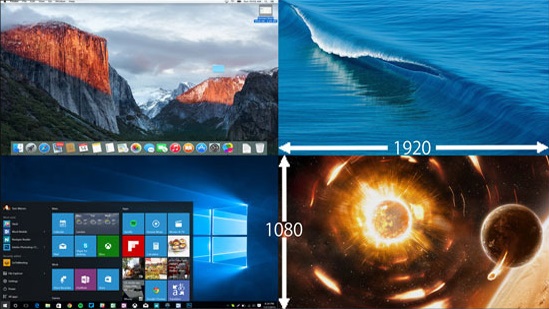 The official price of the JapanNext JN-VC490UHD is ¥99,970 ($873), but Amazon.co.jp offers it for ¥82,970 ($725). The MSRP of the JapanNext JN-VC550UHD is unknown, but it is available for ¥99,970 ($873).
The manufacturer sells some of its displays in Europe via its own website, but the lineup there is not too wide. It is unknown whether JapanNext plans to make its JN-VC490UHD and JN-VC550UHD available outside of Japan.
{gallery: 5479}
Related Reading:
Source: PC Watch