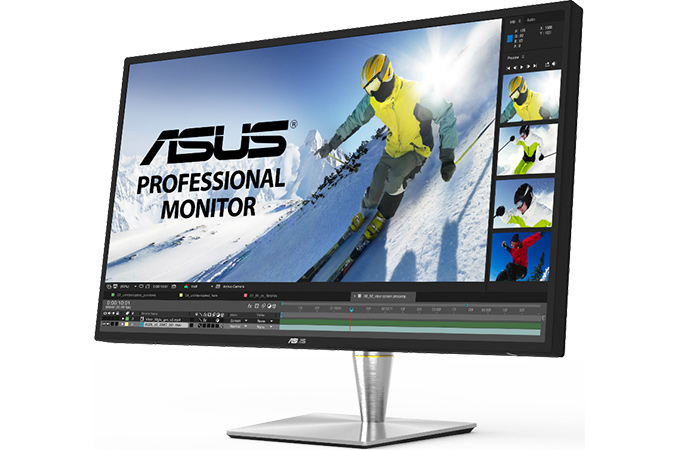 ASUS introduced a new professional-grade monitor at CES this week. The unit supports a 4K (UHD) resolution, HDR10, a very high brightness and an astonishing range of color gamuts required by artists, designers, photographers and video professionals today, including the Rec. 2020 (BT.2020) standard. The ProArt PA32U will be available in the second half of this year at a rather hefty price tag, as you can imagine. In addition, ASUS announced its ProArt PA27AQ monitor aimed at the entry level segment of the professional market.
The ASUS ProArt PA32U uses a 4K UHD panel with HDR capabilities, a quantum dot film and a special backlight featuring 384 LED zones that enable 1000-nit brightness and support for local dimming. The manufacturer notes that its new panel with quantum dots, backlighting and calibration enable the monitor to cover 99.5% of the Adobe RGB, 85% of the Rec. 2020, 100% of the sRGB and 95% of the DCI-P3 color spaces, which makes the display particularly appealing to artists and photographers (Adobe RGB) as well as to video editors and animation designers who do post-production work for digital cinema or TV (DCI-P3 and BT.2020). The number of features, as well as the use of quantum dot technology, represents an interesting combination for a professional display. Moreover, it looks like the ASUS ProArt PA32U will be one of the first mass-market monitors supporting the Rec. 2020 color gamut at all and covering 85% of it.
The ASUS ProArt Displays Specifications
ProArt PA32U
ProArt PA27AQ
Panel
32" with quantum dots
27" IPS
Native Resolution
4K
2560 × 1440
Maximum Refresh Rate
60 Hz (?)
Brightness
1000 cd/m²
unknown
Contrast
high
unknown
Viewing Angles
178°/178° horizontal/vertical (?)
Pixel Pitch
0.185 mm
0.233 mm
Pixel Density
138 ppi
109 ppi
Anti-Glare Coating
Yes (?)
Color Gamut
Adobe RGB: 99.5%
DCI-P3: 95%
sRGB: 100%
Rec. 2020: 85%
sRGB: 100%
Inputs
1 × Thunderbolt 3
1 × DP 1.2 (?)
1 × Thunderbolt 3
1 × DP 1.2 (?)
Extras
ASUS ProArt Calibration with color parameters saved locally
The ProArt PA32U monitor will be calibrated at the factory, but people with appropriate equipment will be able to further tune them their particular needs. The ProArt PA32U stores all the color parameters locally (and not on the PC), so users will be able to use it with different devices without the necessity to recalibrate it. This will be particularly valuable for those who works on Apple macOS and Microsoft Windows platforms. To hook up the monitor to either PC, the PA32U is equipped with a Thunderbolt 3 input (which means DP 1.2 over a USB-C cable), but we do not know whether other ports are supported.
Since this is a preliminary announcement, ASUS does not disclose whether it uses an IPS or VA panel, or if the TFT is ASi or IGZO (like it used for its previous-generation flagship professional display) for its PA32U as well as details about the LUTs (look-up-tables), refresh rate and so on. We do understand that the panel is an LCD based on usage of quantum dots and high, but not prohibitively high, price.
For people who do not need 4K UHD resolution, Rec. 2020 or DCI-P3 color spaces and HDR, ASUS plans to offer its 27" ProArt PA27 AQ monitor with 2560 × 1440 resolution, sRGB color gamut and Thunderbolt 3 input. The monitor will also come pre-calibrated and will support the same ProArt Calibration features as its bigger brother (color-accuracy tuning, uniformity compensation local store of parameters, etc.).
The ASUS ProArt PA32U will be available in Q3 2017 for $1799 – $1999.
Pricing of the ProArt PA27AQ (as well as its availability timeframe) are unknown.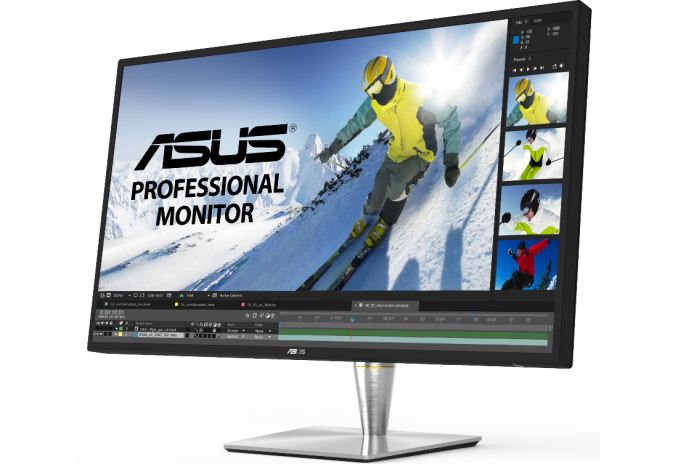 Related Reading:
Source: ASUS