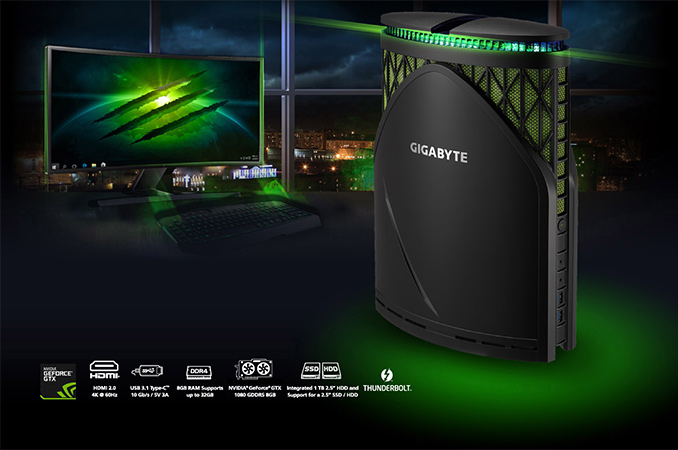 GIGABYTE has quietly announced its new small form-factor computer designed for performance-minded gamers. The new SFF PC not only packs high-performance components, such as the latest-generation CPU and GPU, but it uses desktop-class components and could be upgradeable.
High-performance PCs in small form-factor are not rare nowadays: various PC makers use mobile CPUs and GPUs to build such systems. Such computers demonstrate high-performance out-of-the-box, but their upgrade strategy is tricky because it is not easy to get MXM GPUs or mobile CPUs in retail. When developing the GIGABYTE Gaming GT desktop (GB-GZ1DTi7-1080-OK-GW and technically this PC belongs to the Brix family), engineers from GIGABYTE wanted to create a product that could use widely available processors and graphics cards and thus potentially offer an upgrade path to the owners.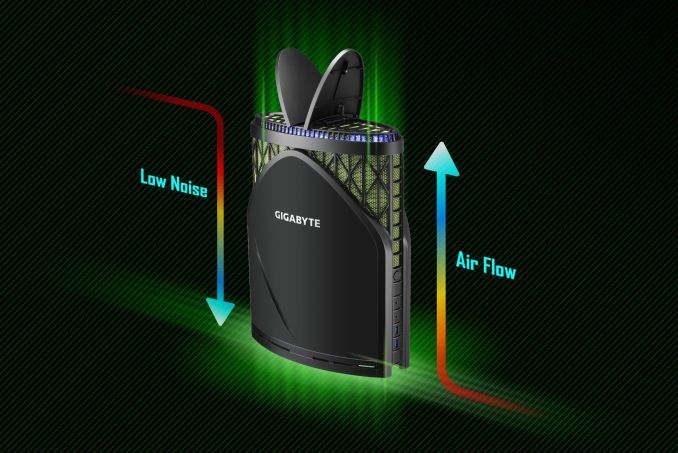 The GIGABYTE Gaming GT desktop is not really a miniature system: it measures 276×384×128 mm and is approximately 10 liters in volume, which makes it just larger than Sony's first-generation PlayStation 3. The PC is based on a custom motherboard (210×205 mm) that is a bit larger than Mini-ITX, but is still smaller when compared to microATX or FlexATX. The system uses a dual-chamber design (CPU, DRAM, SSD are located on one side of the PC, graphics card and other 2.5" storage devices are on the other side), but the chambers are not isolated completely because they use the same airflows generated by two system fans (we do not know how large they are, but theoretically they may be of 90 mm in diameter). It is noteworthy that the PC has an automated exhaust system that opens up exhaust flippers at the top of the computer when it needs to cool down the components.

The chassis can accommodate any double wide graphics card with a maximum size of 280 mm in length and 41 mm in depth, but nothing too custom with regards heatpipes and backplates because the space is constrained. GIGABYTE will ship the Gaming GT desktop with its own GeForce GTX 1080 G1 Gaming 8 GB card, but they say the key thing is that it can be updated later. Since the card faces downwards, it has to use custom cables (bundled) to connect to displays. Audio and Ethernet cables also have to be angled, but at least it is not a big problem to find such cables in retail. On the bright side of things, the Gaming GT desktop uses a 400 W FlexATX PSU, which could be upgraded if needed.
GIGABYTE Gaming GT Spefications
GB-GZ1DTi7-1080-OK-GW
CPU
Intel Core i7-6700K
Quad Core with HT
4.0 GHz/4.2 GHz
91 W
PCH
Intel Z170
Graphics
GIGABYTE GeForce GTX 1080 G1 Gaming
8 GB GDDR5X
2560 stream processors
160 texture units
64 raster operations pipelines
Memory
32 GB of DDR4 (2×16 GB DDR4)
Storage
240 GB SSD (PCIe/SATA?)
1 TB 2.5" HDD (7200 RPM)
1×2.5" bay for HDD/SSD (SATA)
Wi-Fi
Intel 1×1 Dual Band Wireless-AC 3165NGW 802.11ac + BT
Ethernet
Rivet Networks Killer E2400 Gigabit LAN
Display Outputs
1 × DVI-D DL
1 × HDMI 2.0b
1 × HDMI 1.4 (uses iGPU)
3 × DisplayPort 1.4
Audio
5.1-channel audio
Realtek ALC1150 codec
TI Burr Brown OPA2134 operational amplifier
USB
5 × USB 3.0 Type-A (5 Gbps)
1 × USB 3.1 Type-A (10 Gbps)
1 × Thunderbolt 3/USB 3.1 Type-C (10 Gbps)
Other I/O
-
Dimensions
276 mm × 384 mm × 128 mm
10.86 × 15.11 × 5 inches
PSU
FlexATX 400 W
OS
Windows 10 Home
The custom motherboard of the GIGABYTE Gaming GT PC is based on the Intel Z170 PCH and thus supports all LGA1151 processors, including the upcoming Kaby Lake chips. The manufacturer will ship the system with the Intel Core i7-6700K CPU (so, overclocking seems to be possible, but keep in mind temperatures and noise), but eventually the chip might be switched to something more powerful.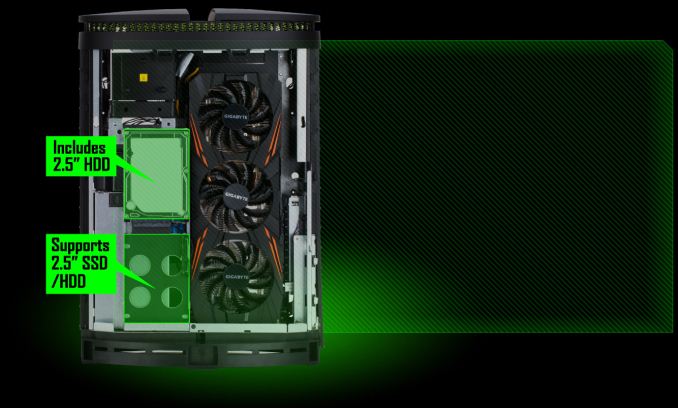 The GIGABYTE Gaming GT PC will come with 32 GB of dual-channel DDR4 memory, a 240 GB SSD (M.2 form-factor, but no word on performance), a 1 TB HDD with a 7200 RPM spindle speed and an additional 2.5" bay for an extra drive. For those, who are not satisfied with an M.2 SSD and two 2.5" HDDs/SSDs, GIGABYTE even installed one Thunderbolt 3 port to connect external high-performance storage devices or special-purpose hardware. When it comes to other I/O, then the Gaming GT desktop offers a dual-band 1×1 802.11ac + BT 4.2 wireless module, Gigabit Ethernet (Killer E2400), five USB 3.0 Type-A ports, one USB 3.1 Type-A (10 Gbps) port, 5.1-channel audio (the Realtek ALC1150 with the TI Burr Brown OPA2134 amplifier) and so on.
Finally, to give its Gaming GT system a distinctive look, GIGABYTE installed a series of RGB LEDs on top of it. The LEDs can work in different modes and can be controlled using the company's Ambient LED application.
Pricing and availability dates for the GIGABYTE Gaming GT SFF PCs were not available at press time. Keep in mind that actual configuration of the PC will differ based on the regions, which means that their prices will vary as well. Chances are we'll see it at CES next week.
Related Reading:
Source: GIGABYTE