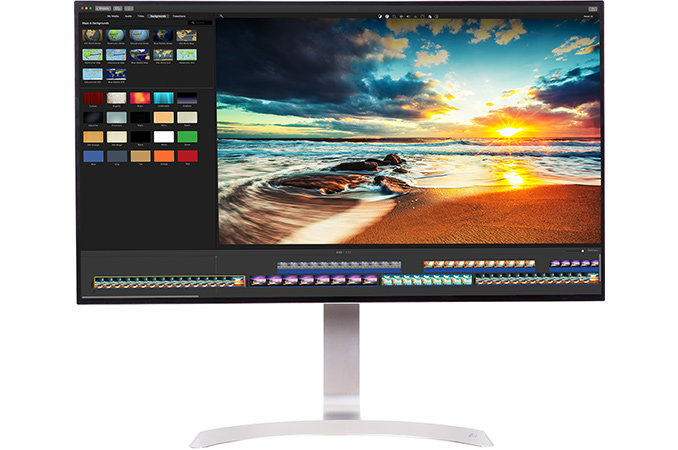 LG on Wednesday announced its new flagship display with a UHD 4K resolution, DCI-P3 color gamut, as well as HDR10 support. The LG 32UD99 will be aimed at creative professionals, prosumers and gamers, which suggests more or less reasonable pricing as well as some allowances to handle Microsoft Windows' quirky color management (through support of sRGB). The monitor will be demonstrated at CES next month and will hit the market some time in 2017.
The LG 32UD99 will a 32" display featuring a 10-bit IPS panel that can reproduce 1.07 billion colors and cover over 95% of the DCI-P3 color space, while LG has said nothing about the sRGB and the Adobe RGB color spaces. The monitor will support 10-bit HDR capabilities, but LG is not disclosing details about its LUTs (look-up-tables) and so on. Finally, LG says that the 32UD99 will be able to connect to computers using a single USB Type-C cable (using DisplayPort Alternate Mode) that will also support charging capabilities. Other notable features that LG mentioned in its press release are thin bezels as well as "slim" stand.
Preliminary Specifications of the LG 32UD99
Panel
32" IPS
Resolution
3840 × 2160
Refresh Rate
60 Hz (?)
Viewing Angles
178°/178° horizontal/vertical
Color Saturation
Over 95% DCI-P3
Display Colors
1.07 billion
3D-LUT
supported
Inputs
1 × USB-C
1 × HDMI 2.0a (?)
Audio
Stereo speakers featuring LG RichBass technology
The manufacturer is positioning its 32UD99 for different types of applications. Specifically, the company says that the monitor is "well-equipped" to support HDR-capable game consoles, which suggests that it can at least connect them using an HDMI 2.0a port because Sony's PlayStation 4 Pro and NVIDIA's SHIELD ATV (the only HDR-capable game consoles available today) do not have a USB-C header. Moreover, neither game console currently support DCI-P3 color space, which means that the display would need to support sRGB alongside HDR10.
Meanwhile, the support for DCI-P3 and HDR10 means that the display will appeal to professionals from the gaming, digital cinema, home theater and software industries. The consumer standard for DCI is used by a number of consumer electronics devices as well as a variety of Apple devices (and has good prospects to be adopted for televisions as well), and while LG isn't confirming that they're going with the consumer version (as opposed to the digital projection version with its different white point and gamma), it's reasonable to assume that like their other DCI-capable monitors, the 32UD99 will follow the consumer standard as well. Though it may very well be that HDR becomes the most distinctive feature, as HDR support in monitors is currently few and far between. Now, since the LG 32UD99 covers "over 95%" of the DCI-P3 color space (and not 98 – 99% like many professional-grade monitors like LG's own 31MU97 do), the manufacturer does not straightforward say that the 32UD99 is going to be its new flagship model for creative professionals, but rather points to prosumers and demanding gamers.
Since LG made a preliminary announcement of the monitor this week, it naturally did not disclose all of its specifications leaving many questions unanswered. Nonetheless, it looks like the 32UD99 will be a considerably more universal display than LG's UltraFine lineup of monitors designed solely with Apple's macOS and Mac hardware in mind.
Today, LG only announced plans to demonstrate its 32UD99 display at CES, which is why it did not touch upon its pricing and estimated availability timeframe. While it is logical to expect the LG 32UD99 to hit the market sometimes next year at a price that will be above that of average 32" UHD models, that is all we can share at this point.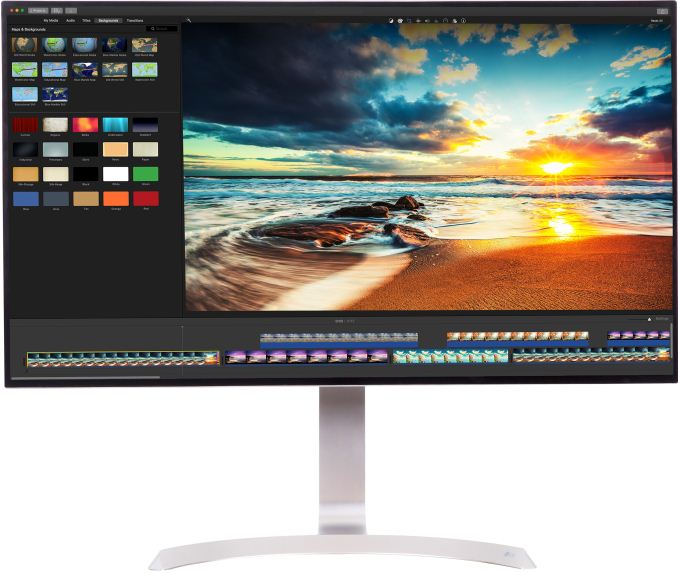 Related Reading:
Source: LG