Ultra-compact form factor (UCFF) PCs have become quite popular after Intel introduced the NUCs. They have become powerful enough to be the primary computing platform for many households. However, consumers looking for UCFF PCs for specialized applications and industrial usage have been contending with high prices and lack of suitable options. GIGABYTE's BRIX family has emerged over the last several years as a compelling alternative to the Intel NUCs. With Skylake-U, GIGABYTE's BRIX family has expanded with multiple options catering to various market segments. This review will take a look at the GB-BSi7HAL-6500, a Skylake-U UCFF PC with two gigabit LAN ports.
Introduction
The Skylake-U platform for mini-PCs has turned out to be an interesting one. Numerous challenges were faced by the first one in the market - the Intel Skylake NUC. Eventual BIOS fixes made the platform realize its full potential. All these aspects made Intel's partners take it a bit slow when it came to promoting their Skylake-U mini-PCs. GIGABYTE's Skylake-U BRIX series first came into the news late last year for being one of the first OEM PCs to sport the Alpine Ridge Thunderbolt 3 / USB 3.1 Gen 2 controller. The product took a long time to appear in the market after the announcement. GIGABYTE, in the meanwhile, worked upon slightly tweaking various aspects of the platform to create new SKUs that could cater to a wider market.
A look at the GIGABYTE BRIX listings shows more than 20 different Skylake-U units (models starting with GB-BS). Readers might find it useful to narrow down the offerings with the following guide to parsing the model numbers. Each barebones Skylake BRIX SKU has a model number fitting the following format:
GB-BS<CoreSeriesIdentifier-01>(H)(T|A)(L|C)-<CoreSeriesIdentifier-02>
The CPU in the SKU can be determined using the CoreSeriesIdentifier. For example, our review sample, the GB-BS<i7>HAL-<6500> has the Intel Core i7-6500U. The other parts of the model number are optional. For example, we have the GB-BSi7-6500, which is essentially a Skylake-U NUC clone with no bells and whistles, but, just sporting a CPU option that the Intel NUC lineup doesn't provide.
The optional components indicate the presence of the following features:
H = 2.5" drive support
T = Thunderbolt 3 / USB 3.1 Gen 2 using the Alpine Ridge chipset
A = Dual USB 3.1 Gen 2 ports (1x Type-A and 1x Type-C) using the ASMedia 1142 USB 3.1 Gen 2 controller
L = Dual RJ-45 gigabit LAN ports
C = COM (RS-232) port (RJ-45 slot similar to the L SKU, and a RJ-45 to COM cable bundled)
GIGABYTE sampled us the barebones version of the GB-BSi7HAL-6500. We completed the configuration using a Toshiba OCZ RD400 512GB M.2 PCIe 3.0 x4 NVMe SSD and 2x16 GB Crucial Ballistix Sport LT DDR SODIMMs. Though the SODIMMs are capable of operating at 2400 MHz, the BRIX set it to operate at 2133 MHz. The specifications of our review configuration are summarized below.
GIGABYTE GB-BSi7HAL-6500 Specifications
Processor
Intel Core i7-6500U
Skylake, 2C/4T, 2.5 GHz (Turbo to 3.1 GHz), 14nm, 4MB L2, 15W TDP
Memory
Crucial Ballistix Sport LT BLS16G4S240FSD.16FAD DDR4
15-15-15-35 @ 2133 MHz
2x16 GB
Graphics
Intel HD Graphics 520
Disk Drive(s)
Toshiba OCZ RD400
(512 GB; M.2 Type 2280 PCIe 3.0 x4 NVMe; Toshiba 15nm; MLC)
Networking
Intel Dual Band Wireless-AC 3165
(1x1 802.11ac - 433 Mbps)
Intel Gigabit Ethernet Connection I210
Intel Gigabit Ethernet Connection I219-LM
Audio
3.5mm Headphone / Microphone Combo Jack (Realtek ALC555)
Capable of 5.1/7.1 digital output with HD audio bitstreaming (HDMI)
Display
1x mini-DP 1.2 (3840x2160 @ 60 Hz)
1x HDMI 1.4b (4096x2160 @ 24Hz)
Miscellaneous I/O Ports
1x USB 3.1 Gen 2 Type-A
1x USB 3.1 Gen 2 Type-C
2x USB 3.0 Type-A
Operating System
Retail unit is barebones, but we installed Windows 10 Pro x64
Pricing (As configured)
$591 ($1030)
Full Specifications
GB-BSi7HAL-6500 Specifications
The GB-BSi7HAL-6500 come with a CD and a read-only USB key containing Windows drivers. In any case, we ended up installing the latest drivers downloaded off GIGABYTE's product support page. In addition to the main unit, the other components of the package include a 65 W (19V @ 3.42A) adapter with a US power connector, a VESA mount (along with the necessary screws), a driver CD and USB key, and a quick-start guide.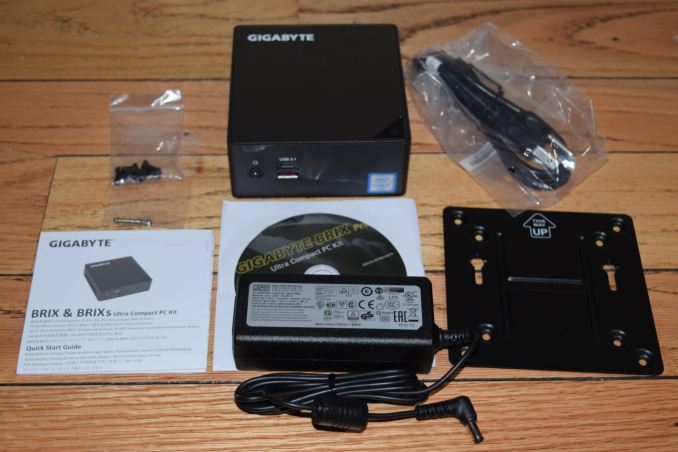 The unit also supports a 2.5" drive. The appropriate SATA cable (data and power together in the typical notebook form factor) is pre-installed inside the main unit (as can be seen in the gallery below).
The metal frame on the inside of the bottom lid (which holds the 2.5" drive in place) also has a thermal pad positioned to aid in the dissipation of heat from any M.2 SSD used in the system.
Platform Analysis
The GB-BSi7HAL-6500 is based on the standard Skylake-U platform with the Sunrise Point-LP PCH integrated in the same package as the CPU. There are a maximum of 16 possible high-speed I/O lanes in a Skylake-U system, and they can be configured in a flexible manner.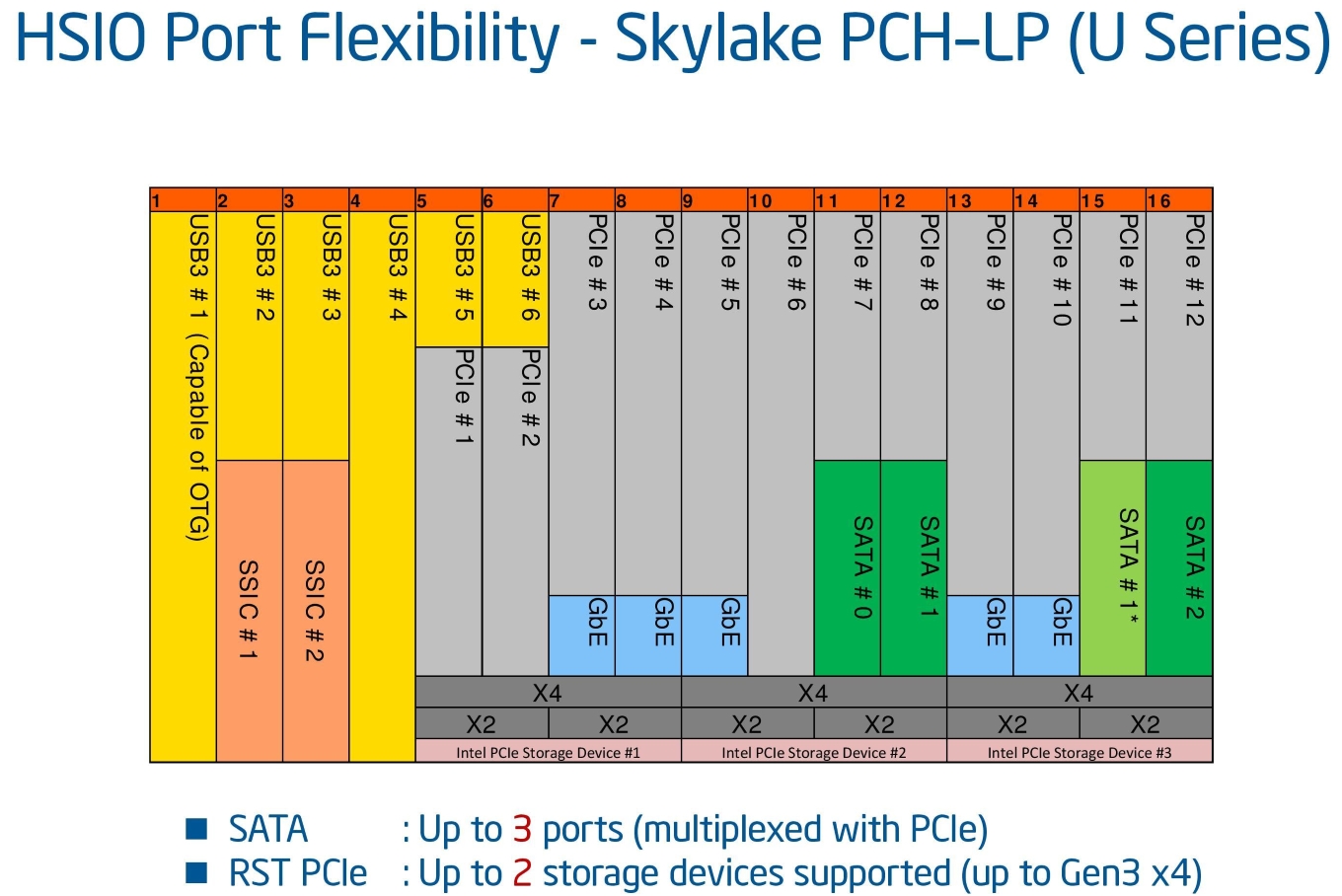 The PCIe lanes in our configuration of the GB-BSi7HAL-6500 are distributed as follows:
PCI-E 3.0 x2 port #1 In Use @ x2 (ASMedia ASM1142 USB 3.1 xHCI Controller)
PCI-E 3.0 x1 port #3 In Use @ x1 (Intel I210 Gigabit Network Connection)
PCI-E 3.0 x1 port #6 In Use @ x1 (Intel Dual Band Wireless-AC 3165 AC HMC WiFi Adapter)
PCI-E 3.0 x4 port #9 In Use @ x4 (Toshiba OCZ RD400 M.2 NVMe Drive)
In the table below, we have an overview of the various systems that we are comparing the GIGABYTE GB-BSi7HAL-6500 against. Note that they may not belong to the same market segment. The relevant configuration details of the machines are provided so that readers have an understanding of why some benchmark numbers are skewed for or against the GB-BSi7HAL-6500 when we come to those sections.
Comparative PC Configurations
Aspect
GIGABYTE GB-BSi7HAL-6500
CPU
Intel Core i7-6500U
Intel Core i7-6500U
GPU
Intel HD Graphics 520
Intel HD Graphics 520
RAM
Crucial Ballistix Sport LT BLS16G4S240FSD.16FAD DDR4
15-15-15-35 @ 2133 MHz
2x16 GB
Crucial Ballistix Sport LT BLS16G4S240FSD.16FAD DDR4
15-15-15-35 @ 2133 MHz
2x16 GB
Storage
Toshiba OCZ RD400
(512 GB; M.2 Type 2280 PCIe 3.0 x4 NVMe; Toshiba 15nm; MLC)
Toshiba OCZ RD400
(512 GB; M.2 Type 2280 PCIe 3.0 x4 NVMe; Toshiba 15nm; MLC)
Wi-Fi
Intel Dual Band Wireless-AC 3165
(1x1 802.11ac - 433 Mbps)
Intel Dual Band Wireless-AC 3165
(1x1 802.11ac - 433 Mbps)
Price (in USD, when built)
$1030
$1030