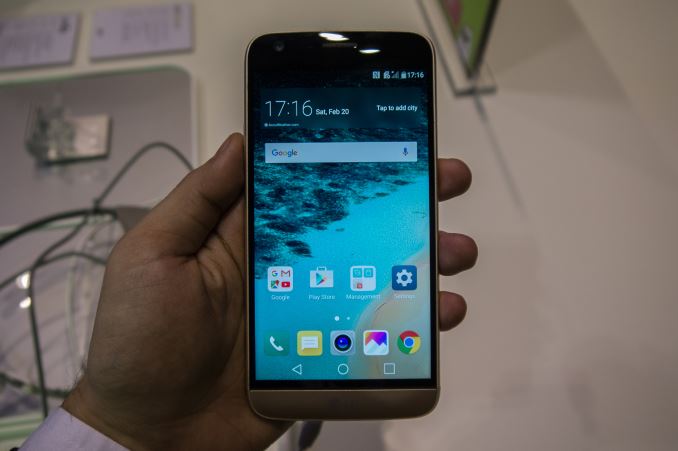 Today just before the official beginning of Mobile World Congres 2016 we were happy to attend LG's G5 launch event. The G5 is the successor to last year's much acclaimed G4. The new devices from the Korean manufacturer marks a very large change in terms of design language and build material as we the G5 adopts a new metal body. In a sense the G5 is LG's transition to premium built smartphones. Before we get back to the build-quality, let's take a look at the spec sheet.
LG G Series Family

LG G5

LG G4

SoC
Snapdragon 820
2x Kryo @ 2.15GHz
2x Kryo @ 1.59GHz
Adreno 530 @ 650MHz
MSM8992 Snapdragon 808
2xA57 @ 1.82GHz
4xA53 @ 1.44GHz
Adreno 418 @ 600MHz
RAM
4GB LPDDR4
3GB LPDDR3 933MHz
NAND
32GB NAND (UFS)
+ microSD
32GB NAND (eMMC 5.0)
+ microSD
Display
5.3-inch 2560x1440 IPS LCD
5.5-inch 2560x1440 IPS LCD
Network
Qualcomm X12 (Integrated)
2G / 3G / 4G LTE (Category 12/13)
Qualcomm X10 (Integrated)
2G / 3G / 4G LTE (Category 6/9)
Dimensions
149.4 x 73.9 x 7.7 mm
159 grams
148.9 x 76.1 x 6.3 - 9.8 mm
155 grams
Camera
Rear Camera #1
16MP (Sony IMX234)


1.12µm pixels, 1/2.6" CMOS size




F/1.8, 3-axis OIS


Standard Angle (78°)

Rear Camera #2
8MP Wide Angle (135°) w/ OIS
Rear Camera
16MP (Sony IMX234)
1.12µm pixels, 1/2.6" CMOS size
F/1.8, 3-axis OIS
Front Facing
8MP
Front Facing
8MP Toshiba T4KA3 FFC
Battery
2800 mAh (10.78 Wh)
Replaceable
3000 mAh (11.4 Wh)
Replaceable
Launch OS
Android 6 with LG UX 5.0
Android 5.1 with LG UX 4.0
Connectivity
802.11a/b/g/n/ac 2x2 MU-MIMO +
BT 4.2,
USB 2.0 Type-C , GPS/GNSS, NFC
LG Modular Port
802.11a/b/g/n/ac + BT 4.0,
USB 2.0, GPS/GNSS, Slimport, DLNA, NFC
SIM Size
?
MicroSIM
Price
?
~649 USD retail (US, launch)
The G5 is powered by Qualcomm's new Snapdragon 820 SoC which contains a pair of Kryo cores clocked in at 2.15GHz and a pair clocked in at 1.59GHz. The Device comes with 4GB of LPDDR4 memory. In terms of storage LG now employs UFS storage and by default comes with 32GB of NAND - we're not sure if there are plans for larger capacity devices. The microSD has been retained and now is accessible via combined SIM/microSD slot on the bottom right side of the device.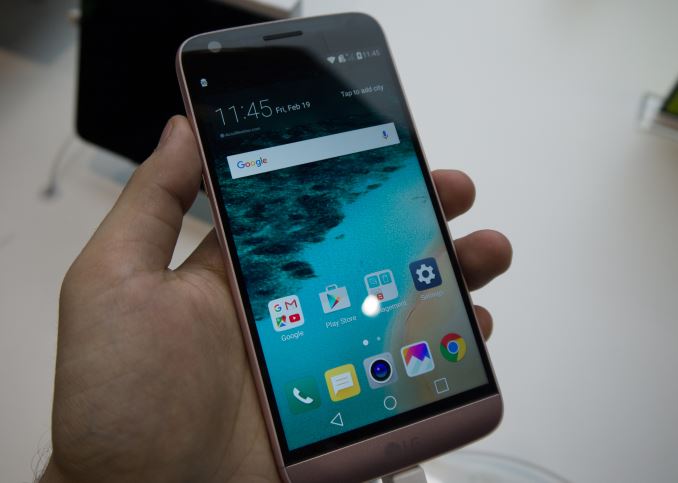 The device's design and ergonomics are astonishingly surprising and mark a very large departure from LG's past designs. For beginners, we see a reduction of the screen size back to 5.3" from the 5.5" on the G4. The screen is an IPS display with 1440p resolution but LG has visibly improved the panel as I noticed there are significant viewing angle improvements compared to the panel used on the G4. The G5 also now features an always-on mode which displays the current time and notifications. LG is able to get away with this on an LCD panel with help of a more efficienct DDIC and also local backlight illumination, meaning only part of the backlight works when the AOD is active. Furthermore LG claims the screen's brightness can reach up to 850 nits which is an astounding number - I wasn't able to verify this but the screen did seem pretty bright. Overall I was extremely impressed by the G5's screen.
The unibody design (almost unibody) of the G5 is what will be most noticed and praised as the G5's build quality rises dramatically in comparison to its predecessors. The alloy frame feels very solid and thanks to a good finish is also very grippy and comfortable to hold. The rounded edges give it a good in-hand feel and generally LG adopts a design-language with rounded features. At the top of the device we find the 3.5mm headphone jack along a IR blaster and top microphone. On the right side there's isn't much besides the bottom SIM/microSD tray. On the left side we find the volume rocker which no longer resides on the back of the device. At first I was surprised to find no power button on the phone but after closer look it's revealed that the fingerprint sensor now acts as a mechanical button, a pretty interesting and ergonomic combination of both features.
Of course one of the key defining features of the G5 is the fact that it's able to sport a removable battery all while maintaining a metal body. LG achieves this by having the whole bottom part of the phone be removable, acting as a cover to the battery which slides in. The whole mechanism was much more robust than I initially expected and has no jiggle-room whatsoever. It's also not possible to remove the slot by accident as it's held firmly in place and only opens up via a button on the left side of the device. The bottom housing contains the USB-C connector as well as the device's speakers. Both connect to the main body of the phone via proprietary connector next to the battery. It's worth mentioning that even without the battery in place the main body of the phone was well built and didn't give much in terms of flex.
Finally in terms of camera the G5 now sports a dual-sensor setup. The sensors arn't used for 3D or stereo vision but rather act as complements to each other. The main camera is a 16MP module with 78° viewing angles while the secondary unit is a 8MP module with an extremely large 135° FOV. Switching between the two units happens when one zooms in or out via the traditional pinch gesture in the camera app. Although the picture quality transition seemed seamless, there was a noticeable delay of 1-2 seconds until the viewfinder switched to the other camera. Both modules seems to employ OIS. I wasn't able to find out what sensor modules were used and if they represent an improvement to last year's G4 module.
On the software side LG seems to have completely revamped its UI as it's now a visibly cleaner and less cluttered interface. The colour scheme is much brighter and icon scheme seems more attractive compared to what was found on the G4. I wasn't able to test much in terms of the performance as the display units didn't seem to allow installtion of third-party apps but it seemed fast although the default animations were relatively slow. A few browser benchmarks put the Snapdragon 820 at the same levels as what the MDP was able to achieve in Chrome, which means that LG doesn't seem to have been able to optimize the browser for the chipset. I was playing around with one of the units connected to the VR headset and the device became noticeably hot after some period of use and watching 3D videos which was a relatively worrying observation although we can't come to any conclusion before we're able to perform a full review of the device.
Overall I was pretty impressed by the G5 and what LG was able to achive this generation. The G5 is able to improve on its ergonomics and premium feel all without sacrificing any of the much wanted features such as a removable battery and microSD slot. It remains to be seen how the Snapdragon 820 and the screeen efficiency end up in terms of battery longevity as the 2800mAh battery does represent a regression over the G4's 3000mAh battery. The dual-camera design is in my opinion a smart use of multiple modules and avoids more gimmicky use-cases such as stereo vision or all-focus pictures, keeping it simple by simply taking advantage of the second module as a wide-angle camera for capturing more scenery.