ATI surprised us all with last month's announcement of the R300 based ATI Radeon 9700 Pro. We had an idea of how the chip would perform and what kind of milestones it would reach, but ATI met and exceeded our expectations. With the R300 core, ATI produced a graphics chip that proved to be above and beyond all the other products on the market.
Amid the fanfare that the Radeon 9700 Pro created it was easy to forget about the second product ATI launched on July 18th. Dubbed the Radeon 9000 Pro, this RV250 based product was to serve as ATI's mainstream video card and replace the Radeon 8500 series cards. Although the Radeon 9700 Pro may have been more exciting to learn about, with all its bells and whistles, the truth of the matter is that the majority of people will find a mainstream video card, like the Radeon 9000, at the heart of their PC.
Because of this, we took a fairly in-depth look at this product as well. Our conclusion: that the Radeon 9000 Pro has what it takes to make it in the cut throat world of sub-$200 video cards. It may not be as impressive as the top of the line 9700 Pro but the 9000 Pro has unique features of its own.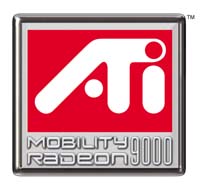 The launch of both the Radeon 9700 Pro and the Radeon 9000 Pro cards really showed that ATI is ready to become not only a, but the, main contender in the video card market. The fact of the matter is that we would have not been too surprised if ATI stopped the presses there after launching two impressive desktop parts. But the company decided to take it one step farther, delivering another blow to NVIDIA and the like. Today ATI is announcing the 36 million transistor Mobility Radeon 9000, a chip that promises to bring mobile gaming to places it has never been before. The chip, code named the M9, is targeted at high-end mobile gaming systems and looks to be leaps and bounds better than what is out there now in the mobile market.
Let's take a look at what makes the Mobility Radeon 9000 so impressive and find out if it completes the one-two-three punch that ATI was hoping to deliver.