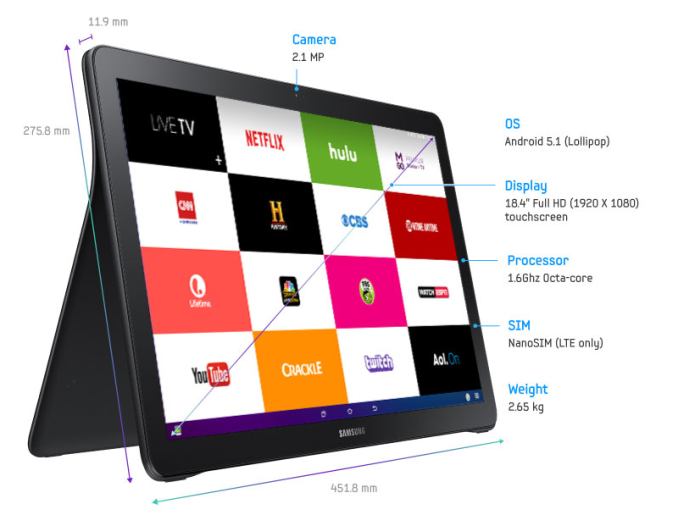 For a while now there have been small pieces of information about an 18.4" Samsung Android tablet that was due to release in the near future. The tablet was also hinted at earlier this year at IFA. Today that tablet has gone official as the Samsung Galaxy View, and it's unlike any other Android tablet that I've seen before. Some information is still scarce, but I've put together the known specifications in the chart below.
| | |
| --- | --- |
| | Samsung Galaxy View |
| SoC | 1.6GHz Octa-core |
| GPU | ? |
| RAM | 2GB |
| NAND | 32/64GB + MicroSDXC |
| Display | 18.4" 1920x1080 LCD |
| Dimensions | 451.8 x 275.8 x 11.9mm, 2650g |
| Camera | 2.1MP Front-Facing |
| Battery | 5700mAh |
| OS | Android 5.1.1 Lollipop |
| Cellular Connectivity | LTE with NanoSIM Slot |
| Other Connectivity | 802.11a/b/g/n/ac + BT 4.1, microUSB 2.0 |
It's pretty obvious just by looking at the specs that the Galaxy View is a unique device. It sports an enormous 18.4" LCD display, with a 1080p resolution. This certainly isn't near as sharp as the screens you'll get on recent smartphones and tablets, but you're also more likely to use the Galaxy View at a farther distance. However, you are ultimately limited by the length of your arms because you need to touch the display, and so a higher resolution probably would have been beneficial, and I would imagine if the Galaxy View ends up being successful to any degree that we'll see an improved display on the next generation.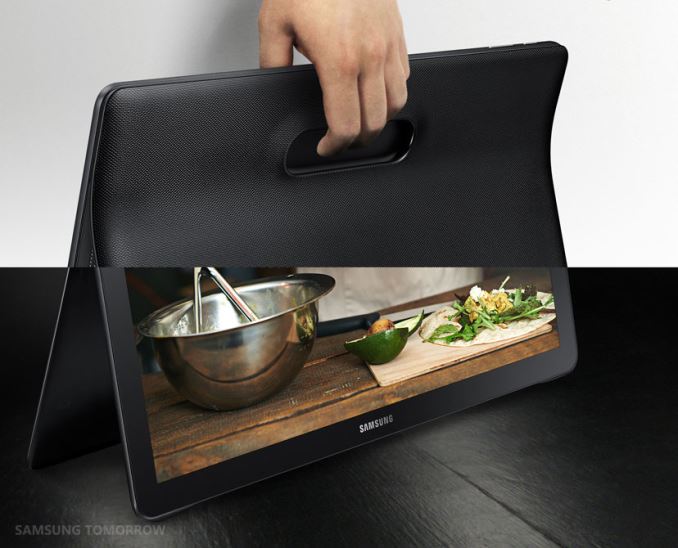 With that large display comes a very big and heavy chassis. At 2.65kg it is by far the heaviest Android device I have ever seen, apart from perhaps some AIO desktops that include an Android partition for whatever reason. In order to make the Galaxy View easier to handle Samsung has actually build in a kickstand of sorts, and a handle which can be used to carry it around. It honestly seems a bit comical, but then again so have other past devices like the original Galaxy Note, and perhaps it will eventually be normal to see people walking down the street carrying a giant tablet at their side.
As for the rest of the internals, Samsung has only provided some high level info. The 1.6GHz Octa-core SoC has been reported as the Exynos 7580 by some other sources, but given that it's an unknown part and the available information seems less than reputable I wouldn't want to make any definitive claims at this point about exactly what SoC is in use. It is paired with 2GB of RAM, but it's not clear whether it's of the LPDDR3 or LPDDR4 variety, and that will come along with the SoC verification once we get more concrete specs. There's no rear-facing camera, because when you get to 18.4" there is really no way to take photos. I do wonder if it might have been a useful inclusion for showing a different point of view when video chatting, but ultimately Samsung has decided not to include one.
The battery also looks very small if you assume a 3.85V chemistry, and in fact it would actually be smaller than the battery in the iPad Air 2 if that's the case. If that is true I could only assume that Samsung had to reduce the tablet's mass, and assumed that in most circumstances the user would be close to a power outlet anyway. It's very possible that Samsung is actually using a battery chemistry with a higher voltage and so the capacity will be much larger than the specification given in mAh would imply. This is again something that will hopefully be clarified in the future.
Samsung hasn't announced pricing or availability for the Galaxy View yet, but with it now being official those details shouldn't be far off.