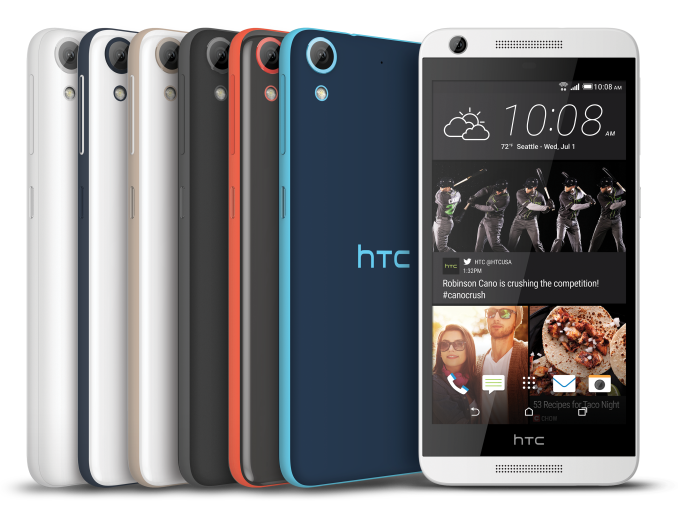 Today HTC announced that they are launching a number of devices in their Desire smartphone line in the United States. In order, the newly available smartphones are the HTC Desire 520, HTC Desire 526, HTC Desire 626, and the HTC Desire 626s. All of these devices expand HTC's product line in the low-end section of the smartphone market, and you can check out their specifications in the chart below.
Device
HTC Desire 520
HTC Desire 526
HTC Desire 626
HTC Desire 626s
SoC
Qualcomm Snapdragon 210 MSM8909
4 x Cortex A7 at 1.1GHz
Adreno 304 at 400MHz
NAND / RAM
8GB / 1GB
8GB / 1.5GB
16GB / 1.5GB
8GB / 1GB
MicroSD
MicroSDXC up to 2TB
Thickness
9.05mm
9.9mm
8.19mm
8.19mm
Display
4.5" 854x480 LCD
4.7" 960x540 LCD
5.0" 1280x720 LCD
5.0" 1280x720 LCD
Camera
8MP Rear
2MP Front
8MP Rear
2MP Front
8MP Rear
5MP Front
8MP Rear
2MP Front
Battery
2000 mAh (7.6Wh)
Connectivity
802.11 b/g/n + BT 4.1, GNSS, microUSB2.0
OS
Android 5.1 With HTC Sense
As you can see from the chart, all four of these devices are fairly similar as far as specifications go. All use Qualcomm's Snapdragon 210 SoC, which is the first time to my recollection that we've seen this part show up in smartphones. Snapdragon 210 is a quad core Cortex A7 part with a peak frequency of 1.1GHz, which makes it slightly slower than Qualcomm's Snapdragon 400 parts. On the GPU side, the Adreno 304 GPU is just a variant of Adreno 305 with a max frequency of 400MHz. All of the devices have 8GB of NAND, with the exception of the Desire 626 which has 16GB. On the DRAM side, the Desire 520 and 626s have 1GB of RAM, while the Desire 526 and 626 bump that to 1.5GB. All four phones also have the same 7.6Wh battery capacity, and they all share an 8MP rear camera, with everything except the 5MP Desire 626 also sharing a 2MP front-facing camera.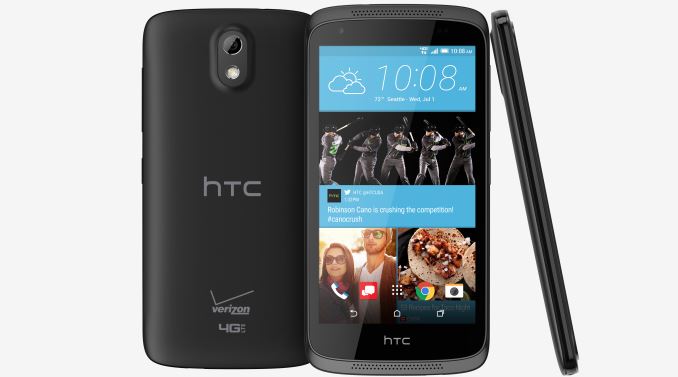 The major point where these four devices differ is their display size and resolution. The Desire 520 is at the low end of the range with its 4.5" 854x480 display, followed by the 960x540 Desire 526, and the 5.0" 1280x720 Desire 626 and 626s. Since the 626 and 626s are larger with the same battery capacity they are thinner than the 520 and 526. Interestingly enough, the Desire 526 is almost 1mm thicker than the 520 despite its larger screen size.
The Desire 626 and 626s will be available in all the colors you see in the cover image above. The Desire 526 comes in black, while the Desire 520 will come in grey. As far as availability goes, HTC says that these devices will be available in a variety of colors from both prepaid and postpaid US carriers. Specifically named operators include AT&T, Boost Mobile, Cricket, MetroPCS, Sprint, T-Mobile, Tracfone, Verizon, and Virgin Mobile USA. T-Mobile is curiously missing from the list. According to HTC, providers will confirm which models and colors they're carrying beginning this week, and they will be available in the coming months.