Dell World is on right now in Austin, and today Dell announced a refresh of the Venue 11 Pro 7000 Series tablet. The 7000 Series is a more expensive, more powerful version of their tablet, and until now has been sold with the Haswell Y series processors. The major change with the newest version of the tablet is that it will be equipped with a Broadwell Core-M processor, which enables it to become fanless.
The 7000 Series is aimed more at the business crowd, with additional features such as optional docking stations, keyboards, stylus, and two-factor authentication with integrated smartcard and fingerprint readers. With the tablet running Core processors instead of Atom, the price is also aimed higher than many other tablets, with a price closer to the Microsoft Surface Pro 3. It does undercut the Microsoft tablet on price though, with a starting price of $699.99.
Dell Venue Pro 7000 Series
Specifications
CPU
Intel Core-M 5Y10a/5Y70
(Dual-Core 0.8-2.0 GHz/1.1-2.6 GHz)
GPU
Intel HD 5300
RAM
4-8 GB DDR3L 1600 MHz
SSD
64 to 128 GB
Display
10.8" 1920x1080 HD IPS LCD
Battery
38 Whr
Connectivity
Intel Wireless-AC 7265 (802.11ac/BT4.0/NFC)
Optional Intel XMM 7160 LTE Modem
Height
176.4 mm
Width
279.8 mm
Depth
10.75 mm
Weight
733.4g (Wi-Fi) 757.3g (LTE)
Price
$699 Starting
One of the most important parts of a tablet is likely the display, and the Venue Pro 11 7000 Series seems to keep the same 10.8" IPS (the press release says IPS while the tech specs say TN – most likely it is IPS) display from the previous version. Though not the highest resolution tablet display, it still has Full HD resolution which gives it right around 200 pixels per inch. The touch screen has 10-point capacitive touch, and likely has support for the same active stylus option as the previous version.
Powering the new fanless design is the Intel Core-M 5Y10a, with the 5Y70 possibly being offered at a later date. These are both dual-core designs, which also have hyper-threading enabled. Graphics are handled by the integrated Intel HD 5300 GPU. Also included in the package is vPro with the 5Y70, which should help sell the new tablet in the enterprise. Memory options are 4 or 8 GB of LPDDR3-1600, and connectivity is provided by the Intel Dual Band Wireless-AC 7265 chip. This is newer, smaller version of the Wireless-AC 7260 card which is available in the M.2 form factor only. Also available is the Intel XMM 7160 modem which supports 2G/3G/LTE. Storage is either a 64 or 128 GB SSD, and the battery is a 38 Whr model which Dell says should get through the work day – whatever that means.
Other miscellaneous features include a full size USB 3.0 port, Bluetooth 4.0, micro HDMI, NFC, a Sensor Hub (Gyro, G-sensor, Proximity), and a microSD slot which can accept up to 128 GB of extra storage.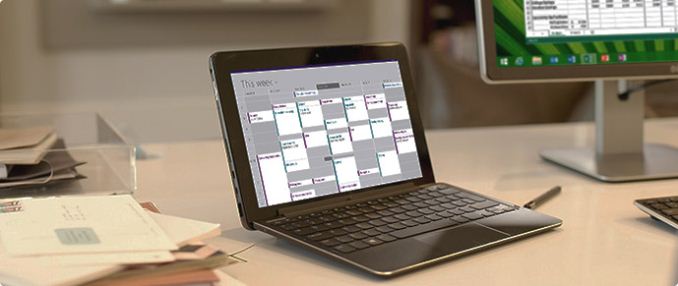 The new model is 15 percent thinner than the outgoing version, which is expected with the move to Core-M. Intel did a lot of work to allow these thinner models, and not just the 4.5 watt TDP. If you have missed our previous coverage on this, I will refer you to Ryan's Broadwell preview.
As this is marketed as a business machine, a lot of the design and focus was on accessories. Dell once again offers a multitude of accessories to allow this design to bridge the gap between a tablet and a PC in the office, with an optional docking station, as well as a snap on keyboard which transforms the tablet into a clamshell laptop. If you need extra battery life, they also have a Mobility Keyboard option which includes a supplemental battery. To specifically target the Healthcare industry, they even have a Healthcare Case which can be fully sanitized. Dell is even offering a Mobile Payment Solution with a 2D barcode scanner and magnetic stripe reader for retail and hospitality customers.
Core-M is just now starting to roll out, and it is great to see the number of new fanless devices which are hitting the market. At just 1.62 lbs, it is a bit heavier than an iPad Air 2, but with the power of a Core CPU. The Dell Venue 11 Pro 7000 Series will be available for purchase on www.dell.com beginning November 11th.
Source: Dell