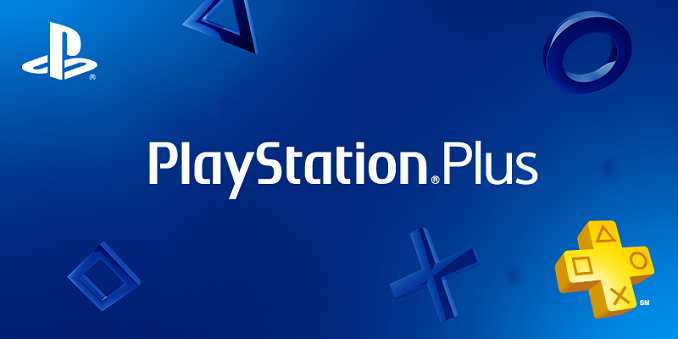 A couple of days after the Xbox games were announced, Sony has now revealed the free game lineup for PlayStation Plus members. One note about last month's games though – DriveClub PlayStation Plus Edition has still not shipped, so if you are waiting for that unfortunately you will have to wait a bit longer. As I mentioned in the Xbox article, Microsoft needs to ramp up the Games with Gold program because once again, Sony has six games available across the three platforms, and three of them are day one releases. Let's check out what is in store for November.
PlayStation 4
The Binding of Isaac: Rebirth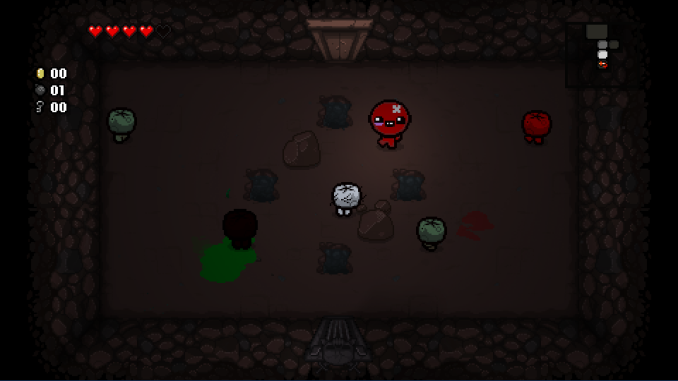 The first game on tap for the PlayStation 4 is also the first day one release for this list. The Binding of Isaac: Rebirth is from developer Nicalis, and is a remake of The Binding of Isaac which originally came out in 2011 and was built on Flash. The game is a top down RPG similar in style to the original The Legend of Zelda, at least as far as the dungeon crawling goes. Players start the game as Isaac, who tries to escape from his mother and runs away into their monster filled basement. The levels are randomly generated. The original PC version scored a very high 84 Metascore, and 8.3 user score on Metacritic. The Binding of Isaac: Rebirth will also be made available on the PS Vita.
"The Binding of Isaac is a randomly generated action RPG shooter with heavy Rogue-like elements. Following Isaac on his journey, players will find bizarre treasures that change Isaac's form giving him superhuman abilities and enabling him to fight off droves of mysterious creatures, discover secrets and fight his way to safety. The Binding of Isaac: Rebirth is the ultimate of remakes with an all-new highly efficient game engine, all-new hand-drawn pixel style artwork, highly polished visual effects, all-new soundtrack and audio by Ridiculon, and hundreds upon hundreds of designs, redesigns and re-tuned enhancements by series creator, Edmund McMillen."
SteamWorld Dig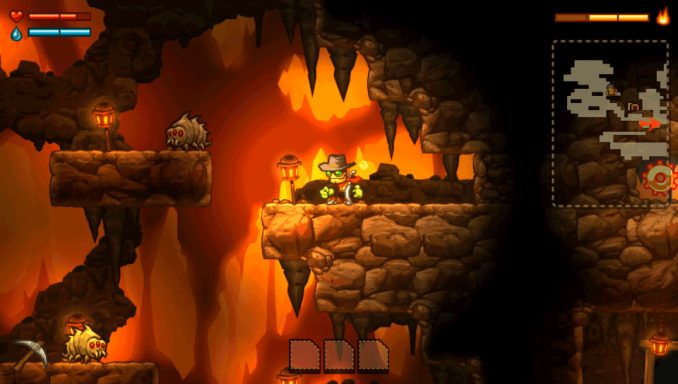 The second PS4 game for November is SteamWorld Dig, from developer Image & Form. This game was originally released in August 2013 on the Nintendo 3DS, and ported to the PS4 in March of this year. In this 2D Platformer, you control Rusty, who is a steamboat miner. Collecting ore and gems is your goal. SteamWorld Dig scored an 82 Metascore and 7.4 User score on metacritc. It normally sells for $9.99, and it will also be available for the PS Vita.
"SteamWorld Dig is a platform mining adventure with strong Metroidvanian influences. Take the role of Rusty, a lone mining steambot, as he arrives at an old mining town in great need. Dig your way through the old earth, gaining riches while uncovering the ancient threat that lurks below…"
PlayStation 3
Frozen Synapse Prime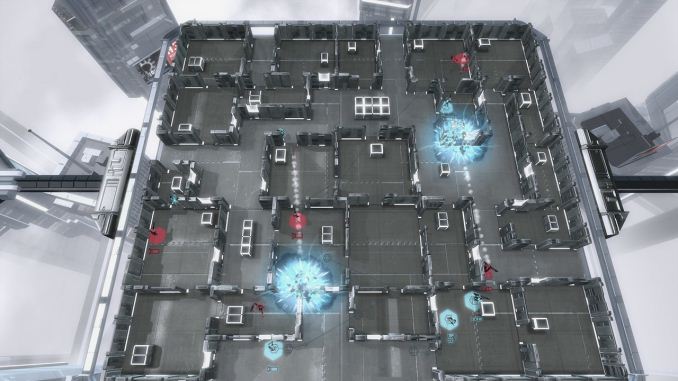 The first game available on the PS3 is also a day one release for this platform. Frozen Synapse Prime is an asynchronous turn-based strategy game from developer Double Eleven. Players can take on several multiplayer matches simultaneously, or play the single player campaign, which is set in a dystopian future where an evil corporation is attempting to take over the city. The Vita version was released in September, and scored an 84 Metascore and 7.3 User Score on metacritic.
"Take on the role of Tactics, leading a small rebel faction to overthrow a powerful corporation controlling the city of Markov Geist. Control an elite strike team of futuristic soldiers from shotgunners and snipers, to grenadiers and machine-gunners in the ultimate turn-based strategy game. Plot paths and issue orders to your units, test your plans and predict your opponent in each turn. Combat plays out on procedural, 3D, destructible and customizable battlefields."
LUFTRAUSERS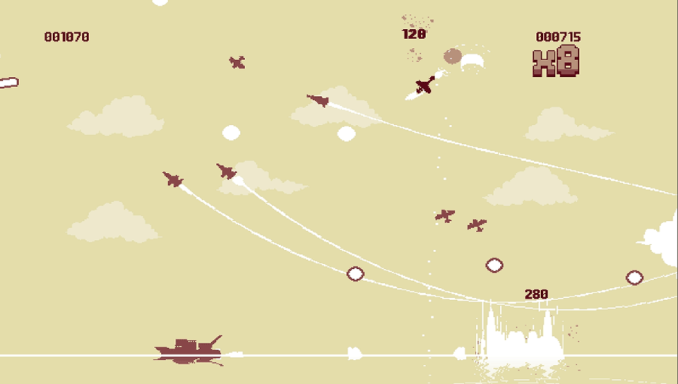 The second game for the PS3 this month is LUFTRAUSERS from developer Vlambeer. This single-player game is an airplane-based shoot'em up, which originally launched in March 2014. Players control an airplane and are given a full 360° of motion for the plane. As you progress through the game, you can customize your plane to increase your potential. LUFTRAUSERS scored an 80 Metascore and 7.5 User Score on Metacritic, and normally retails for $9.99. The PS Vita version will also be available.
"The skies will be set aflame and the seas will overflow with wreckage in Vlambeer's stylish arcade shooter LUFTRAUSERS! Select from over 125 combinations of weapons, bodies, and propulsion systems and take to the skies to battle enemy fighter planes, battleships, submarines, and rival aces for glory, honor, and high scores. Bravely volunteer for one of over 100 daring missions and become the most legendary Rauser pilot of all time!"
PlayStation Vita
Escape Plan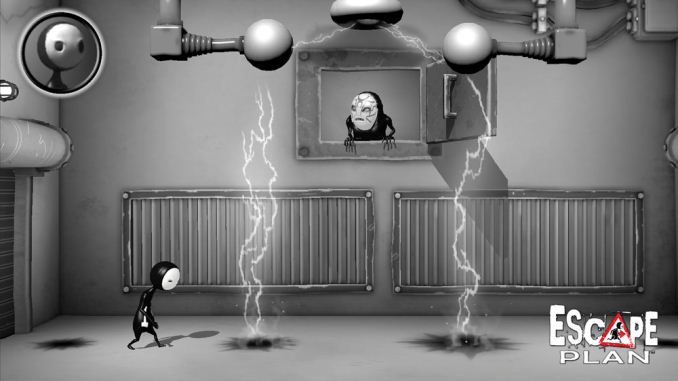 The first PS Vita game is Escape Plan from developer Fun Bits Interative. This puzzle game was first released as a launch title for the Vita in February 2012. The goal of the game is to control Lil and Laarg through a series of booby-trapped rooms. The artistic style of the game certainly makes for a great looking game. Escape Plan scored a 71 Metascore and 7.5 User Score on metacritic, and normally retails for $14.99. The PS4 version will also be available.
"Escape Plan takes advantage of the PlayStation®Vita system's multi-touch display, rear touch panel, swipe interfaces and motion sensor, putting the fate of Lil & Laarg in the palm of your hand. Players can swipe, tap, poke, squeeze and slap our hapless heroes and interact with the unique and twisted puzzles of each room. Only you can help them survive before their captor and nemesis, Bakuki, recycles them and turns them into his minions. Swipe as if your life depended on it in this exclusive survival-humor game for the PS Vita system."
The Hungry Horde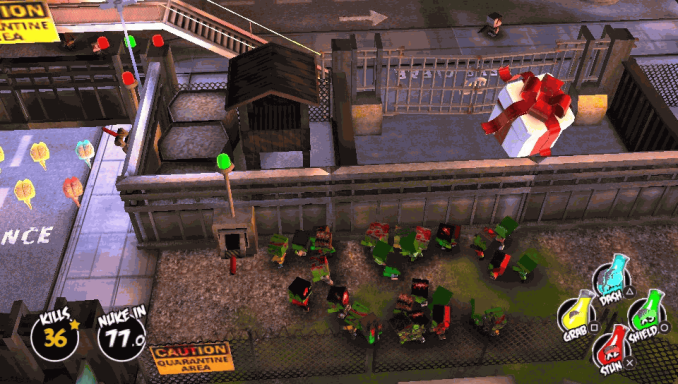 The final game for the month is also a new one to the Vita store. The Hungry Horde, from developer Nosebleed Interactive, has the player leading a horde of zombies on a quest to destroy humanity. What else can be said about zombie rampage games? The Hungry Horde normally retails for $9.99
"Lead a horde of zombies on a manic mission to expand the ranks of the undead and destroy humanity. Battle the clock and attempt to trash the planet in this highly addictive, run-till-you-die zombie rampage – one game and you'll be "turned"!"
November brings six more games, and three new games to their respective platform. While none of November's titles would be considered AAA games, there is a good selection again for all platforms. Sony also does a great job of promoting their cross-platform ecosystem with these bundles, and most of the time when a game is available on more than one Sony platform, the PlayStation Plus membership gives the player access to the game on all of the platforms. It is not always the case, but often. If you are interested, the games should be available starting today, as it is the first Tuesday of the month. If you are interested in what's coming for December and January, Sony has also teased those month's games here.
Source: PlayStation Blog