CPU Performance
Let's a better look at the Kirin 925's performance in terms CPU power. Again, this SoC is merely a slightly higher clocked Hi3630 as we've already benchmarked on the Huawei Honor 6. The basic hardware remains the same - a 1.8GHz quad A15 cluster with 2MB of L2 and a 1.3GHz quad A7 cluster with 512kB of L2 cache. The setup is running on an HMP (Heterogeneous Multi-Processing) hardware implementation running on a Linaro GTS (Global Task Scheduling) software stack on the Linux kernel. Memory is provided by 2GB of LPDDR3-1600 memory in this unit, with a higher 3GB variant available.
First, we take a look at our browser suites, testing general Javascript performance inside Chrome.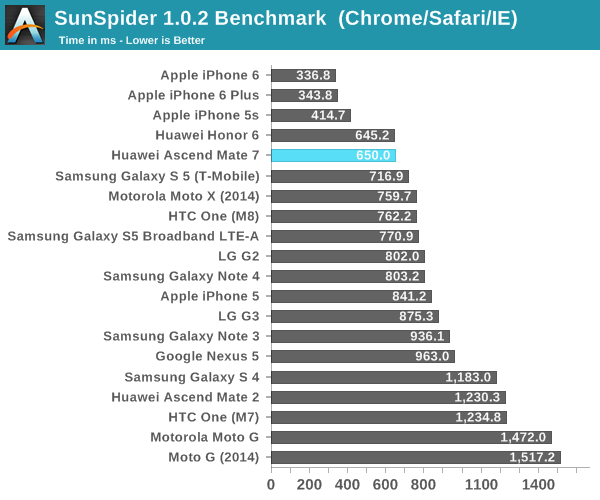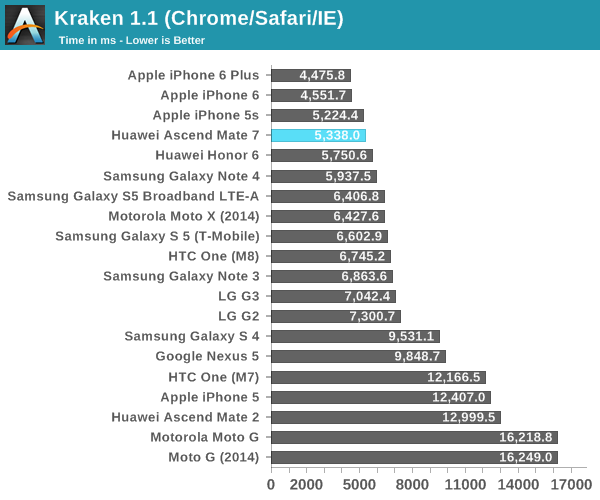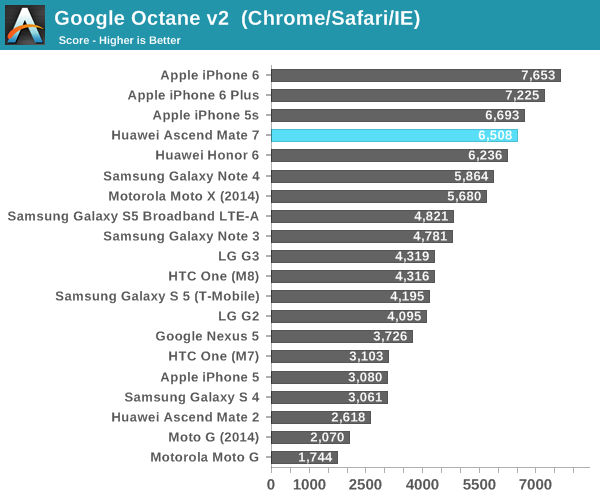 As expected, the Mate 7 doesn't differ too much from the Honor 6. The slight 100MHz boost on the A15 cluster brings it a few slight percentages above the Kirin 920. Again we see the big.LITTLE configuration and the A15 in general being extremely well-performing in these tests, being at the forefront of Android performance and only being beaten by Apple's own chip architectures. It's safe to say that the CPU has no issues at all in delivering an excellent and fast web-browsing experience.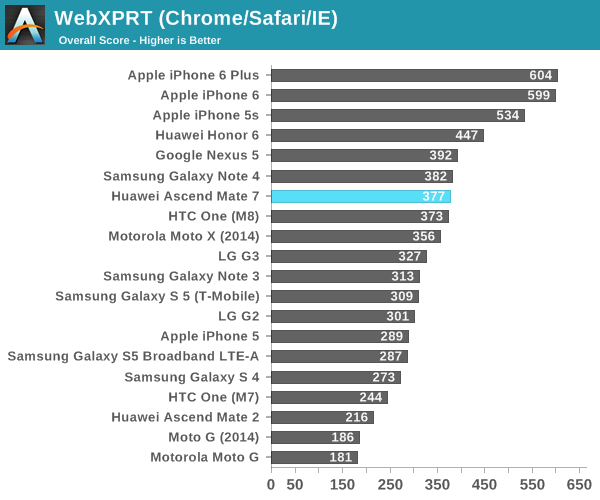 WebXPRT has behaved weirdly on the Mate 7, it consistently scores less than the Honor 6 even although they employ the same chip. I'm not too sure as why this happened. My assumption is that there might be some software regressions in Huawei's OS libraries, but it's weird to see WebXPRT being the sole test unit to suffer from this effect. Because the CPU is running at a higher clock and voltage, we might be seeing some problem with throttling as WebXPRT tends to run much longer than the previous benchmarks.
Let's continue on with BaseMark OS II, a benchmark which tries to measure several aspects of a system.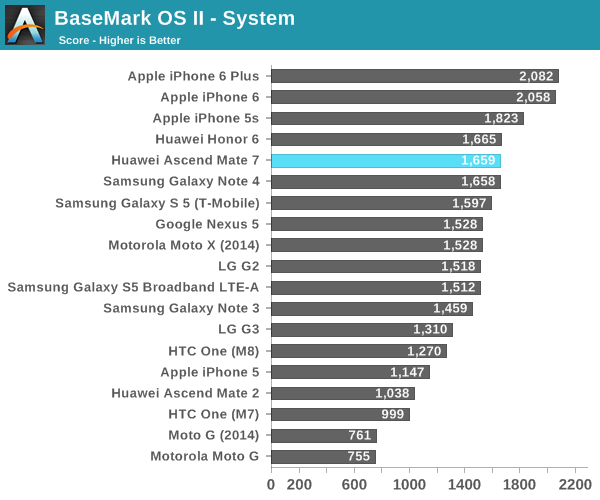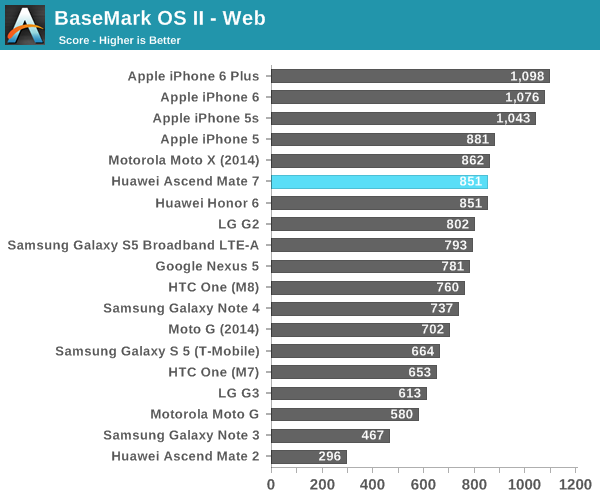 The System and Web tests in BaseMark are mainly CPU limited. We see a similar ordering as in the Javascript benchmarks, with the Kirin leading the Android devices behind Apple's iPhones.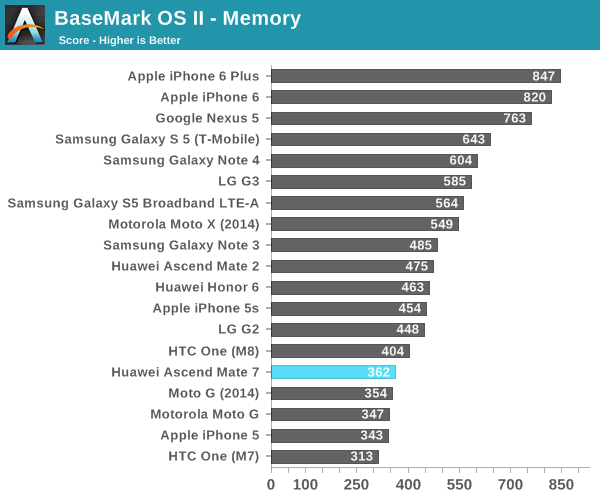 The memory benchmark is performing very weakly here. As a reminder, BaseMark is also testing the NAND performance in the memory sub-test, and not the main memory.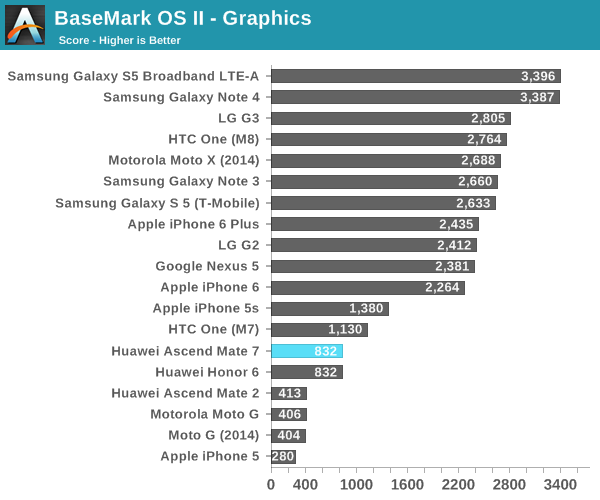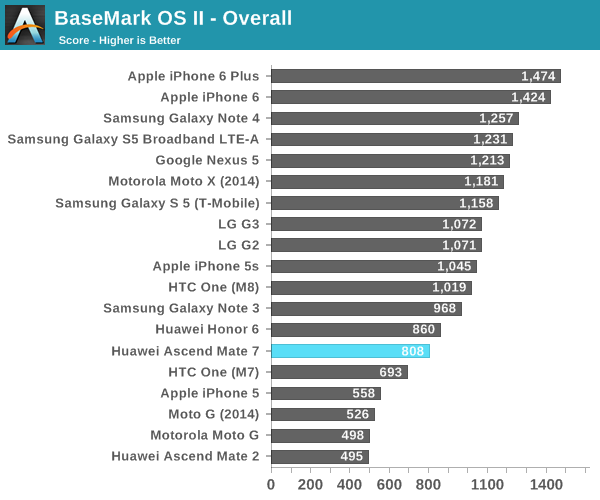 Like on the Honor 6, the Mali is having big issues with BaseMark OS II's Graphics benchmark and ends up below even Qualcomm's last generation's GPU. This, in conjunction with the lower memory score brings the overall BaseMark score further down.
Again the Mate 7 performed worse than the Honor 6. We're starting to see a trend here where longer lasting performance tests perform worse on the Mate 7, again I suspect a throttling issue here. Before we dwell more deeply into that, let's revise the performance of the Mali T628MP4 again.