AMD Overdrive
The first utility we're going to look at is AMD's OverDrive utility. This utility is automatically included with AMD's Catalyst software suite. OverDrive is AMD's take on overclocking and is designed to work with all AMD based graphics cards, so let's take a look and see what OverDrive has to offer.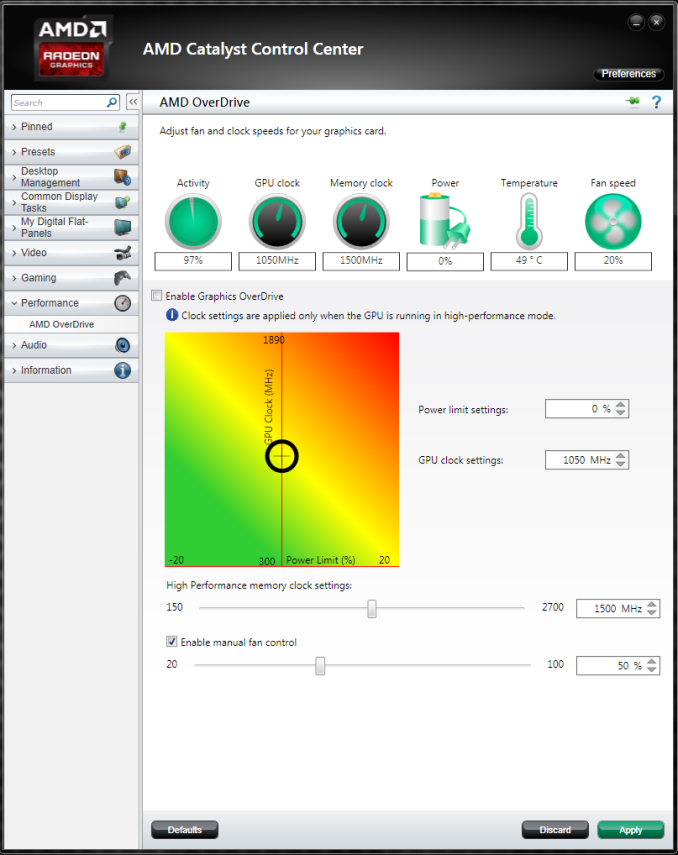 First off, before you can use OverDrive you are prompted to review and accept AMD's license agreement. This agreement states that operating your video card outside factory settings may damage your product and potentially lead to other problems. AMD will not offer support for the utility and they mention the use of this utility may void your video card's warranty. Simply put, AMD warns you that when using OverDrive, you do so at your own risk.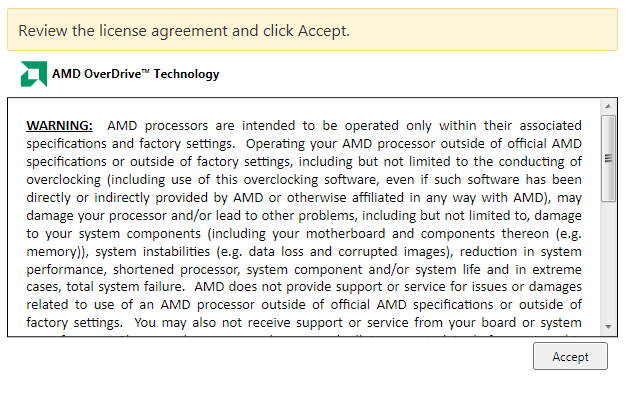 After accepting the license agreement, you are given full access to the utility. Starting at the top of the utility there are six indicators. These indicators are used to monitor GPU activity, GPU core clock speed, memory clock speed, power limit, GPU temperature, and fan speed in real-time. AMD did a fine job with the design and layout of these indicators as they will play a vital role when overclocking your video card.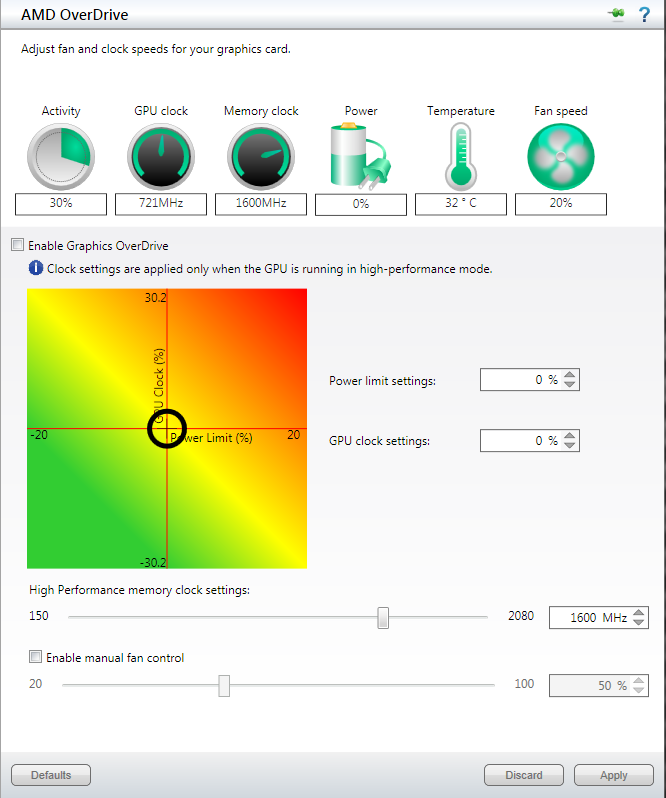 Moving down the page the first thing that catches our eye is the big and colorful 2D heat map. The 2D heat map uses a point and click interface on an X and Y graph. The X line represents the card's power limit, while the Y line represents the GPU's core clock speed. You can use the mouse cursor to hover over the heat map, which will display the values before you select them. It's a pretty neat touch and it's easy enough to use, but in practice, I found it was much faster to manually key in our selections (in the fields to the right of the heat map) instead of using the 2D heat map.
In the past year OverDrive has been updated to take advantage of AMD's most recent iteration of PowerTune. This version of PowerTune is found on all Bonaire, Hawaii, and Tonga based GPUs; among other features it introduces fine grained power states, which has an influence on how OverDrive looks and behaves. When overclocking any of these GCN 1.1 and later GPUs you'll notice that AMD partially abstracts the real GPU clock speed by using percentages, which is aimed at making overclocking easier to understand despite the clock speed-varying antics of PowerTune occurring under the hood. However for GCN 1.0 based cards, AMD continues to use the absolute GPU clock speed, as this is how OverDrive operated when these cards originally shipped and they don't have the clock speed variability of newer GPUs. Meanwhile the power limit setting for all cards operates on a percentage basis, typically allowing up to a 20% or 50% increase depending on the card.
These generational differences also have an impact in how fan speed controls work on some cards as well. Available to manufacturers and enabled on some 290 series cards, AMD allows for both the card's maximum temperature and the card's maximum fan speed to be controlled, with OverDrive providing the necessary settings for this. Otherwise when using a previous generation of GPUs or cards where the manufacturer has decided not to enable these features, we get a more traditional setup where the fan speed control adjusts the immediate fan speed to a fixed percentage, with no temperature controls.
In the end, OverDrive offers a relatively simple way for users to overclock their AMD based video cards. I also like the fact that OverDrive is automatically included when installing the AMD Catalyst Control Center, as the use of a third-party utility is not needed. AMD is the only manufacturer to build an overclocking utility into its control panel and driver set, which is definitely a plus.
One last note is that I think AMD video card owners that are just learning the basics of overclocking should start with OverDrive before growing into other utilities. It's a great starter that helps users get a feel for overclocking and teaches the fundamentals as well, and it's difficult to do anything that will immediately damage your GPU. With that being said, I don't think experienced overclockers will consider OverDrive as the preferred utility. I say this because there are many utilities in this round-up that offer more extensive features such as voltage adjustment and in-depth monitoring and logging. Not having at least one of these features tends to be a deal breaker for many experienced overclockers, who usually want more control and features.