Single Client Performance - CIFS & iSCSI On Windows
The single client CIFS performance of the Asustor AS-304T was evaluated on the Windows platforms using Intel NASPT and our standard robocopy benchmark. This was run from one of the virtual machines in our NAS testbed. All data for the robocopy benchmark on the client side was put in a RAM disk (created using OSFMount) to ensure that the client's storage system shortcomings wouldn't affect the benchmark results. It must be noted that all the shares / iSCSI LUNs are created in a RAID-5 volume.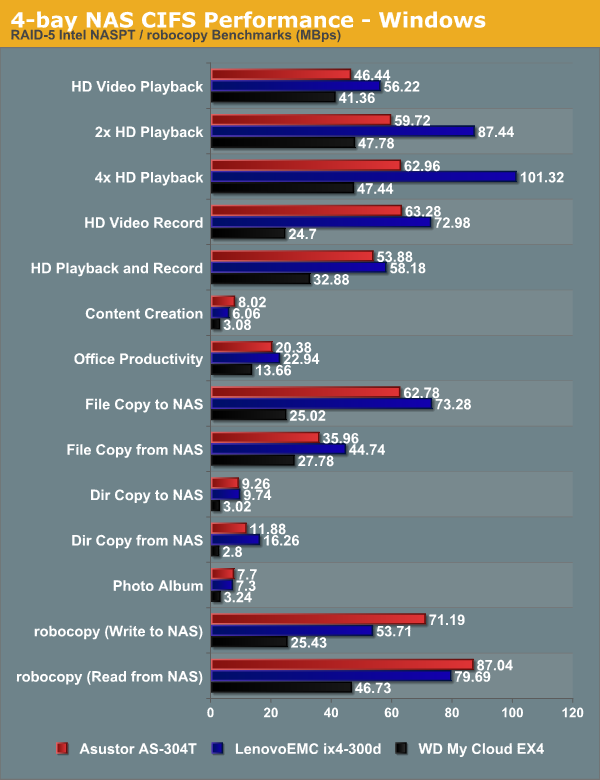 The above numbers present some interesting results. The ARMADA XP-based ix4-300d manages to beat the AS-304T in multiple workloads. Based on the above graph alone, it might appear as if the ix4-300d is much better, but the AS-304T manages to take the lead in certain common workloads as well as feature set (hot-swap capability, for instance).
We created a 250 GB iSCSI target and mapped it on the Windows VM. The same benchmarks were run and the results are presented below. The x86-based AS-304T handily beats the other 4-bay NAS units that we have evaluated (all of which are ARM-based).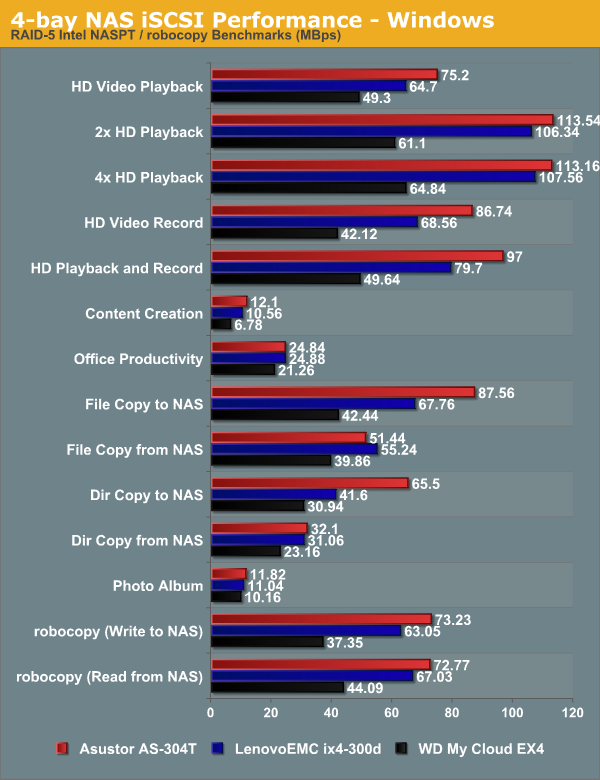 Encryption Support Evaluation
Consumers looking for encryption capabilities can opt to encrypt a iSCSI share with TrueCrypt or some in-built encryption mechanism in the client OS. However, if requirements dictate that the data must be shared across multiple users / computers, relying on encryption in the NAS is the best way to move forward. Most NAS vendors use the industry-standard 256-bit AES encryption algorithm. One approach is to encrypt only a particular shared folder while the other approach is to encrypt the full volume. Asustor supports only folder-level encryption in ADM.
On the hardware side, encryption support can be in the form of specialized hardware blocks in the SoC (common in ARM / PowerPC based NAS units). In x86-based systems, accelerated encryption support is dependent on whether the AES-NI instruction is available on the host CPU. The Atom CPU in the Evansport SoC doesn't support AES-NI, but the SoC does have a security engine. Unfortunately, Asustor's firmware doesn't take advantage of the security engine's APIs. The encryption is done using the host CPU and the performance is hit heavily. We enabled encryption on a a CIFS share to repeat our Intel NASPT / robocopy benchmarks. The results are presented in the graph below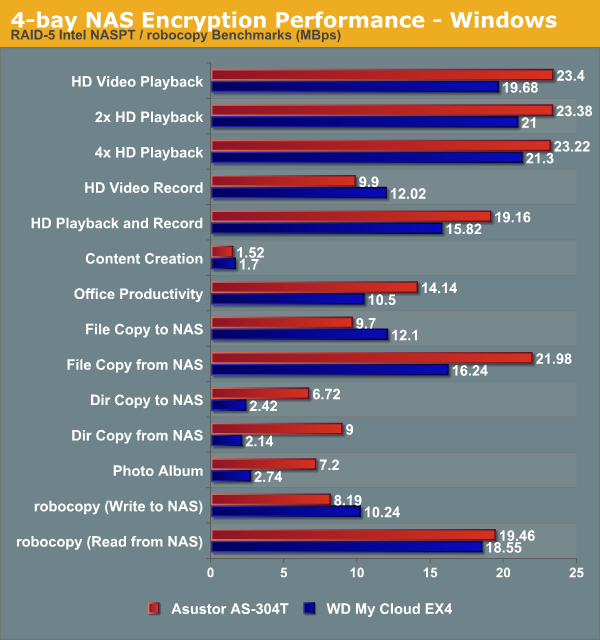 Enabling encryption pulls down the performance numbers, most times by more than 50%. In terms of raw numbers, the performance is sometimes even worse than what can be obtained from ARM-based 4-bay units. If encryption is important, it might be better to wait for the next generation of Atom-based NAS units (the new Atom CPUs have AES-NI) or opt for a higher-end unit sporting a CPU with AES-NI capabilities.