290 Tri-X OC Thermal Management
Before jumping into our benchmarks, due to the significant focus we're placing on cooling and noise for the 290 Tri-X OC (amidst the reference 290's weaknesses) we also wanted to spend a moment discussing the card's thermal management algorithms.
With the 290 series AMD introduced their next generation PowerTune technology, which allows for thermal management based on temperatures, power consumption, and now fan speeds. For the reference 290X in particular this was especially important as AMD used this functionality to keep fan speed noises in check despite the heavy thermal load Hawaii placed on the cooler. At the time we had assumed that everyone would use this technology even if they used different coolers, but as it turns out this isn't the case.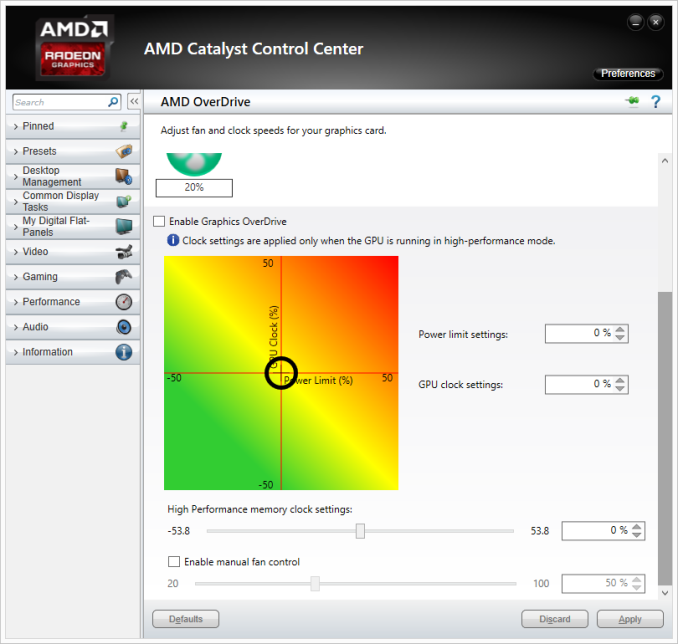 For the 290 Tri-X OC Sapphire has reverted to traditional power and temperature based throttling, opting not to use the functionality of next generation PowerTune. This means that the 290 Tri-X OC does not offer the ability to throttle based on fan speeds, nor does it offer the ability to adjust the temperature it throttles at, instead throttling at Hawaii's TjMax. This implementation caught us off guard at first since we had expected everyone to use next generation PowerTune, however as it turns out this is something that board partners get to decide for themselves on their customized cards.
Sapphire for their part has told us that based on the ample cooling performance of the Tri-X cooler that they've opted to use a traditional thermal management implementation in order to better sustain performance. Though we can't readily test Sapphire's statements about sustainability, we certainly can't argue against Sapphire's statement on the performance of their cooler. We'll see the full breakdown in our benchmark section, but they are having absolutely no problem balancing noise and temperatures right now without next generation PowerTune.
Realistically we wouldn't be surprised if this was also chosen because the Tri-X cooler predates the 290 series – and hence it wasn't necessarily designed to work well with next generation PowerTune – but that's just speculation on our part. To that end it would have been interesting to see a full next generation PowerTune implementation on this card, however it's really just an intellectual curiosity. Out of the box the 290 Tri-X OC works just fine with a traditional thermal management implementation.
The Test
CPU:
Intel Core i7-4960X @ 4.2GHz
Motherboard:
ASRock Fatal1ty X79 Professional
Power Supply:
Corsair AX1200i
Hard Disk:
Samsung SSD 840 EVO (750GB)
Memory:
G.Skill RipjawZ DDR3-1866 4 x 8GB (9-10-9-26)
Case:
NZXT Phantom 630 Windowed Edition
Monitor:
Asus PQ321
Video Cards:
AMD Radeon R9 290X
AMD Radeon R9 290
XFX Radeon R9 280X Double Dissipation
Asus Radeon R9 280X DirectCU II TOP
Sapphire Radeon R9 280X Toxic
AMD Radeon HD 7970 GHz Edition
AMD Radeon HD 7970
NVIDIA GeForce GTX 770
NVIDIA GeForce GTX 780
NVIDIA GeForce GTX 780 Ti
Video Drivers:
NVIDIA Release 331.93
AMD Catalyst 13.11 Beta v8
AMD Catalyst 13.11 Beta v9.5
OS:
Windows 8.1 Pro