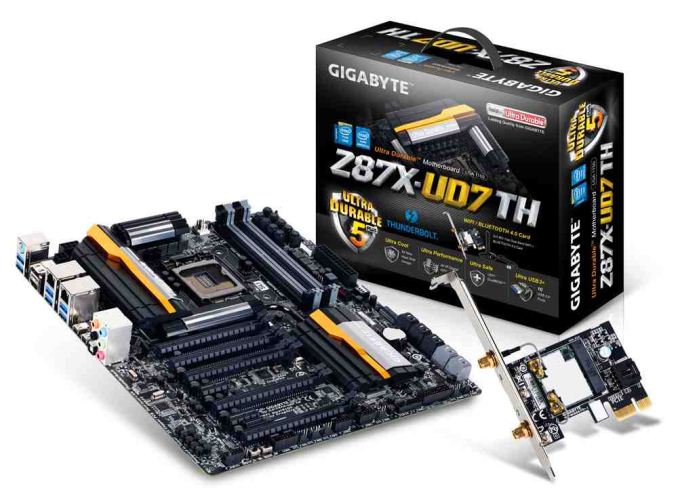 The drive for faster and more efficient interfaces, particularly those over cables, is driven by a large number of consumer devices producing and displaying higher definition content. This only ever continues to grow, and thus the ecosystem around data transfer has to catch up – one prong of this voyage is that of the Intel Thunderbolt controller. Now in its second generation format, Thunderbolt 2 offers up to 20 Gbps of PCIe and DisplayPort data across the controller. The most famous device to be equipped with the controller comes from Apple in the new Mac Pro, however PC partners are also joining in the game. The sword today is being wielded by GIGABYTE, and their Z87X-UD7 TH motherboard.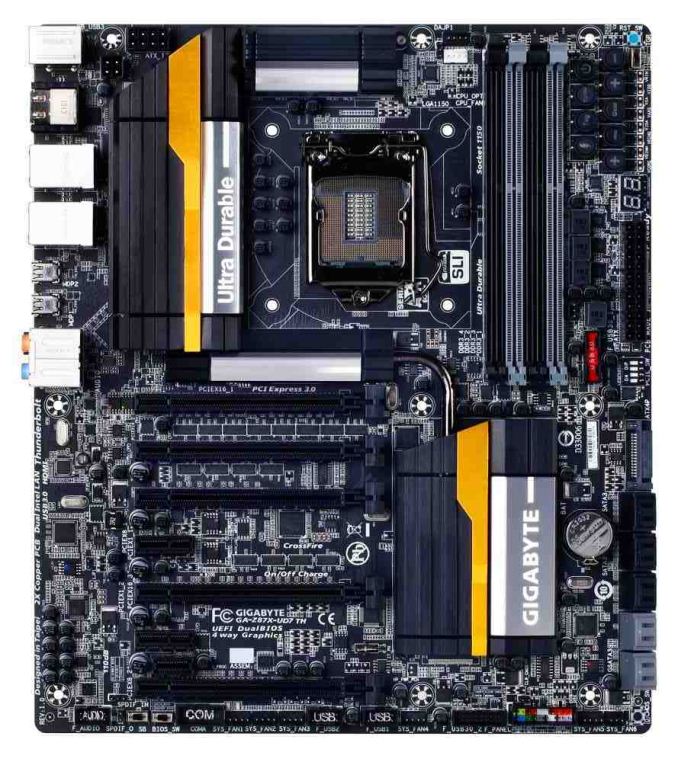 We saw this motherboard back at Computex, still in its design phase and waiting for Intel to launch their TB2 controller to OEMs. The UD7 moniker on GIGABYTE motherboards is only for the high end channel segment of their lineup, and the specification list shows:
Dual port Thunderbolt 2 (20 Gbps combined max throughput)

PLX8747 chip for 4-way SLI and Crossfire, with PCIe x16 bypass

Bundled 802.11ac WiFi PCIe x1 card

Dual Intel Gigabit Ethernet

Ultra Durable 5 Plus (60A IR3550 ICs and 60A chokes in the power delivery)

OC Touch/OC Ignition buttons

Nine fan headers

Realtek ALC898 Audio + Sound Blaster X-Fi MB3 software + Headphone Amplifier

Ten USB 3.0 ports, ten SATA 6 Gbps ports

High gold content connectors to reduce resistance and increase longevity

Dual HDMI video outputs
Putting this all into perspective and pricing: a TB2 controller costs around $40, a PLX chip is somewhere between $20-$40 depending on the deal, an 802.11ac module is found on $150 ITX motherboards so cannot be that expensive, IR3550 ICs and Chokes are ~$4 each which is expensive for power delivery, and features like OC Touch/OC Ignition have associated R&D costs of their own. This is alongside high gold content connectors, USB 3 and SATA 6 controllers, dual Intel NICs and support for nine fan headers.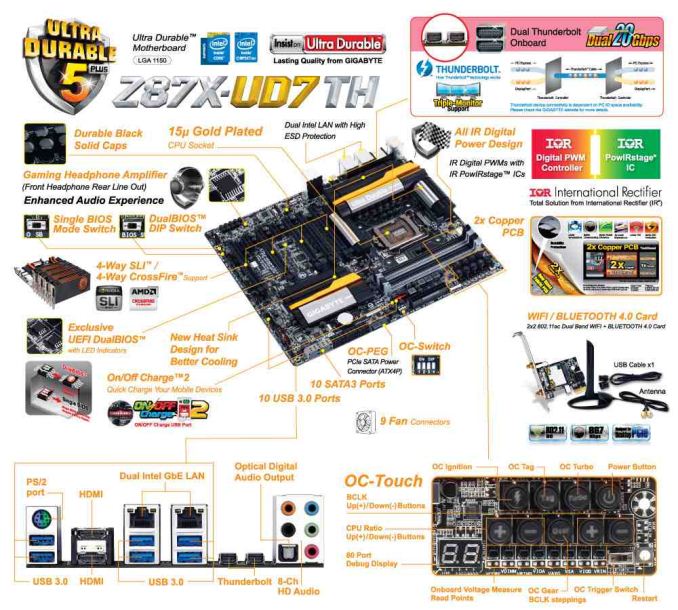 What should be interesting is the PCIe layout of this motherboard: here we have a system using a PLX chip, promoting eight or sixteen PCIe lanes from the CPU to 32. The TB2 controller needs PCIe 2.0 x4, which could either come from the PLX 8747 chip or the chipset/PCH. Due to the wording on the Gigabyte website, it would seem that they come from the PCH, using switches such that when the Thunderbolt ports are used, some of the PCIe lanes are not available.
There is also something intriguing regarding FlexIO. FlexIO is the system that distributes PCIe 2.0 lanes from the chipset. Normally there are eighteen lanes available, four reserved for SATA 6 Gbps ports, four reserved for USB 3.0 ports and six reserved for normal PCIe x1. That leaves four left, split into pairs – the first pair can be configured as 2x USB 3.0 or 2x PCIe x1, and the second pair can be configured as 2x PCIe x1 or 2x SATA 6 Gbps, or a combination (one of each) therein, although the total must not be more than eight PCIe x1 lanes. In the specification sheet, GIGABYTE is only using two USB 3.0 ports from the PCH, choosing to add two Renesas uPD720210 USB 3.0 hubs. That means that two USB 3.0 ports (or the equivalent of two PCIe x1 lanes) are not being used, or GIGABYTE has found a way to fool the chipset into thinking they are USB ports when in fact they are something else. This is definitely worth delving into, but Occam's Razor may apply: they might simply not be used.
GIGABYTE are aiming for the prosumer with this model: it differs from gamers (who have the G1 range) and overclockers (the Z87X-OC and Z87X-OC Force) and goes straight for a solid work system/workstation build alongside competition from other motherboard manufacturers.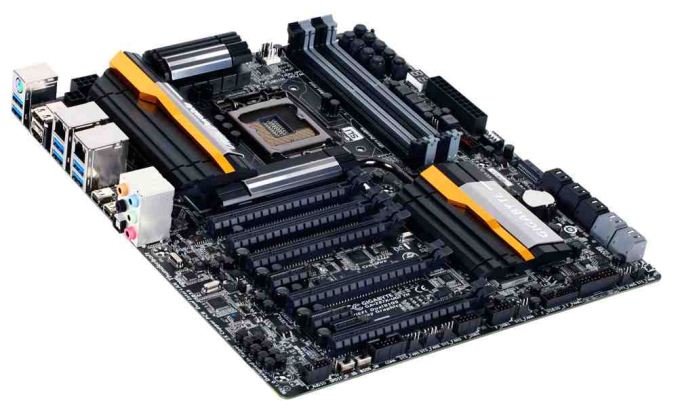 Pricing and release date are as-yet unannounced, though I would not be surprised if we come nearer the $350-$400 mark by the end of the year.
Edit: The board is available today from Newegg for $430, which is around the OC Force pricing.