Inside the mPower
The mPower can be accessed and controlled via SSH even without linking it with a mFi host. In this case, the SSH login credentials are the default (ubnt/ubnt). The mPower unit runs Linux under its hood, with BusyBox providing much of the needed access functionality. The unit uses the Dropbear SSH server service. Accessing the unit over SSH gives us some insight into the core platform.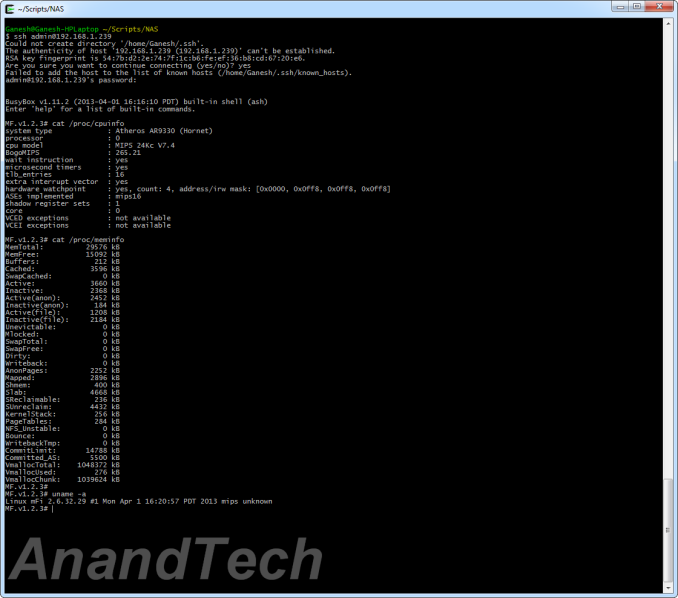 The mPower uses the Atheros AR9330 Hornet platform (more commonly found in wireless access points / low end routers such as this one) for its networking functionality and host CPU. The unit has 16 MB of RAM. The more interesting aspect is the chip used for collecting the electrical parameters. Ubiquiti takes pride in the fact that the electrical statistics are gathered by utility-grade ICs rather than the ADCs employed by other competing solutions. The mPower uses the Prolific PL7223 for gathering the electrical parameters. The PL7223 is apparently popular in these circles, as it also finds a place in GainSpan's SmartPlug kit. At this price point, it would be unfair to expect solid-state relays. So, we do have the clicking sounds when outlets are turned on or off.
FCC reports for all of Ubiquiti's products are linked on this page. We could have torn down the mPower unit ourselves, but, with the details of the platform evident from gaining SSH access, we leave it to the photographs provided in the FCC submission. They are reproduced in the gallery below.
In the next section, we will look into taking advantage of SSH for the development of custom applications.