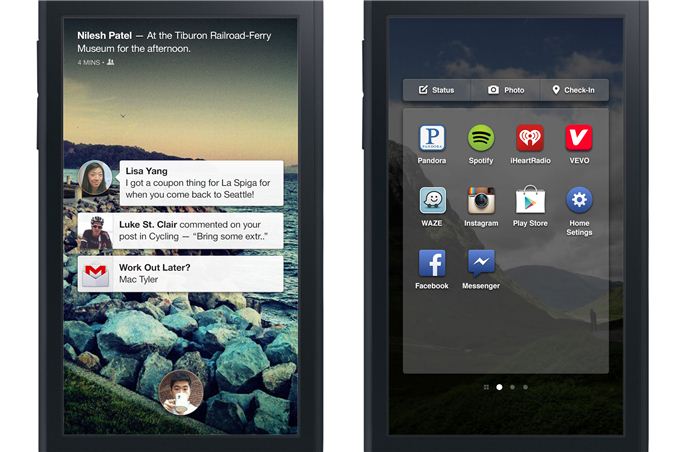 Today saw some interesting news from Facebook, which announced a new Android experience named Facebook Home, and alongside a new handset from HTC which will run it out of the box, the rather ironically named HTC First. This isn't Facebook or HTC's first attempt at a Facebook-specific handset, either, if you recall the HTC Status, or its codename ChaCha.
First is Home, which is part Android launcher replacement, part Facebook Skin. Home replaces the lock screen, application launcher, notification, and chat system with Facebook designed counterparts. Home overlays Facebook and Instagram views atop the lock screen, statuses and stories alike. The UI looks like a drastic departure from Android and takes cues from Web OS with lots of transparent regions. Facebook has dubbed its chat interface on Home 'Chat Heads' and intercepts SMS notifications from Android and augments them with Facebook chat as well. These persist throughout the UI atop active applications. Facebook has videos explaining Cover Feed, Notifications, and Chat Heads on their YouTube page.
Rather than build a complete platform from scratch, it makes sense for Facebook to leverage Android and deliver something like Home which essentially is part launcher replacement, part UI skin. Home will be available on April 12 through the Play Store for a limited subset of devices - the HTC One X, X+, Samsung Galaxy S 3, and Note 2, and in the coming months the Galaxy S 4 and HTC One. What's interesting is that subset of devices which Home will work with, it's a bit more than a launcher replacement since it is intercepting some notifications from the OS.
The other part of the announcement is an HTC-made phone called the HTC First. It's a midrange specification HTC handset which will be, well, home to Facebook Home, First, get it? Phew. I've put together a table with the specifications of the HTC First.
HTC First Specifications
Device
HTC First
SoC
1.4 GHz Snapdragon 400
(MSM8930AA, 2x Krait, Adreno 305 GPU)
RAM/NAND/Expansion
1 GB LPDDR2, 16 GB Storage with USB-OTG
Display
4.3-inch 720p LCD
Network
GSM/EDGE: 850/900/1800/1900 MHz
WCDMA: 850/1900/2100 MHz
LTE: 700/850/AWS/1900 MHz
Dimensions
4.96 x 2.56 x 0.35 inches, 4.37 oz
Camera
5.0 MP F/2.0 (Rear), 1.6 MP F/2.2 (Front)
Battery
2000 mAh 3.8V
OS
Android 4.1 with Facebook Home
Connectivity
NFC, BT 4.0, 802.11a/b/g/n
The First is at present an AT&T exclusive officially, which is further backed up considering the presence of Band 17 LTE. AT&T is taking preorders for the HTC First which will go on sale for $99 with a two year contract starting April 12th.
Update: I clarified the LTE band situation on the HTC First, which reflects the newer AT&T RFP with LTE on both its current WCDMA bands (850/1900 MHz) in addition to Band 17 (700) and 4 (AWS 1700/2100 MHz).
Source: HTC (First Page), AT&T (Preorders), Facebook (Introducing Home)