News of the Lenovo - EMC joint venture, LenovoEMC crossed the wires last week. We met with Iomega yesterday at CES and discussed what this means for the storage market. The NAS space (in particular, the SMB market) is growing by leaps and bounds, and there are multiple players already established in the space. Iomega has had big success in the European and South American markets, and it is also trying to break into the North American market. Iomega's parent company, EMC, is a proven enterprise leader in the storage market with an international presence. On the other side, PC and server vendors have had steady sales in the enterprise space, and are looking to provide more value to their customers.

PC vendors have typically promoted third-party NAS solutions as shared, centralized storage for the computers and servers being sold. In this situation, it would make sense for them to bundle NAS units as well in order to increase profit margins and also provide consumers with a one-stop shop for support purposes. With this in mind, the LenovoEMC joint venture was created with Lenovo owning 51% stake and EMC owning 49% stake under Lenovo's Enterprise Products Group. While the px-series could contribute to Lenovo's enterprise server and storage initiative, the ix-series could end up being used with Lenovo PCs and workstations.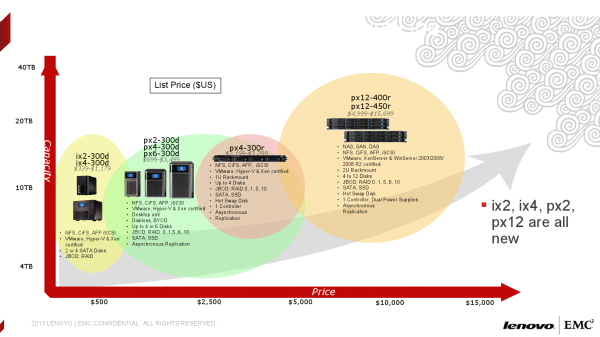 In terms of product offerings, LenovoEMC confirmed that all products announced in 2012 are now shipping as scheduled. Their current product lineup is presented in the picture above. We have LenovoEMC's ix4-300d in-house for review. Readers can look forward to a detailed review in early February.