Supermicro's 2U Twin
We already introduced Supermicro's Twin 2U server (6027TR-D71FRF) in our Xeon E5 review. It is basically a two node 2U server that offers the density of 1U servers without the disadvantages. Instead of four redundant PSUs you only need two, and instead of noisy, energy hogging and prone to break 40mm fans you get slower turning 80mm fans.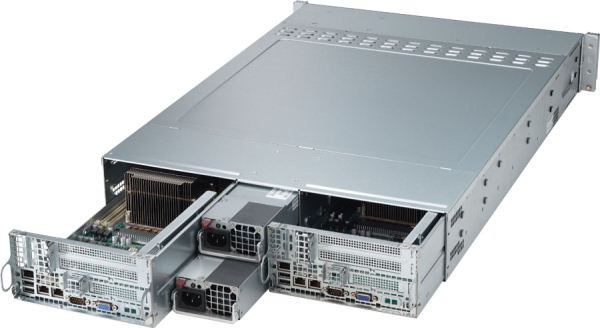 The two servers are held in place using screwless clips.

There was one big disadvantage: there were only four DIMM slots per CPU, which limits each node to 128GB of RAM (8 x 16GB). That is a bit on the low side for 16 cores and 32 threads and makes this server less suitable for virtualization loads.
Of course, this server was never meant to be a virtualization server as it is equipped with 56Gb/s TFDR InfiniBand interconnect technology, great for processing intensive cluster applications like some clustered HPC apps. Nevertheless, we were intrigued. Supermicro has recently released a new Twin, the 6027TR-D70RF+, which has 16 DIMM slots.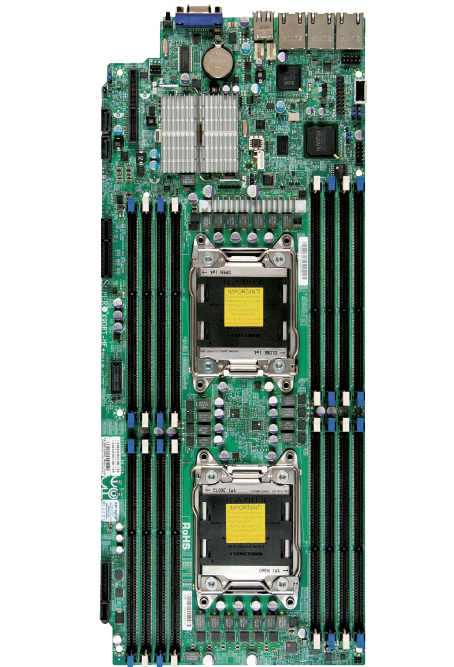 Most 2U servers are limited to 24 memory slots and as a result 384GB of RAM. With two nodes in a 2U server and 16 slots per node, you get cram up to 512GB of RDIMMs in one server. The Supermicro Twin node (6027TR-D70RF+) looks like an attractive alternative for the more common 1U and 2U servers:
Much more (3, 2 full height) PCIe expansion slots than a 1U, almost as good as a traditional 2U
Lower energy consumption as two (up to 95% efficient) PSUs are powering two nodes
Much better and more efficient 80mm cooling fans than a 1U
Density of a 1U
33% more DIMM slots than a 2U
That all sounds great for any cluster solution including a virtualization cluster, but there is more. If you use LRDIMMs, you can double your capacity. LRDIMMs at 1333MHz are available as quad rank 32GB DIMMs. But before we can introduce you to these DIMMs, we want to take a step back and look at all the RAM options that a typical server buyers has.