The Design
The problem with being on the forefront of design is every iteration is expected to significantly outdo the one before it. The unibody MacBook Pro design took build quality to a new level for Apple. By constructing all parts of the machine that you generally interact with out of the same piece of aluminum, Apple significantly reduced the amount of flex and creaks you'd encounter during normal use.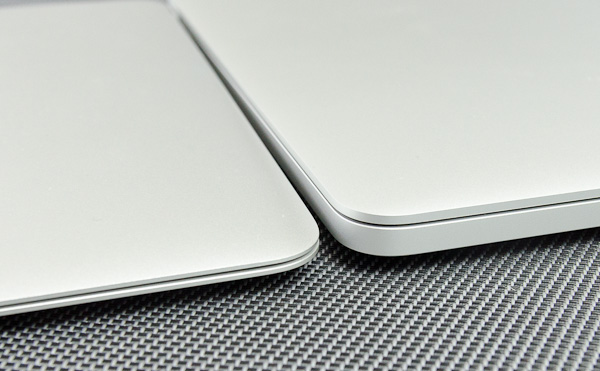 The next-gen MacBook Pro chassis doesn't revolutionize the design, but it does make some significant evolutionary improvements. The most tangible impact as I've already mentioned is the reduction in size and weight of the machine. At its thickest part, the 13-inch MacBook Air is actually a little thicker than the 15-inch Retina MacBook Pro. Unlike the MacBook Air however, the rMBP does not feature a tapered design. Instead you get a constant thickness which is definitely reminiscent of the previous design.
The backlit keyboard and glass covered trackpad remain, although the key travel has been reduced somewhat - likely to help thin down the chassis. It's not worse, just different in my opinion.
The reduction in thickness also comes at the expense of a missing optical drive and no mechanical storage. Once again Apple has opted to use its own custom form factor and custom SATA connector for the NAND based storage in the rMBP. You'll hear no complaints from me on the move away from mechanical storage as I've been recommending SSDs as upgrades for the past few years. The battery continues to be integrated but it's no longer easily user removable as the custom cells are now glued to the chassis. A few years down the road your rMBP will have to take a trip to the Apple store (or a clever third party service center) to get its battery replaced.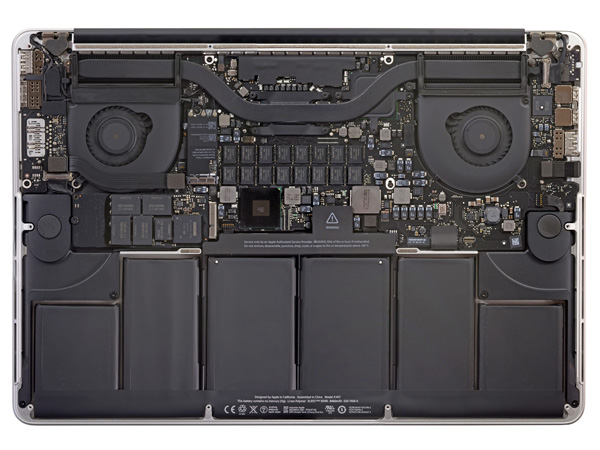 The MacBook Pro with Retina Display, Image Courtesy iFixit
This is the first Pro appliance that Apple has ever produced. The CPU, GPU, DRAM, battery, display and, for now, the SSD are either non-removable or at least not user-upgradeable. On a $499 iPad that's one thing, but on a $2199 professional notebook that's a completely different matter. I can even make an exception for the MacBook Air as it is more of a consumer device, where computing needs have largely slowed down over the past several years. But for a professional machine, to have such a fixed configuration seems very worrisome.
MacBook Pro with Retina Display Comparison
15-inch Mid 2012 MacBook Pro
MacBook Pro with Retina Display
Dimensions
0.95 H x 14.35 W x 9.82" D
0.71 H x 14.13 W x 9.73" D
Weight
5.6 lbs (2.54 kg)
4.46 lbs (2.02 kg)
CPU
Core i7-3615QM
Core i7-3720QM
Core i7-3615QM
L3 Cache
6MB
6MB
6MB
Base CPU Clock
2.3GHz
2.6GHz
2.3GHz
Max CPU Turbo
3.3GHz
3.6GHz
3.3GHz
GPU
Intel HD 4000 + NVIDIA GeForce GT 650M
GPU Memory
512MB GDDR5
1GB GDDR5
System Memory
4GB DDR3-1600
8GB DDR3-1600
8GB DDR3L-1600
Primary Storage
500GB 5400RPM HDD
750GB 5400RPM HDD
256GB SSD
Optical Drive
Y
Y
N
Display Size
15.4-inches
Display Resolution
1440 x 900
2880 x 1800
Thunderbolt Ports
1
2
USB Ports
2 x USB 3.0
Other Ports
1 x Firewire 800, 1 x Audio Line in, 1 x Audio Line out, SDXC reader, Kensington Lock slot
SDXC reader, HDMI out, headphone out
Battery Capacity
77.5 Wh
95 Wh
Price
$1799
$2199
$2199
Apple has definitely made accommodations to make this unupgradeable reality more palatable. Sure the primary silicon is fixed, but all Retina MacBook Pro configurations ship with a minimum of 8GB of DDR3L-1600 memory. The only available upgrade is a move to 16GB, which will surely suit most needs for at least a few years to come (if not more).
The SSD is physically removable although there isn't presently a source of 3rd party upgrades. I suspect we will see some in the future although there are always concerns about any legal claims to Apple's unique form factor and physical interface. Apple's concession here is it offers as much NAND as is physically possible today: up to 768GB if you're willing to pay the handsome upgrade fee.
We've long given up on upgrading mobile CPUs or GPUs, and more recently abandoning the removable battery in favor of increasing capacity and reducing form factors is a trade off we've accepted as well. Apple has tried to help on the memory and SSD sides but the whole package is still very...fixed.
Despite all of this my only real complaint about Apple's fixed configuration is the $2199 spec comes with too little storage by default. If I want to carelessly use my machine and not worry about regularly deleting unused files I find that I need 512GB of storage. At 256GB it's too easy to run out of space, particularly if I'm on the road and dealing with lots of photos and videos. If you're like me then you're shoehorned into getting the $2799 configuration as there's no way to just upgrade the size of the SSD in the $2199 model. And if you're spending $2799 you might as well get the 16GB memory upgrade, if you can convince yourself that you're not going to buy the Haswell version next year.
Retina MacBook Pro Silicon: One Big Happy Family
Powering the Retina Display MacBook Pro is Intel's latest and greatest quad-core Core i7. A part of the new 22nm Ivy Bridge family the Intel silicon in the system is well done as always. The default configuration ships with a 2.3GHz quad-core offering, while the upgraded option is clocked at 2.6GHz. Apple offers one more upgrade at 2.7GHz while upping the L3 cache to 8MB. Since these are i7s all of them have Hyper Threading enabled, making the major difference between parts frequency and cache size in the case of the most upgraded part.
Apple MacBook Pro with Retina Display CPU Comparison
2.3GHz quad-core
2.6GHz quad-core
2.7GHz quad-core
Intel Model
Core i7-3615QM
Intel Core i7-3720QM
Intel Core i7-3820QM
Base Clock Speed
2.3GHz
2.6GHz
2.7GHz
Max SC Turbo
3.3GHz
3.6GHz
3.7GHz
Max DC Turbo
3.2GHz
3.5GHz
3.6GHz
Max QC Turbo
3.1GHz
3.4GHz
3.5GHz
L3 Cache
6MB
6MB
8MB
AES-NI
Yes
Yes
Yes
VT-x
Yes
Yes
Yes
VT-d
Yes
Yes
Yes
TDP
45W
45W
45W
Processor Graphics
Intel HD 4000
Intel HD 4000
Intel HD 4000
GPU Clock (Base/Max)
650/1250MHz
650/1250MHz
650/1250MHz
Turbo Boost is supported and active on all options. As always I verified its support in OS X as well as its functional operation:

889A refers to the max number of speed bins supported by Turbo Boost for 4, 3, 2 and 1 active core, respectively, in hex. For example, the 2.6GHz base clock of the Core i7 in my test system can turbo up a maximum of 8 bins with three/four cores active (2.6GHz + 800MHz = 3.4GHz), or 9 bins with 2 cores active (3.5GHz) or 10 bins (A in hex) with 1 core active (3.6GHz). Just as with previous mobile Macs, CPU clocks remain unchanged regardless of whether the system is running on AC or battery power.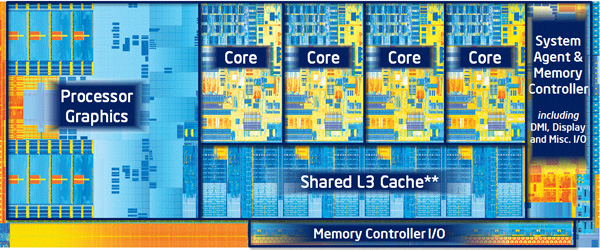 Intel's quad-core 22nm Ivy Bridge
All of the CPU options feature Intel's HD 4000 graphics, which handles the majority of graphics duties unless you fire up an application that triggers the discrete GPU. All of the rMBPs feature NVIDIA's GeForce GT 650M equipped with 1GB of GDDR5. Apple went aggressive on the Kepler implementation and ships a full 384 core GK107 in the rMBP. The GPU clock is set at a very aggressive 900MHz with a 1254MHz memory clock. I do appreciate that there's no variance in GPU/memory configuration across all of the Retina MacBook Pro options, it greatly simplifies the purchasing experience.