The 3rd generation Apple TV ships with what Apple tells us is a single-core A5 SoC. After delayering the chip to the transistor gate layer in the new Apple TV, Chipworks just confirmed that the SoC is actually a 32nm dual-core part - presumably with one core disabled.
The iPhone 4S' A5 and the A5X used in the new iPad are both built on Samsung's 45nm LP process. This new A5 in the Apple TV is built on Samsung's 32nm High-K + Metal Gate (gate first) process. When transitioning to a new process node, it's always advisable to have a "pipe-cleaner" part. A small, not overly complex design that you can use to test the process and use to discover any bugs. It also helps if this is a lower volume part as there's always a risk of the new manufacturing process being unable to deliver high enough yields. Apple testing Samsung's 32nm process in the new Apple TV makes a lot of sense. There are far fewer Apple TVs sold than iPhones or iPads, so any troubles on the manufacturing side shouldn't really matter. Furthermore, Apple could also ship die-harvested (1 core disabled) 45nm A5s into Apple TVs if things get really bad.
Either way, it's clear that Apple is testing Samsung's 32nm process and this is likely the node we'll see debut in the next iPhone. As our own Brian Klug pointed out, this is the same part that's used in the new $399 version of the iPad 2 (iPad 2,4). Assuming Samsung's 32nm HK+MG process isn't horribly leaky at this point, we should actually see somewhat better battery life out of this new iPad 2 vs the older 45nm version.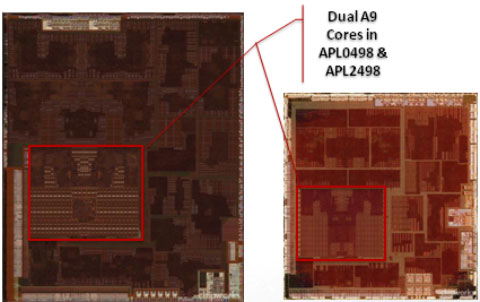 CPU Specification Comparison
CPU
Manufacturing Process
Cores
Transistor Count
Die Size
Apple A5X
45nm
2
?
163mm2
Apple A5
45nm
2
?
122mm2
Apple A5 (3rd gen Apple TV)
32nm
2
?
69.6mm2
Intel Sandy Bridge 4C
32nm
4
995M
216mm2
Intel Sandy Bridge 2C (GT1)
32nm
2
504M
131mm2
Intel Sandy Bridge 2C (GT2)
32nm
2
624M
149mm2
NVIDIA Tegra 3
40nm
4+1
?
~80mm2
NVIDIA Tegra 2
40nm
2
?
49mm2
Source: Chipworks